Posted by lydian@eti-usa.com BigCommerce on Sep 27th 2023
It's time to add new life to your home! And there's no statement piece more striking than black galaxy granite. But there's a lot you should know about granite before you include it in your home improvement plans.
If you're looking for a stylish, luxurious-looking countertop without breaking the bank, look no further than black galaxy granite. With its black background and contrasting gold and silver speckles, black galaxy granite is a beautiful addition to any kitchen or bathroom. However, it can be an expensive investment, with costs ranging from $60 to $120 per square foot. Fortunately, by using a DIY approach with epoxy, you can achieve a stunning black galaxy granite look for a fraction of the cost.
Below, we'll discuss a little about black galaxy granite (and other natural stones like black marble). Then, we'll talk about some alternatives and cover some FAQs. Finally, we'll show you how to create your own granite alternatives for any DIY project.
Real granite is an igneous rock made of quartz, feldspar, mica, and other minerals. (Some black granite isn't technically granite, but it's still an igneous rock.)
It ranges from almost white to nearly black, as well as everything in between. It also features some eye-catching accent colors such as red, pink, green, or even blue.
Black granite is suitable for both interior and exterior situations because it's dense and durable. Granite is an excellent choice for heavier-wear flat surfaces like countertops or even floors. It resists some of the chipping, scratching, staining, and etching that plagues marble.
Granite countertops have been gaining a following for several decades now. And black granite is easily one of the most popular looks. The glittering minerals embedded in black look like beautiful sparkling stars.
But it's not the best choice for everyone—or for every project. Not only that, but it's expensive. Often, it costs more than $100 per square foot, and that doesn't include installation. Fortunately, there are alternatives.
Black Granite Alternatives
Cost isn't the only concern about installing black galaxy granite. It's also heavy and difficult to work with. And, though it's hardier than marble, it's similar susceptible to chips, scratches, and etching.
Many people look for other options instead. And some of the alternatives go right over MDF board, tabletops, concrete floors, and other smooth surfaces!
Marble or Other Natural Stone
Marble, quartz, and other stones are a viable granite alternative. But they feature most of the same strengths and weaknesses—including price and difficulty to work with.
Maintenance can be tough, too. Natural stone must be sealed often to protect the surface. Like granite, you'll need to be careful about stains, acidic foods, and chipping.
Ice Stone and concrete are much cheaper alternatives to luxurious stone. However, they can be difficult for DIYers to install. Plus, even in dark colors, they don't look much like black galaxy granite.
These options are durable but they're very heavy. And their looks typically push them toward professional and industrial applications where aesthetics aren't as large a concern.
Epoxy with Metallic Pigment
Epoxy with metallic mica powder looks just like black granite, but it's much cheaper, easier to care for, and customizable. As a bonus, it's incredibly easy for DIYers to work with. You can often complete a full kitchen counter in less than 24 hours.
One of the great things about epoxy is that it also works well for floors. So, if you want to do your garage floor, your kitchen, and maybe your bathroom, an epoxy floor coating may tie a whole room's look together!
Laminate can be made to look like many other materials. It's affordable, durable, and easy to install. The only real downside of laminate is that it looks like laminate. It doesn't offer the same depth and luster that epoxy or natural stone provide.
Usually, laminate is what renovators and DIYers are upgrading from.
FAQs About Granite Alternatives
We've helped people epoxy numerous things, from live edge epoxy tables with solid wood to shower walls. In that time, we've also helped people decide between epoxy and natural stone.
So, we've answered a lot of questions about black galaxy granite! Here are the few we've heard the most:
Is black galaxy granite expensive? Yes. Next to marble and other exotic stones, it's among the most expensive options out there. Some granites cost more than most marbles!
Does real black granite need to be sealed? Yes, it does. Because granite isn't as porous as other stone, it doesn't need the same kind of sealer—or as much of it. But most people recommend sealing it every few years.
Are real black granite countertops hard to keep clean? No. However, they should be cleaned shortly after cooking so that food residue doesn't affect the minerals. And not only should you avoid letting citrus sit on it, but you should also avoid using citrus-based cleaners. (Even Clorox has citric acid, so don't use Clorox on your granite!)
Should kitchen floors be darker than countertops? If you're worried about a design faux pas when working with black galaxy granite, here are some tips. First, dark floors look great with dark countertops! Second, hardwood and light floors look great, too. Either way, your interior will pop if you allow for a little bit of contrast.
Are epoxy countertops cheaper than granite? Epoxy is much cheaper to granite. Plus, it doesn't require professional installation.
How much does it cost to do epoxy countertops? Some of our customers have created their own amazing countertops, floors, and more for just a couple hundred dollars. Our black galaxy granite kits start well below $100.
Does epoxy make a good countertop? Yes! It can look like galaxy granite, Carrara marble, fractured jade, and more. Also, it's stain-resistant, heat-resistant, impact-resistant, and very moisture resistant.
If you choose to create an epoxy project for your home, it is sure to look great. Whether a natural stone vanity or a metallic floor epoxy, you'll get that great look shining back at you if you follow these steps below to create your own DIY Black Galaxy Granite epoxy design!
Supplies Needed for Black Galaxy Epoxy
Drill and Paddle Mixer or Mixing Sticks

Mixing Buckets and Mixing Cups

Gloss Black Spray Paint

91% Isopropyl Alcohol

Paper Towels

Spritz Bottle

Water

Gloves
Step 1: Clean and Prep your Surface
Clean the area where you will be applying epoxy and ensure it is level. Sand or smooth out any rough edges or bumps. Use our Black Undercoat to prep your surface. Do 2 coats of it! Make sure to let it completely dry and off-gas. Then sand with 220 grit sandpaper.
Step 2: Apply First Coat of Epoxy
Pour a coat of clear Stone Coat Epoxy mixed with your choice of our glitter(s). This will act as your base coat. Make sure to cover the entire surface and edges. Then, using a torch or heat gun, torch the surface to pop any potential air bubbles.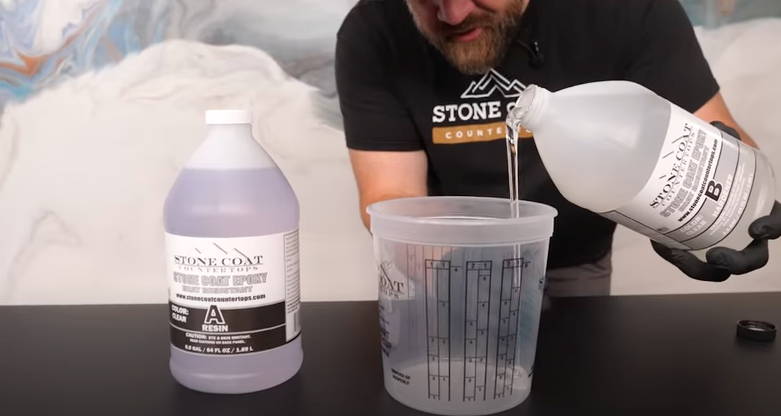 Step 3: Create a Faux Granite Look
Fog sections at a time with black spray paint. This means spritzing your wet epoxy layer with the spray paint, careful not to cover the whole thing. Then, mix metallic powder with 91% isopropyl alcohol in a spray bottle. Spritz this mixture over your surface. Continue doing this over the piece until desired look. Once complete, let this coat set up overnight. Tomorrow you will pour a clear coat over this.
18-24 hours after your first coat was poured, you will want to sand the surface and sides with 220 grit sandpaper. This will promote a great bond for the next coat. Then, you will wipe the dust. You can use alcohol or acetone to help with this cleaning step as well.
Step 5: Apply Epoxy with Glitter Layer
Mix our 2-part Stone Coat Epoxy at a 1:1 ratio by volume. Measure 3oz of Epoxy per square foot of surface. Mix with a drill and paddle attachment for 2 minutes, or 5 minutes if by hand with a stick. Once mixed, add in your choice of glitter(s). Mix one final time until the glitter is evenly mixed.
Step 6: Pour, Trowel, Chop, and Torch
Pour out all the epoxy into the center of the project. Use our 1/8" x 1/8" Square Notch Trowel to evenly spread the epoxy around until the entire surface is covered. Then, use a brush to "chop" the surface. In a stamping motion, chop the entire surface and edges. This will hide any trowel lines, help mix the epoxy one final time, and ensure the epoxy is spread evenly. Lastly, in a sweeping motion, torch the surface to pop any air bubbles and to help your project level out as smooth as glass. Do this at least 3 times waiting a couple minutes between each pass to ensure best results.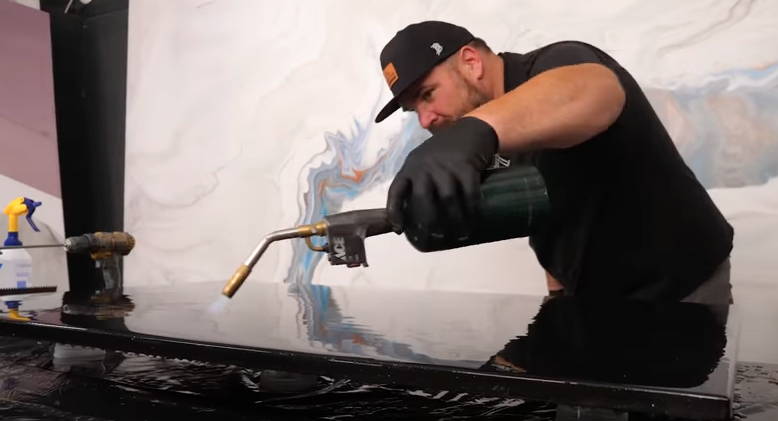 DIY black galaxy granite countertops with epoxy can be an affordable and easy alternative to purchasing the real deal. Epoxy's durability and versatility make it ideal for countertop applications, and the beautiful, unique look of black galaxy granite will add an elegant touch to any kitchen or bathroom. By following our step-by-step guide, even beginner DIYers can create this high-end look on a budget!