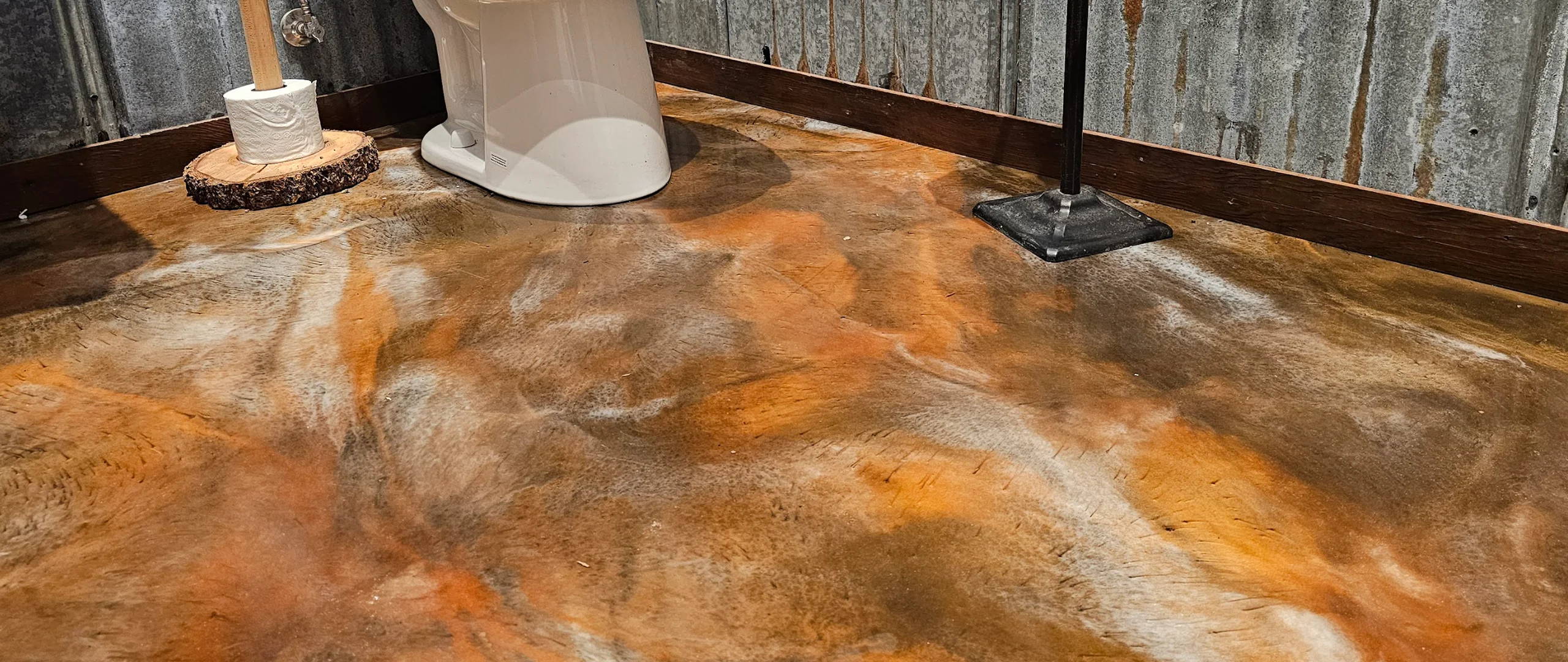 Metallic Epoxy Floor How-to-Instructions
Products Used

Floor Patch Epoxy Gel

Moisture Seal Epoxy Primer

Flooring Epoxy Midcoat

3 Bags of Metallic Pigment Powder

Epoxy Liquid Dye

Epoxy Glitter Additive

We offer Metallic Epoxy Flooring kits for a 1 car garage that covers 290 sq ft. Or you can build your own kit with the products listed above depending on the size of your space. You Got This!
Has your garage floor seen better days, is it full of unsightly cracks, stains, and pits? We're teaching you step by step how to properly prepare your worn out garage space for Stone Coats Metallic Marble Epoxy Flooring System. We simplified and improved our flooring system for the do it yourselfer. Learn money saving tips and tricks for professional results even on your first floor! Learn right now how to save thousands on your epoxy floor project adding value to your home and giving your garage and other spaces a finished look, come along with me folks I'm showing you every step along the way, Stay tuned and enjoy the video.
Step #1 - Concrete Prep & Floor Patch
Use the diamond cut wheel on the grinder to open smaller cracks so you can put Floor Patch Epoxy Gel in them for a seamless designer epoxy floor.
For the Floor Patch Epoxy Gel, add an equal amount of Part A and Part B. Mix them until they ecome one color. Use a stiff putty knife to fill the cracks with just a little more than it needs. The Floor Patch Epoxy Gel will be cured and ready to be grinded smooth in 4-8 hours.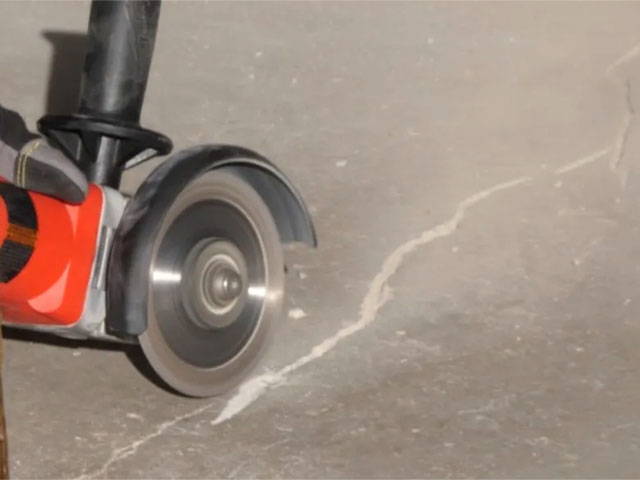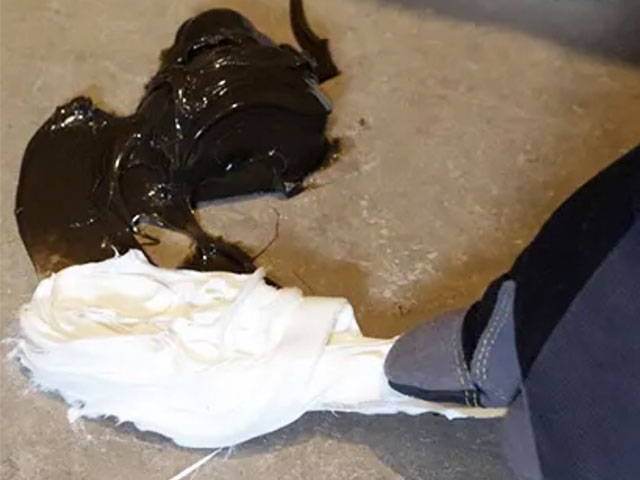 For small projects like bathrooms, use a 7 inch diamond cup wheel on a grinder to make the concrete ready for an epoxy floor. If you are doing a large floor, rent a walk behind floor grinder. This will take less time and be easier. Grinding the concrete before an epoxy floor application is a important step and should never be skipped.
Clean up everything on the floor like dust and dirt. Make sure you vacuum under the sheet rock and any small spaces. This will help make sure that when you use the moisture seal epoxy primer, it'll stay nice and clean.
DIY concrete moisture test: Tape off a piece of plastic and check back in 24 hours. If the plastic is dry and concrete hasn't changed colors, you're ready for the next step. If moisture is present, do a sodium chloride moisture test.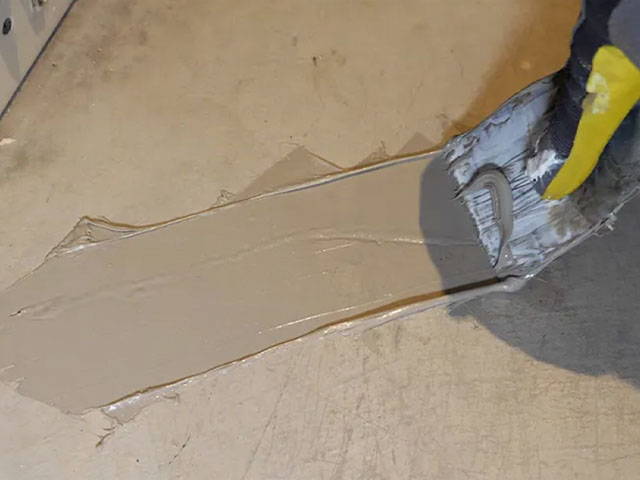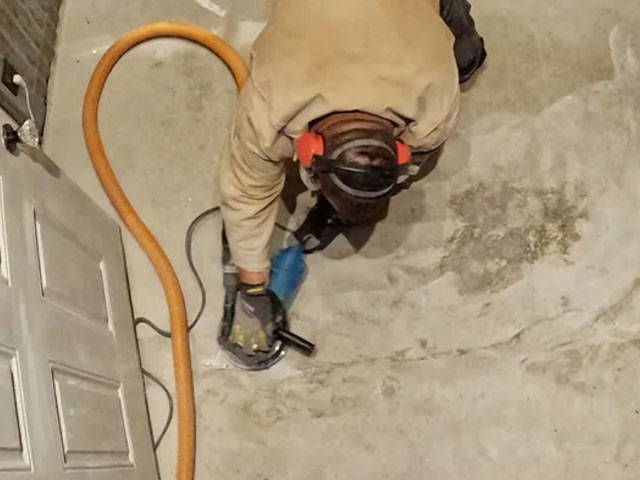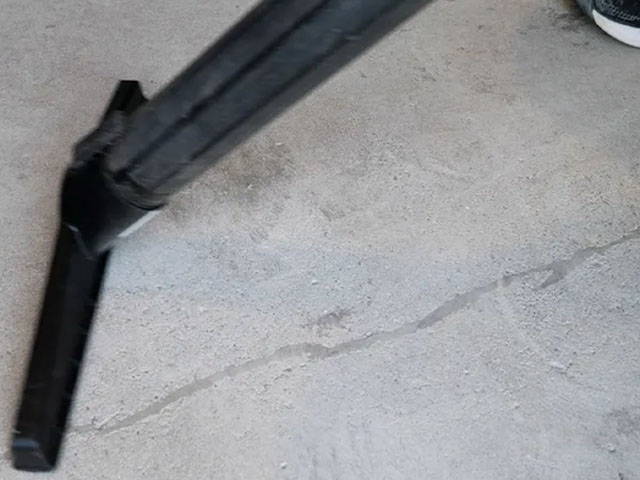 Step #2 -Moisture Seal & Color Coat
Moisture Seal Epoxy Primer: Measure 1-2 ounces per square foot of floor to cover. Thoroughly mix part A by itself before mixing in part B at a 2:1 ratio by volume. Moisture Seal Epoxy Primer has become industry standard when applying epoxy over concrete, penetrating like tree roots creating a tenacious bond to the slab. Mix material for 2-4 minutes with a paint stick or drill and paddle mixer. Take time to scrape the sides and bottom mid way through mixing.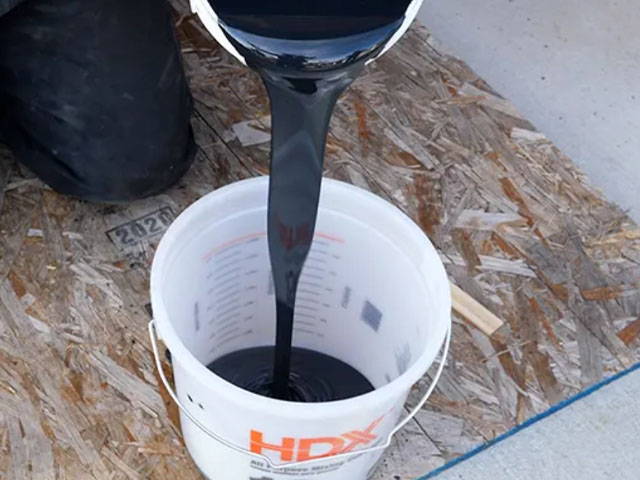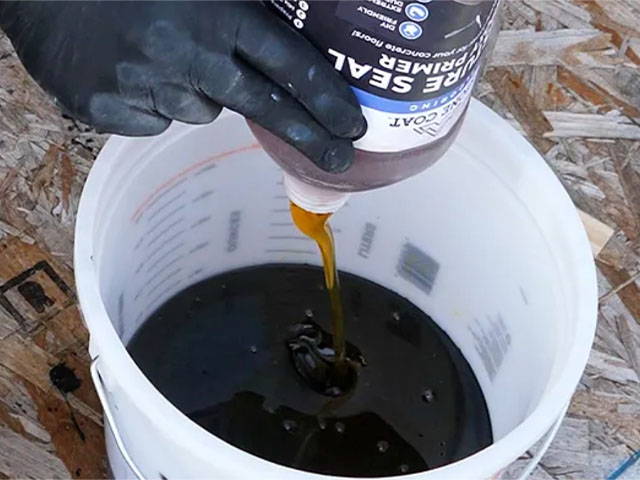 Pour the epoxy primer onto the surface in lines. Use a roller and squeegee to spread it evenly over the surface. This will help keep air out of the next coat, so there won't be any big bubbles. Use 91% isopropyl alcohol to remove excess air incorporated into the epoxy while mixing and spreading the material. Spritz it on the surface using a spray bottle. The epoxy primer will be cured and ready for the next step in 16-24 hours. Keep room temp above 65 degrees Fahrenheit for the initial cure.
Pro Tip: If you are returning to the project within 16 hours, you don't need to sand the floor. The epoxy will still stick to the next layer. But if it has been more than 24 hours, use some sandpaper with 220 grit and then clean up the dust with isopropyl alcohol or acetone.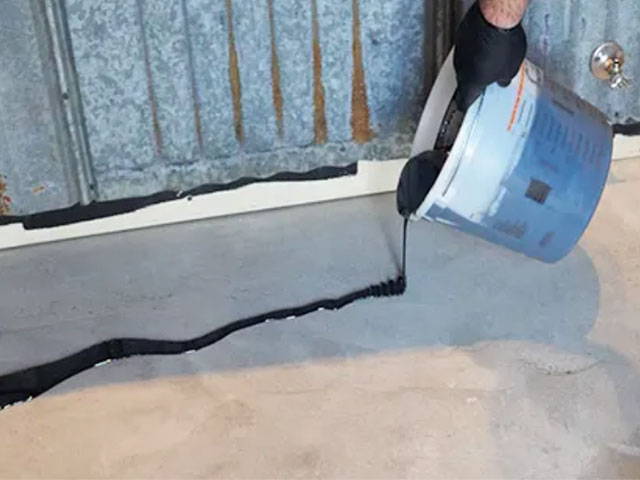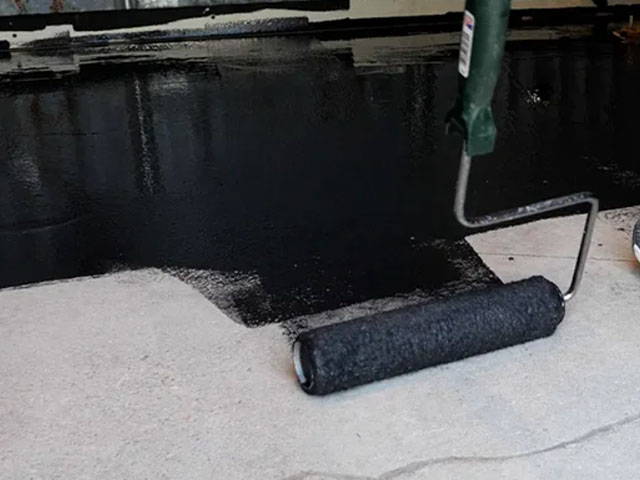 The Flooring Epoxy Midcoat is what we use to create metallic marble floors. It needs 3-6 ounces for every square foot of the project. For a dirty pour marble floor, you'll need more epoxy per square foot. Mix the Flooring Midcoat for 2-4 minutes with a mixing stick or drill with a paddle mixer in a 2:1 ratio. Divide the mixed epoxy into three different cups and add colors to each one - one should be your main base color and have most of the epoxy, while the other two should be accent colors and have less epoxy. When all three are tinted, you are ready for the next step!
Pour out the main metallic epoxy floor color in ribbons. Use a floor magic trowel to spread it on the whole floor. Spray 91% isopropyl alcohol to get rid of air bubbles in the epoxy.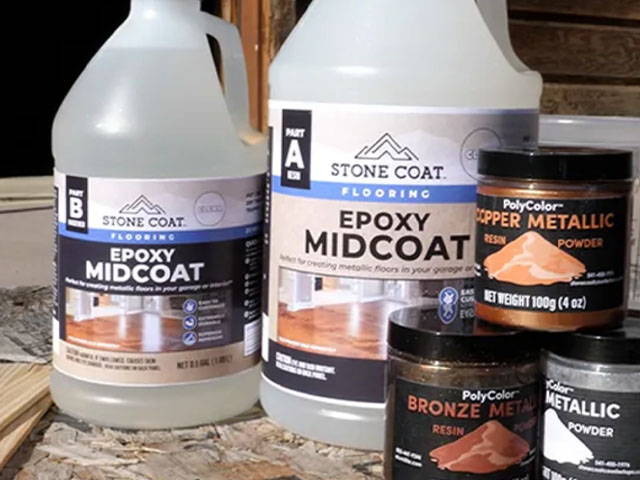 Add the accent colors to your base color epoxy. Use a floor trowel and light pressure to spread the accent colors until you get the look you want. Use 91% isopropyl alcohol to blend and mix the epoxy colors together. Spray some of this alcohol on any micro bubbles that appear to help to pop them. The floor will keep self-leveling and melding for hours. You can also use a small 6 and a 1/4'' microfiber roller to make patterns in your epoxy and blend it together. Allow the floor to cure 24 hours after mixing in room temps above 65 degrees Fahrenheit.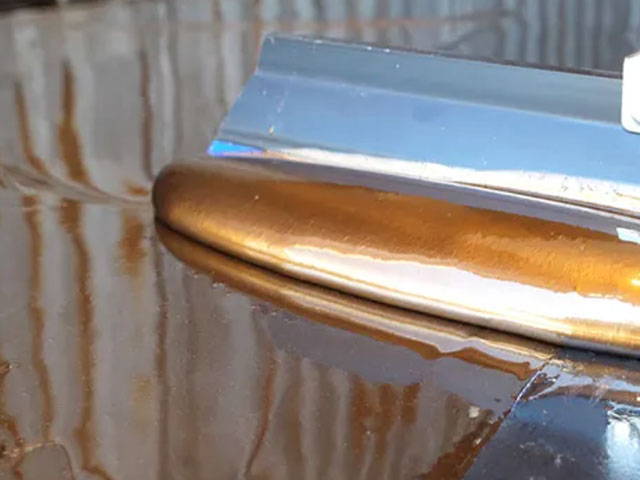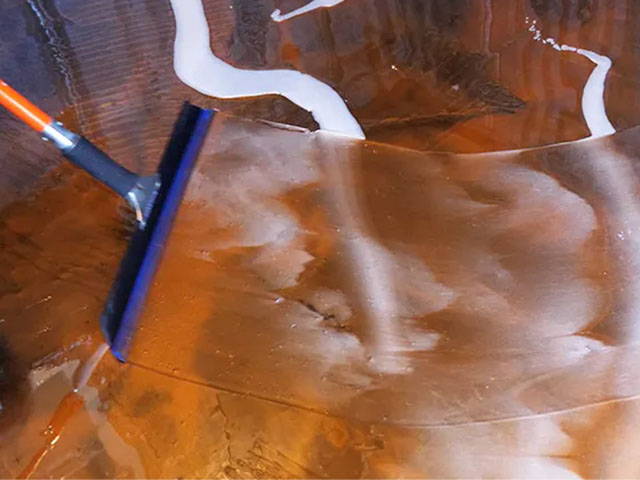 Step #3 - Apply Top Coat Mixed with Non-Skid Additive
Both our Polyaspartic Top Coat and Flooring Ultimate Top Coat Natural/Gloss are compatible as a final topcoat over our metallic marble floors. For an extra grip on the floor, our polyaspartic top coat is compatible with our non-skid additive. For the Polyaspartic Topcoat, measure out 1-2 ounces for each square foot of floor. Mix the topcoat with a paint stick or a paddle mixer and a drill for 2-4 minutes. If you want it to be less slippery, add in 2 ounces of our non-skid additive for light grit per 1.5 gallon kit, 3 ounces for medium grit, or 4 ounce for heavy grit. Mix the material after adding the non-skid additive until incorporated.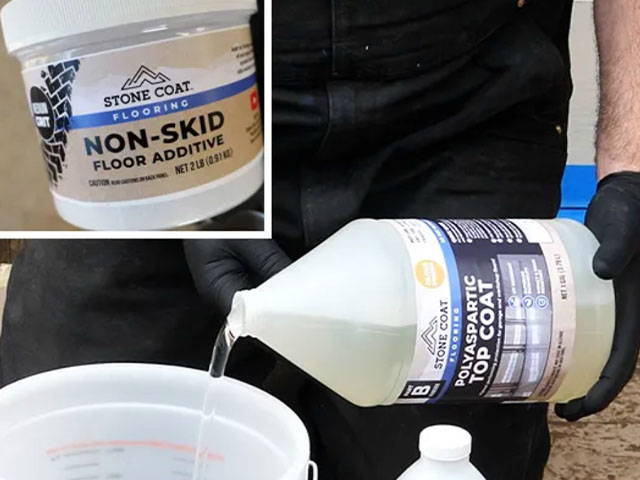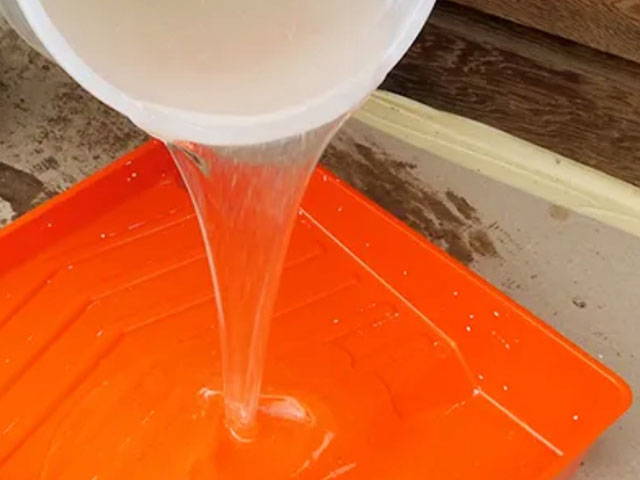 Pour the Polyaspartic Topcoat into a roller tray. Use a 1/4'' microfiber roller to spread it out on the floor. For bigger jobs, use wider rollers so you can cover more of the floor faster. Apply it evenly in a thin layer - roll from front to back and side to side in a cross-hatch pattern. Make sure not to put too much on - you want about 1-2 ounces per square foot. Let the top coat cure above 65 degrees Fahrenheit. Wait 24 hours before anyone walks on it again.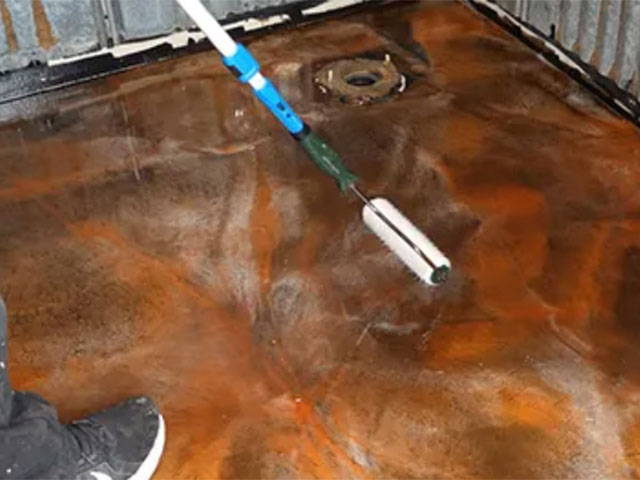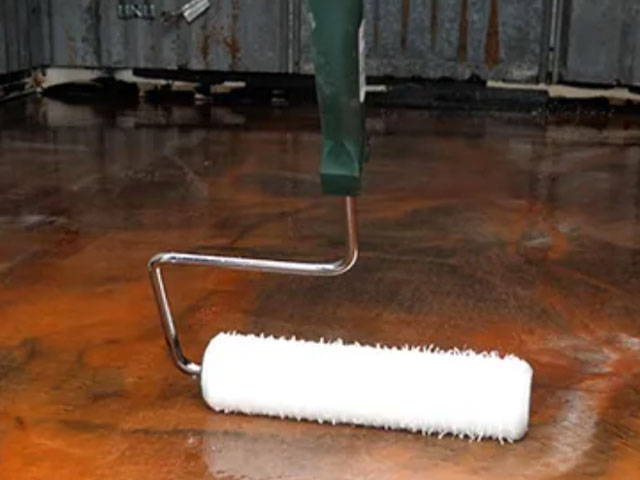 Project Complete! Light foot traffic is allowed in 24 hours and you can park your vehicles back on the fresh epoxy in as little as 72 hours. Use floor cleaners designed for tile or vinyl flooring for long lasting beautiful results. Keep from sliding heavy sharp items. To keep your floor looking fantastic, use felt pads under chairs and heavy furniture. Enjoy your new floor! You Got This!