Making a Skateboard out of Epoxy
Step #1: Build your Casting Epoxy Form.
Use a sheet of Melamine, or plywood for our form on this project. Determine the thickness of your wood slabs and cut the form sides 1/2'' taller of your wood slab. Apply Tyvek tape to the bottom and sides, overlap the tape. Screw down and secure the pieces together. Use Tyvek tape to seal where the sides meets the bottom to keep from leaking.
Step #2: Level the bottom & seal the slabs live edge.

• Using the Slab Jig, level the bottom of your slabs. Remove 1/8''-1/4'' per pass until mostly level. Return wood slabs to your form. Place your slabs into the form, and secure them down with clamps to prevent any movement. Mix Stone Coat's Quick Coat and apply to the live edge of the wood slab. Quick Coat is a 1:1 ratio by volume fast curing epoxy. Mix for 2 minutes with a drill and paddle mixer. Apply mixed Quick Coat with a brush or gloved hand.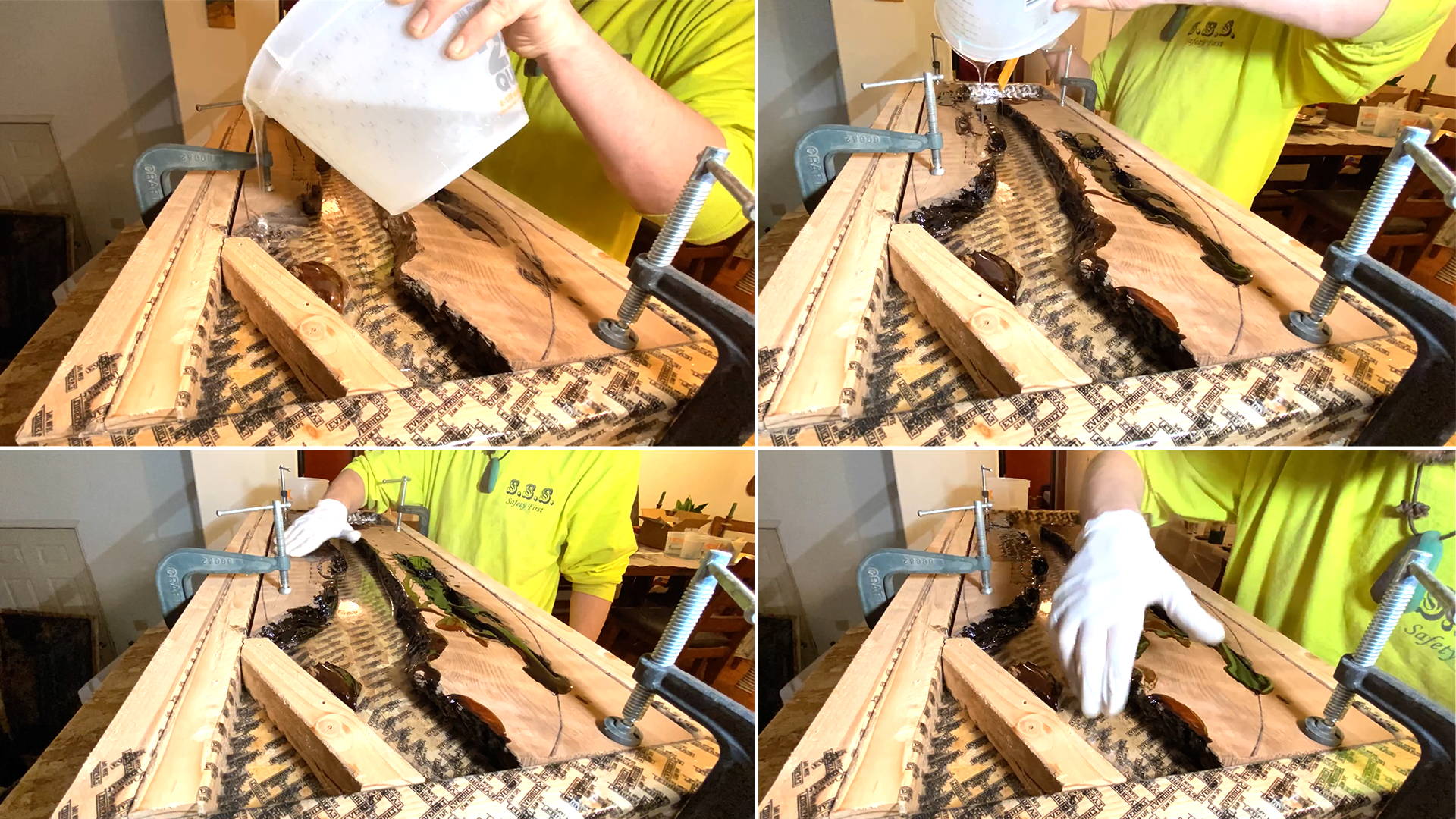 Step #3: Choosing a Color

Choose a dye, metallic powder, spray paint, or any combination of the three, and mix into epoxy. For this recipe, we used the about a quarter of a spoonful of Rainforest Green Metallic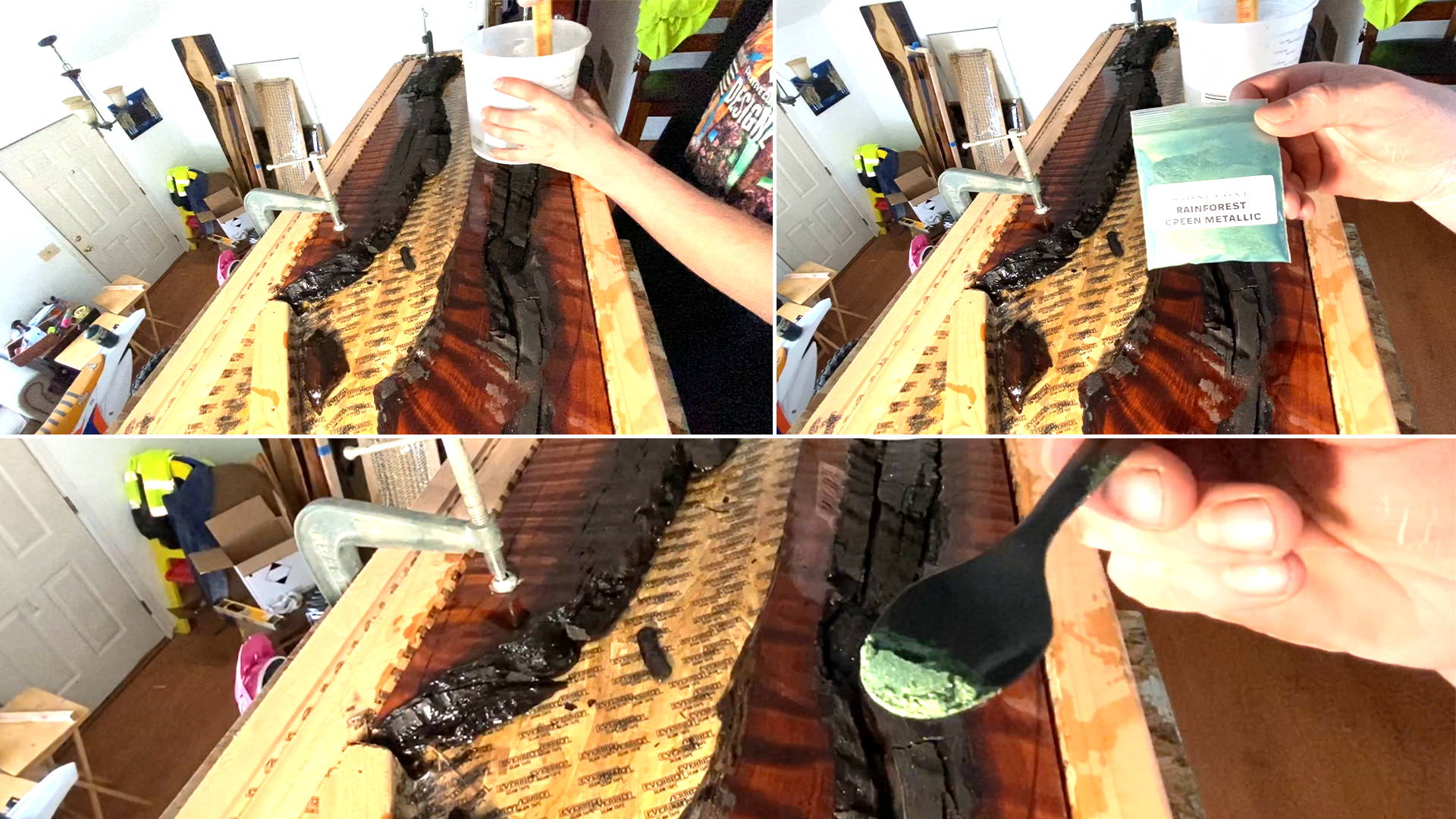 Step #4: Mixing up the Epoxy

Mix Stone Coat Countertops Super Cast Epoxy measured at a 2:1 ratio by volume for projects thicker than 1''. After adding the epoxy additives, mix with a mixing stick until there are no dry clumps of metallic. For project less than 1'' in thickness we recommend using our Casting Epoxy.
Step #5: Pour the Casting Epoxy River

Pour the Casting Epoxy or Super Cast into the river form, torch the epoxy every 1/4'' to remove air incorporated into the epoxy while mixing.
Use a Mixing stick to move around the epoxy to add visual interest, and up-level your epoxy pour.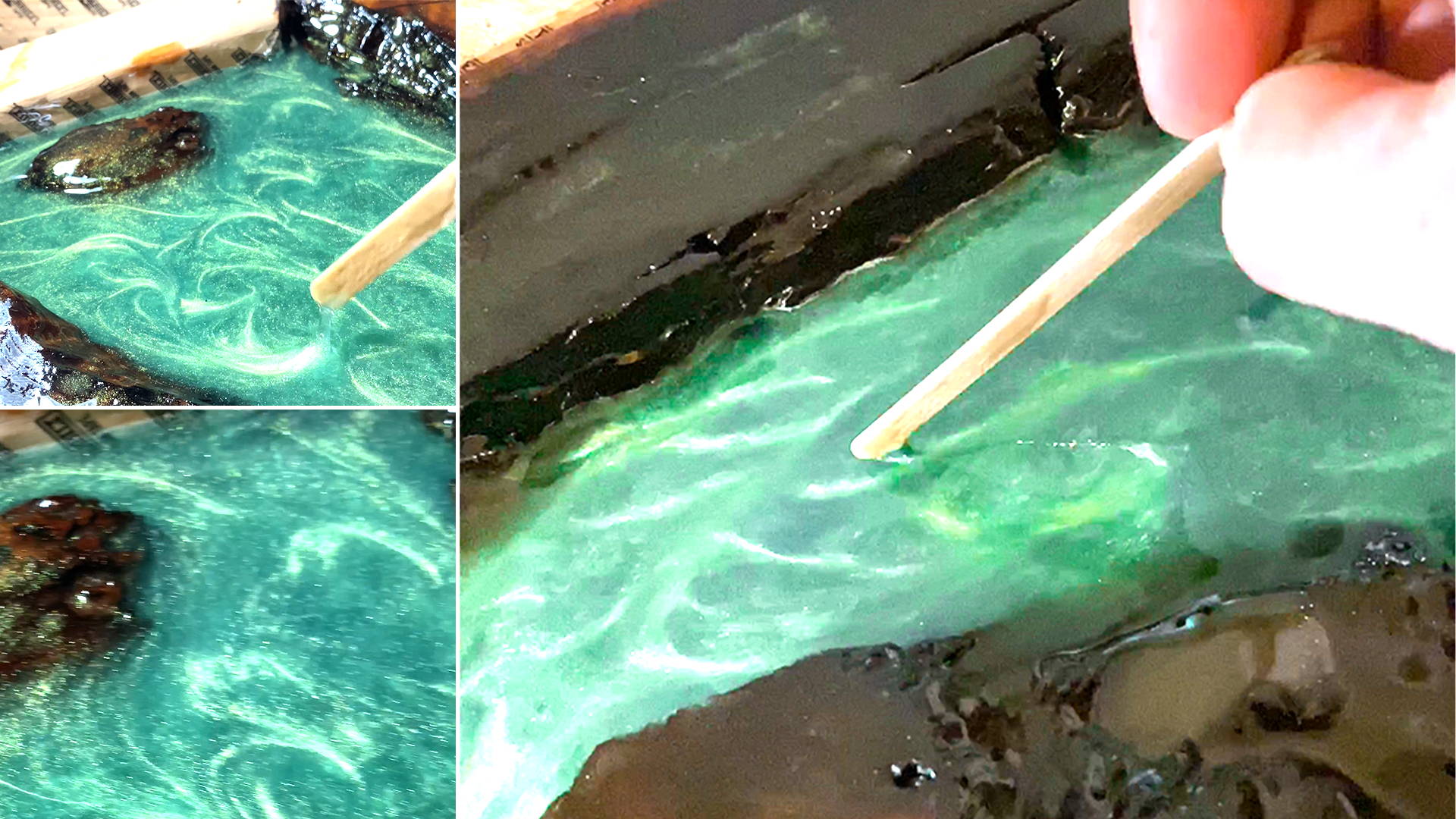 Step #6: Leveling the Skateboard
Bring the table top to level using the Slab Jig. Remove 1/8''-1/4'' per pass until level. Use a 1/8'' roundover bit to round the top and bottom edges. Sand the surface and edges with 60-220 grit sandpaper.
Step #7: Pouring the Clear Coat
Mix 3 ounces per square foot of Stone Coat Countertop Epoxy at a 1:1 ratio using a drill and mixing paddle. Pour the clear coat over the epoxy skateboard. Trowel, and then chop the freshly poured epoxy. Use a propane torch to remove air mixed into the epoxy, torch the project at least 3 times.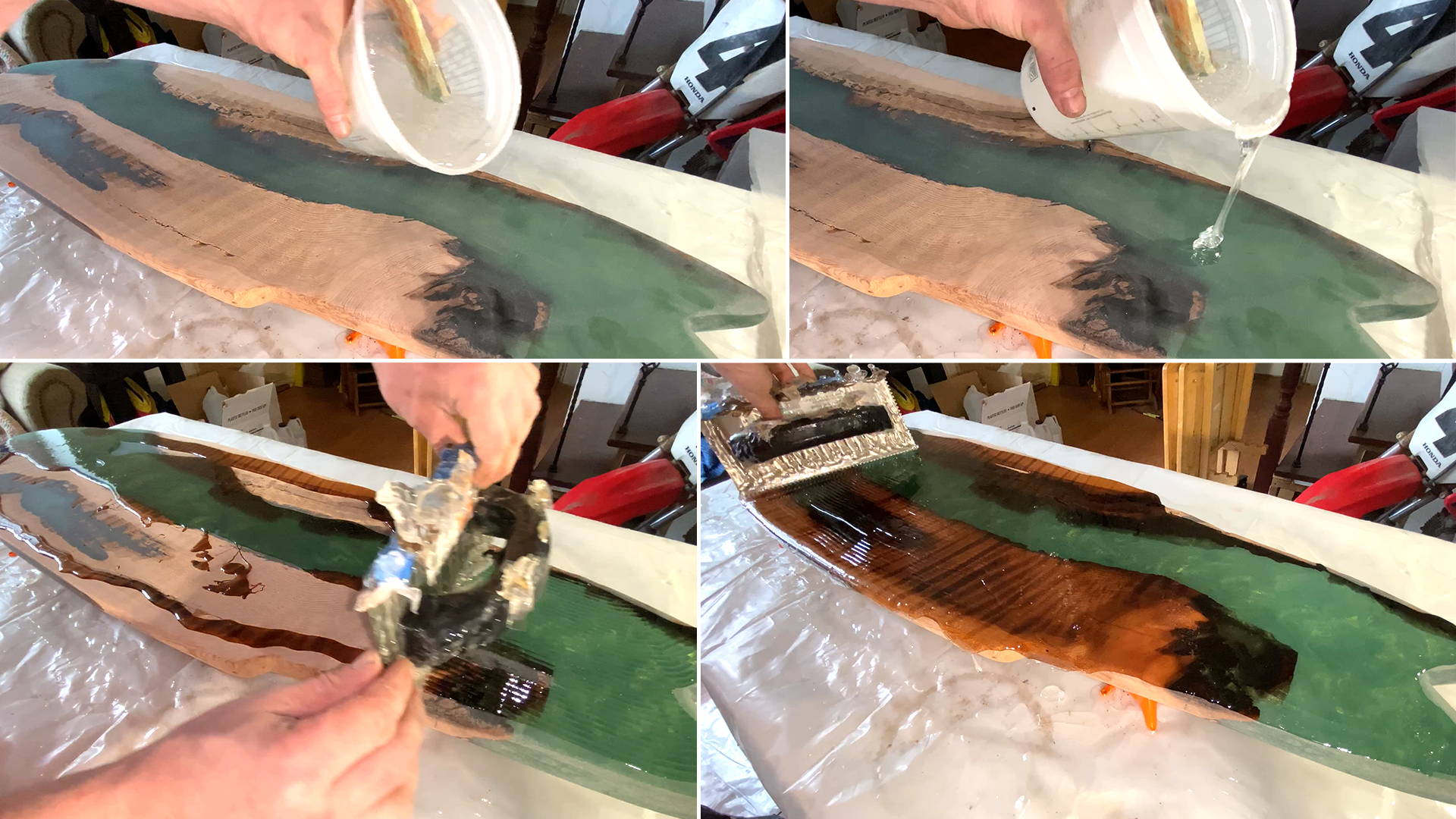 Step #8: Smoothing out the Surface
Sand up to a 400 grit using a random orbital sander to remove any imperfections in the surface.
Clean the surface using water and a towel.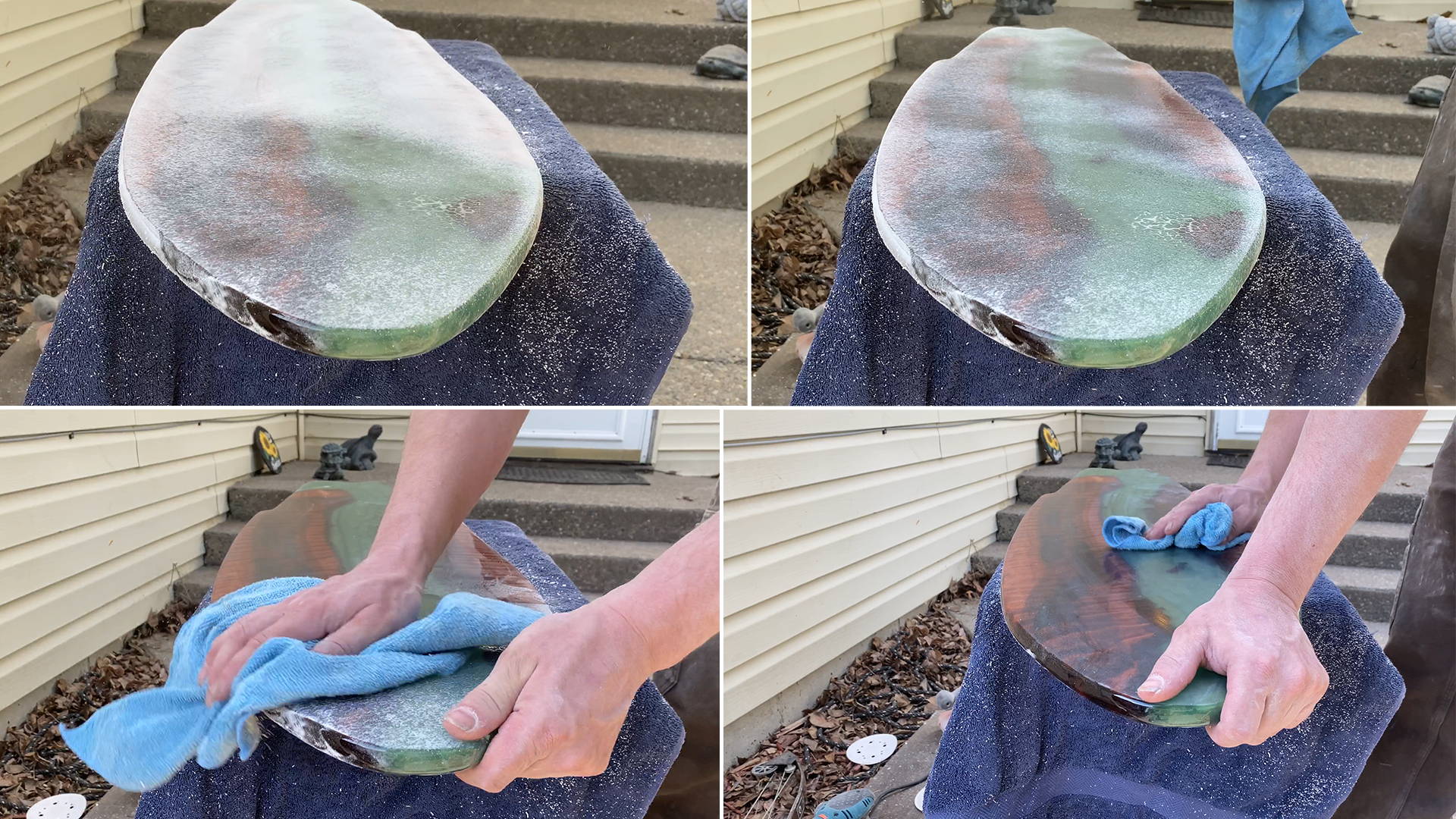 Step #9: Prepping the Skateboard for Grip
Apply a thin layer of cutting board oil, trowel it the with a card, and wipe clean with a towel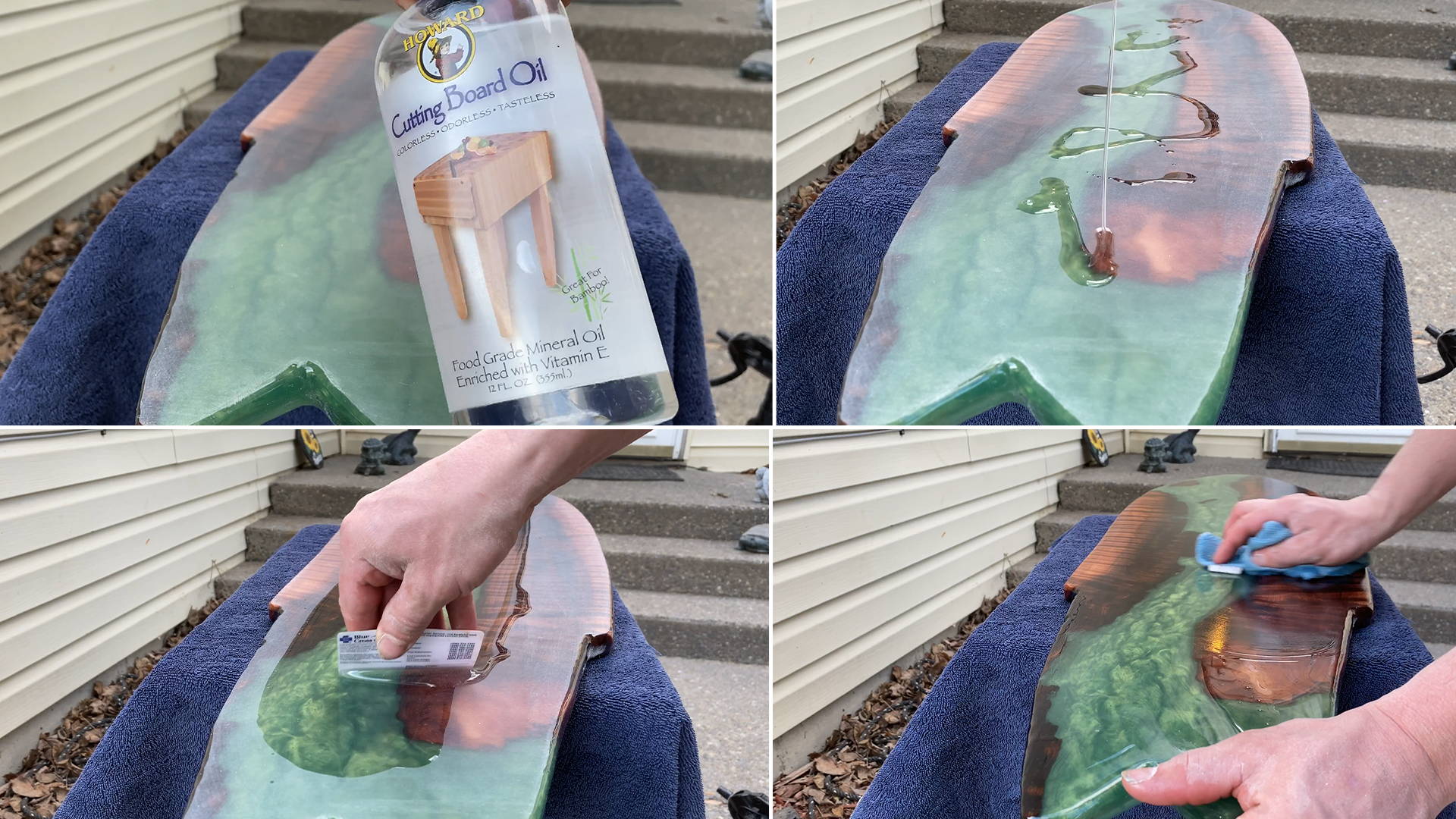 Step #11: Mount your Skateboard Hardware
Mock up your skateboard trucks to your board and measure to make sure they are straight and evenly placed. Mark the holes, drill, and install your trucks and hardware.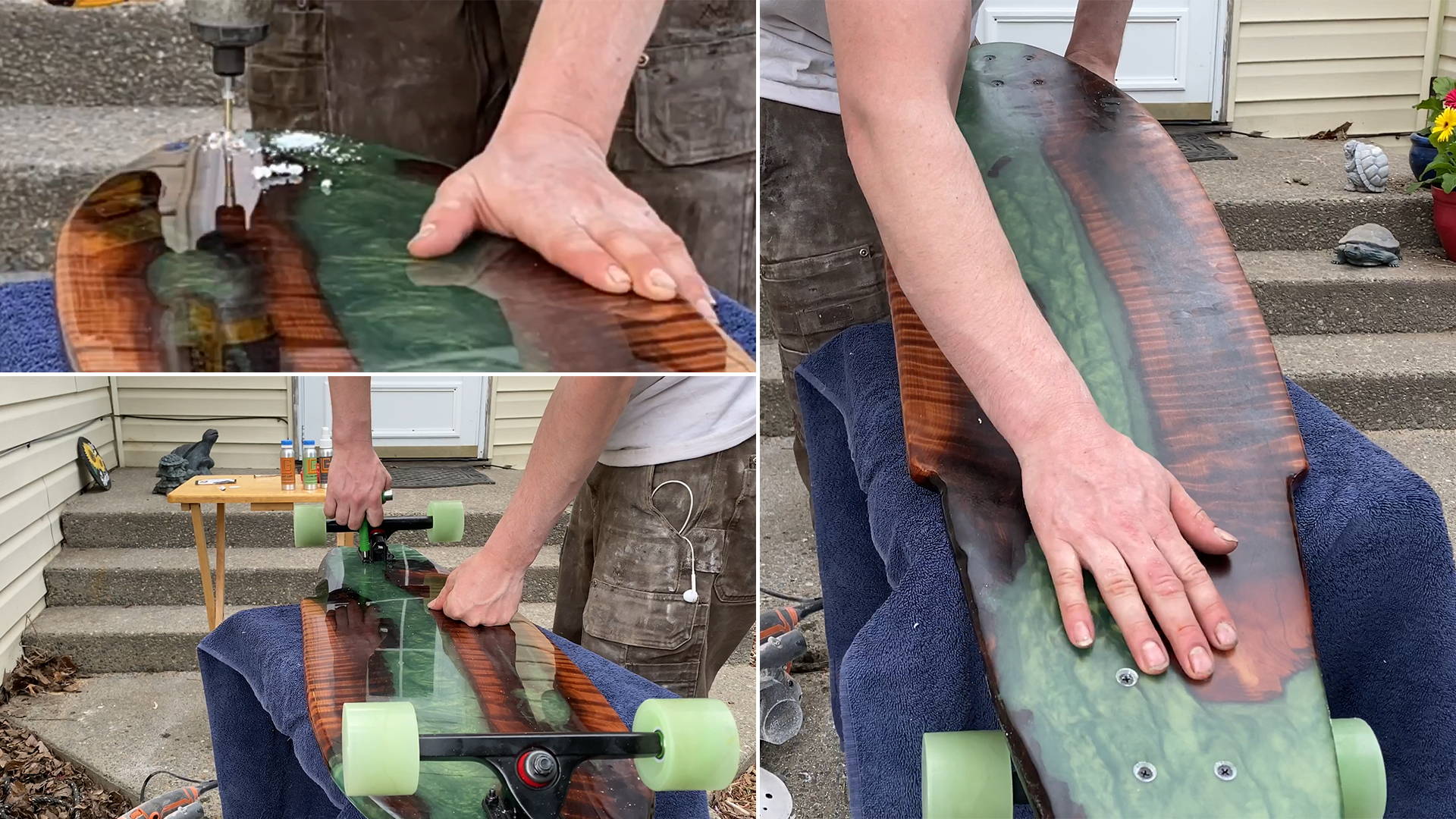 Step #12: Applying Grip
Use spray on adhesive such as lucid grip evenly across the board, then shake the grip sand across the board evenly for a uniform look. An alternative process which can provide a more even look would be to apply clear skateboard griptape.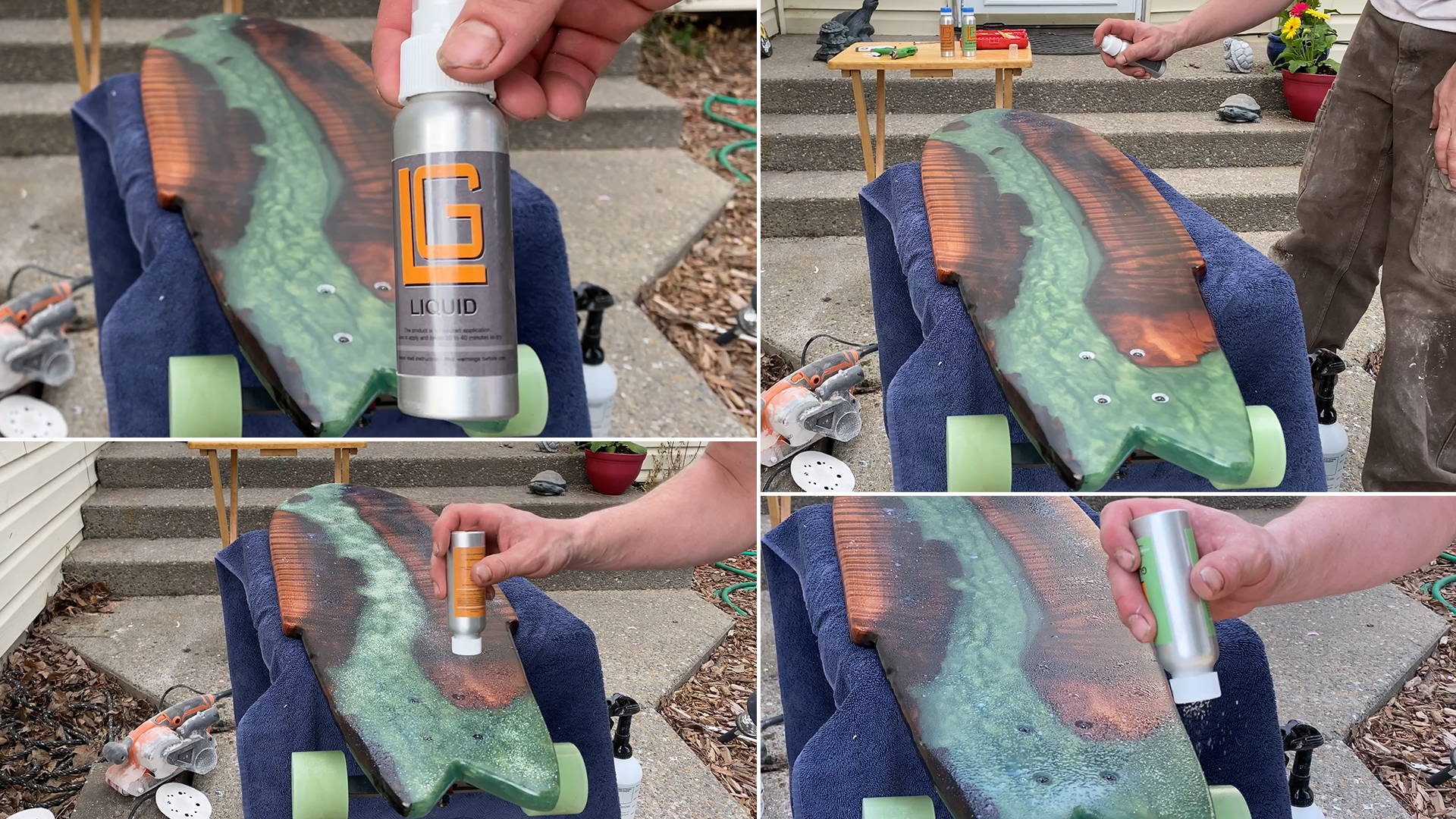 Step #13: Enjoy your New Skateboard!
You now have a complete skateboard, enjoy. YOU GOT THIS!