Designed for white and light-colored projects & for the Epoxy Pro's to get the job done quickly. Our Hybrid Coating Technology is the ultimate non-yellowing coating! This product is even safe to install outdoors in direct sunlight!
*Carefully follow included instructions for best adhesion.
20 Square Feet Per Gallon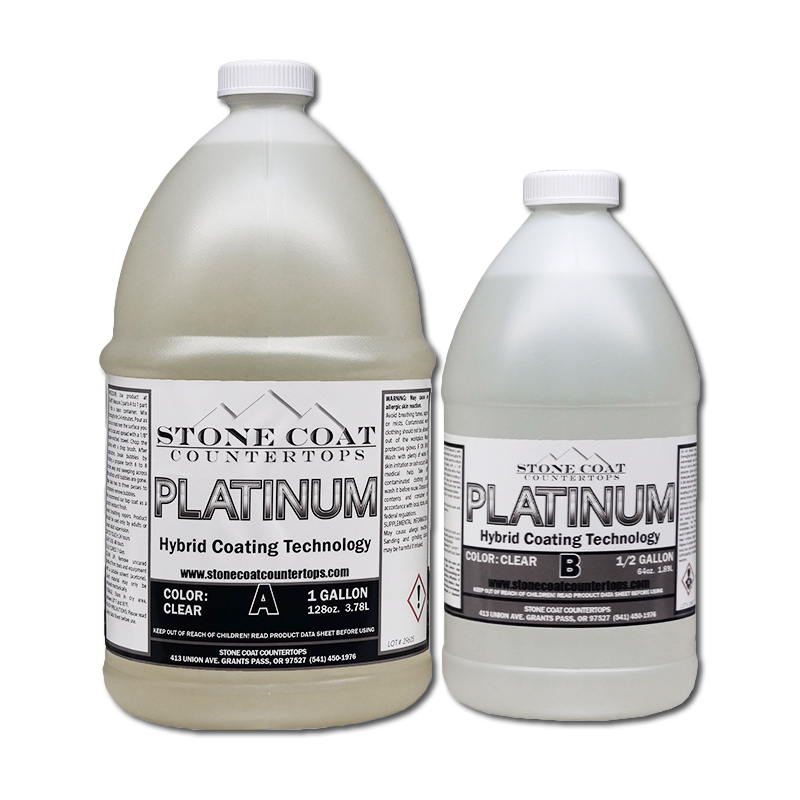 Step 1: Mask Work Area
Use delicate release tape on any painted surface or cabinet. Keep the coating off the cabinets with 3 mil plastic. We cover the floor with paper impervious to water.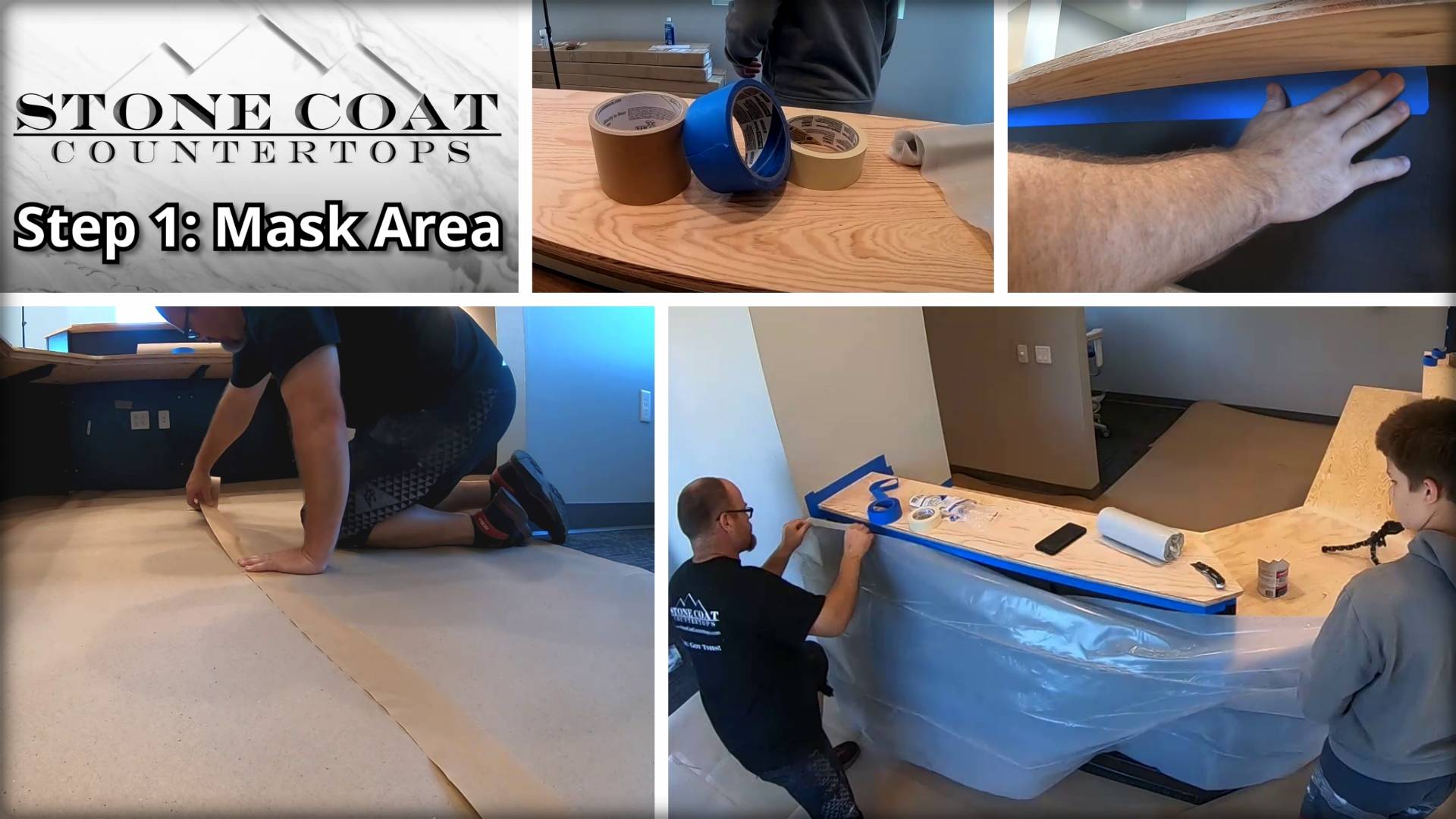 Step 2: Rock Face Edge Preparation
Mix up Bondo and apply to the edges to create a natural chiseled rock face edge. Use your gloved hand or a bondo spreader to apply. You can apply by rubbing horizontally, or tap the Bondo to create high points then sand smooth when dry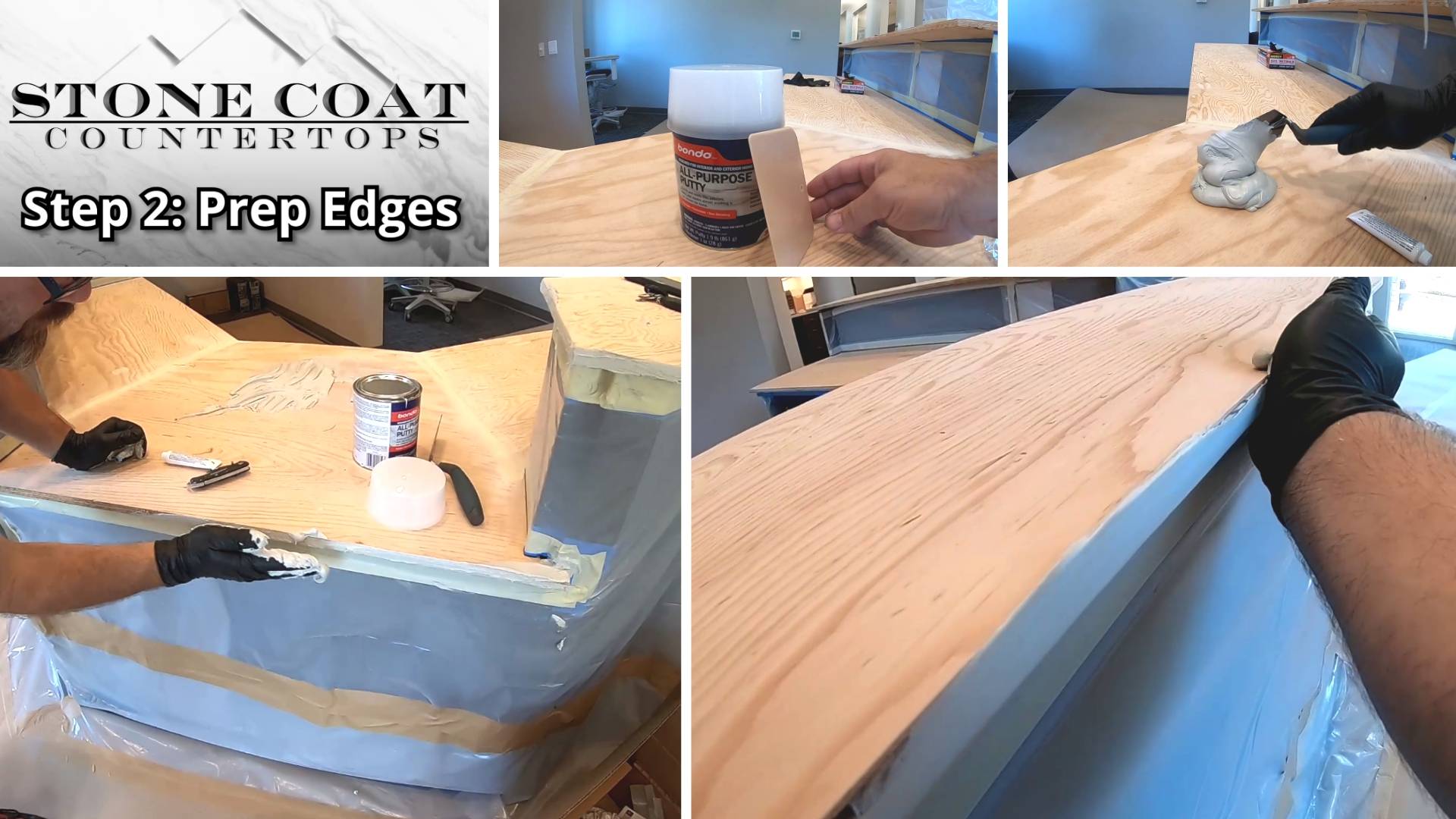 Step 3: Prep Wood Substrate
Mix up Bondo and apply to any seams in the wood substrate. Use a bondo spreader to apply. Sand any high points down when dry before applying wash coat.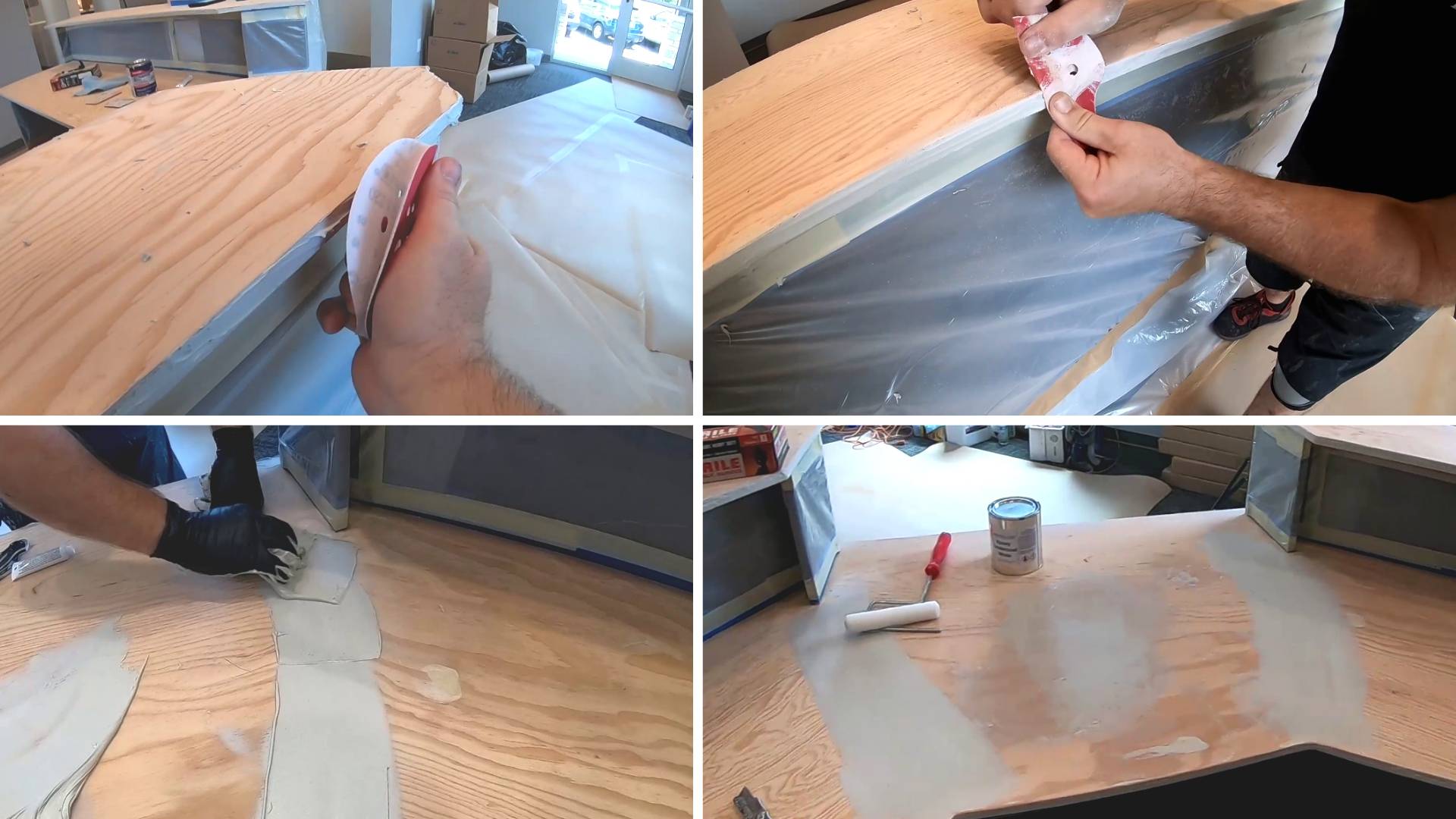 Step 4: Prep for Platinum Pour
When coating over existing non-porous materials such as laminate, be sure to create visible scratches in the surface using mechanical sanding to promote adhesion. Bonding primer can also be applied but be sure the water has fully escaped prior to installing the Stone Coat Platinum. Tape off the edges to create a small dam. We like to apply a couple layers of tape.
Step 5: Pick Colors & Mix Platinum
Pick out metallic powders, epoxy dyes, and spray paints to use with Platinum in your exotic pour. Platinum - Hybrid Coating Technology is a 2:1 ratio by volume coating. Mix for two minutes with a drill and paddle mixer or a paint stick. Only mix smaller amounts until comfortable with the shorter working time. Platinum has a working time of 20 mins. Starting work early you can do both the color coat and clear coat in the same day! Making a sample board will help with your color recipe and help get comfortable with Platinum's working time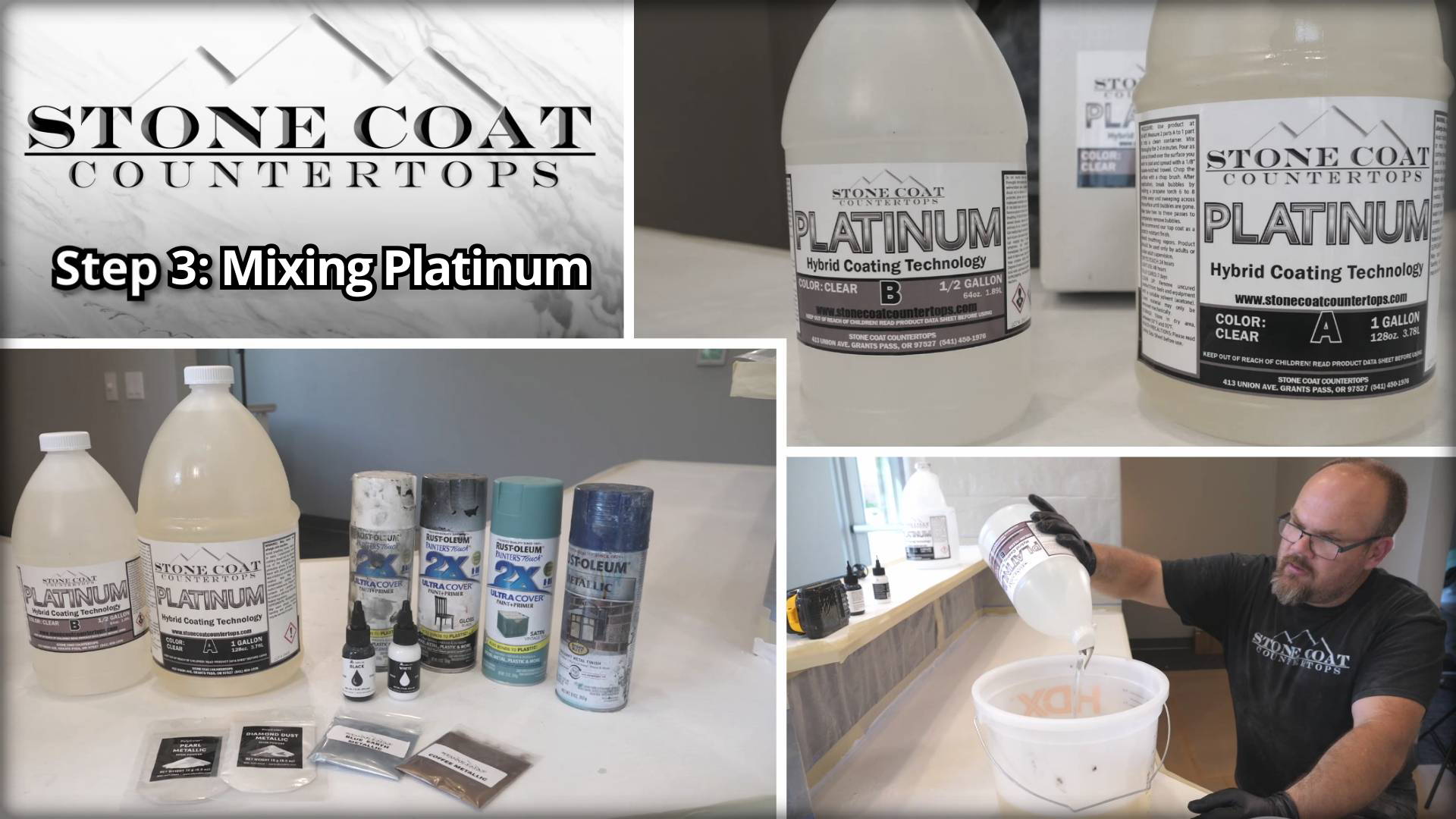 Step 6: Apply Epoxy Wash Coat
Use 1 ounce per square foot of Stone Coat Platinum as a wash coat aka undercoat. (Avoid using our epoxy undercoat with the Stone Coat Platinum, the water off-gassing may cause poor adhesion.) The wash coat will replace the undercoat when using our Platinum system. A wash coat is applied by tinting the Platinum with our dye then using a large popsicle stick or squeegee to spread a thin coat that's tinted to hide the color of the substrate. The purpose of a wash coat is to promote adhesion by pushing the coating into the substrate as well as adding an undertone color to hide the original color of the substrate.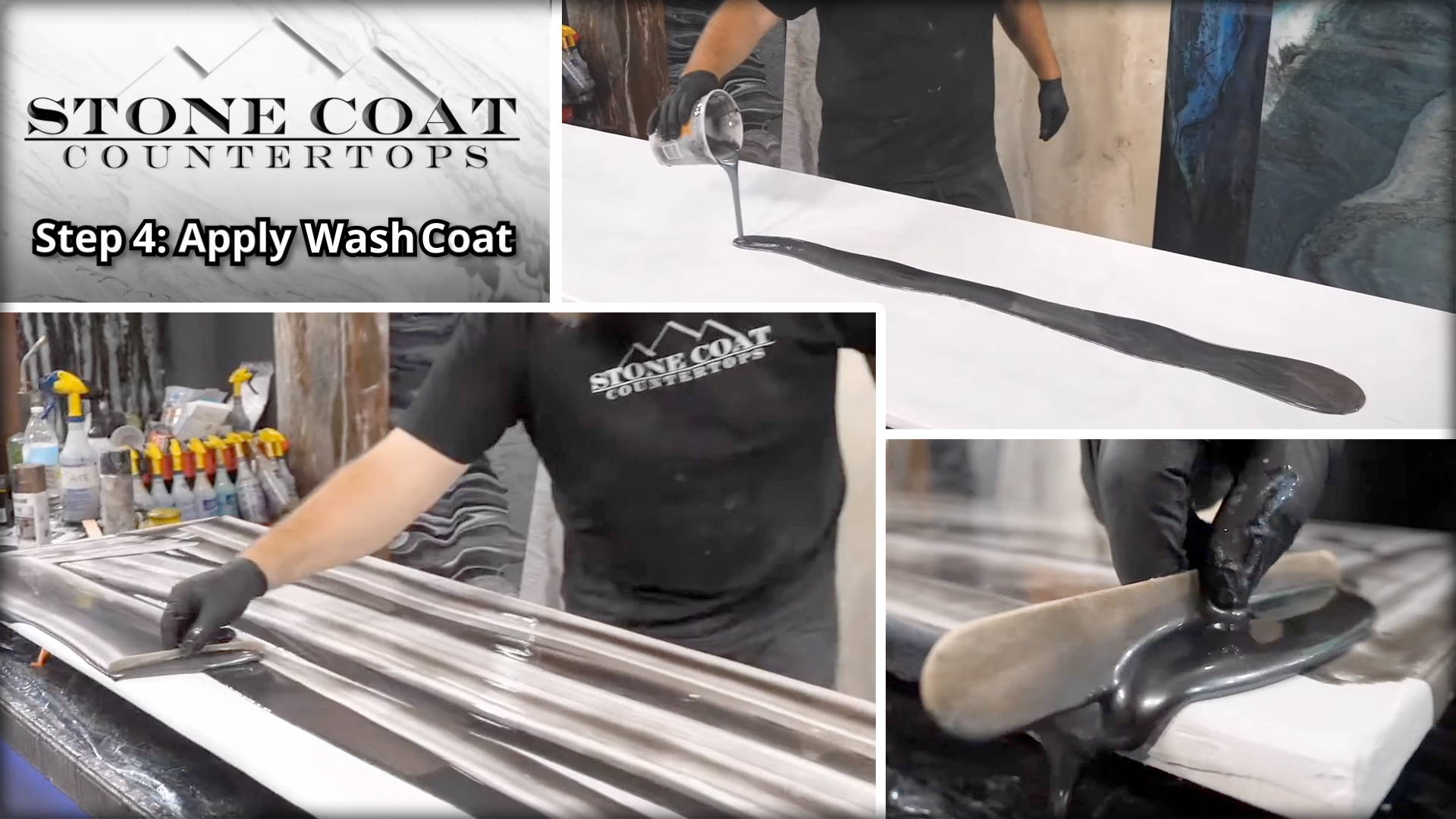 Step 7: Add Color Additives
As soon as the wash coat is applied you can add the color coat. The color coat is the decorative process of applying our color additives including Dye, Metallic Powder, and Spray Paint. Mix 3 ounces per square foot of Platinum for this coat. Pour mixed Platinum into mixing cups. Add in selected color additives and mix thoroughly with a mixing stick. Begin layering colored Platinum back into your larger mixing bucket. Randomly pour in the mixed colors taking time to fog different spray paints for added natural effects.
Step 8: Apply Platinum
Pour out the exotic pour bucket on the center of your countertop. Ensure that the Platinum coating is covering the entire countertop, use your fingertips or a paint stick to break up surface tension.
Step 9: Torch, Peel Edge Tape, & Prep for Clear Coat
Use a propane torch to remove air from the Platinum coating. Torch the surface 3 times 2-3'' from the surface in a sweeping motion. Remove tape right after torching.
Step 10: Clear Coat
The clear coat is applied the next day. Sand with 120 grit sanding discs using a random orbital sander. Wipe with xylene, then apply the clear coat. Mix Stone Coat Platinum at a 2:1 ratio by volume. We mix 3 ounces per square foot of the Stone Coat Platinum and mix for 2 minutes with a drill and paddle mixer. Pour clear Platinum and spread the mixed material with 1/8'' x 1/8'' square notch trowel. Chop the top and use a propane torch to remove any air bubbles. The clear coat will fill any imperfections cause by the color additives and is designed to add depth and durability. As we have continued testing adhesion in all climates and temperatures we advise this method of application. (As soon as the xylene is flashed or dry, pour the clear coat because the xylene is going to make the color coat sticky which will promote optimal adhesion).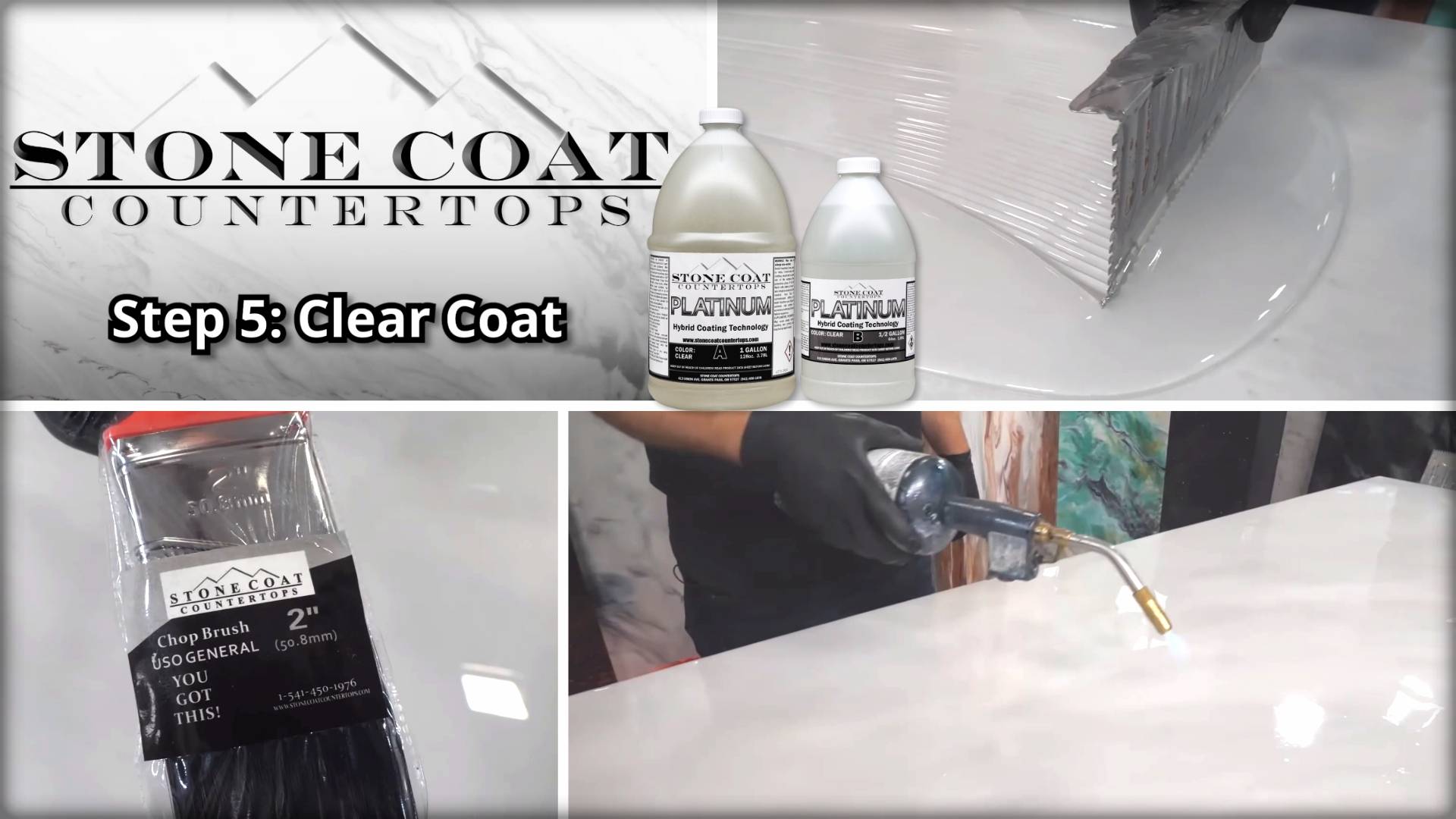 Step 11: Sand Clear Coat
Sand the dried Platinum clear coat with 220 grit sandpaper to prepare for the Ultimate Top Coat. Attach a vacuum to your sander to keep dust to a minimum while sanding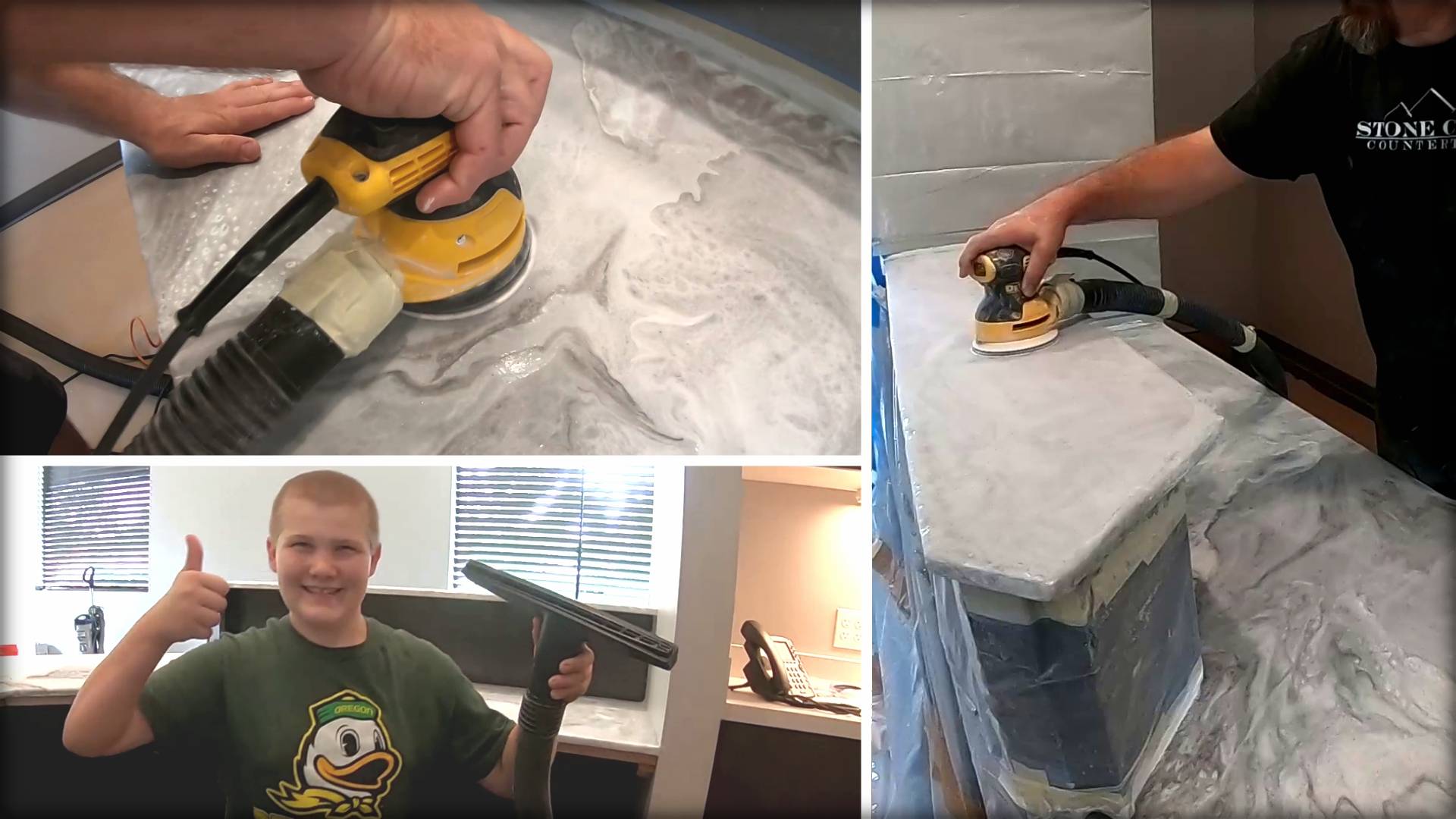 Step 12: Mix Ultimate Top Coat
We recommend for Ultimate scratch resistance and for the best natural sheen, mix and apply Stone Coat Ultimate Top Coat. Fast application and dry time. Mix at a 2:1 ratio by volume and add a cap full of water, mix thoroughly with a slow speed drill and paddle mixer for 2-3 minutes. Pour mixed Ultimate Top Coat in a paint tray. Only mix enough top coat that can be applied in 15 minutes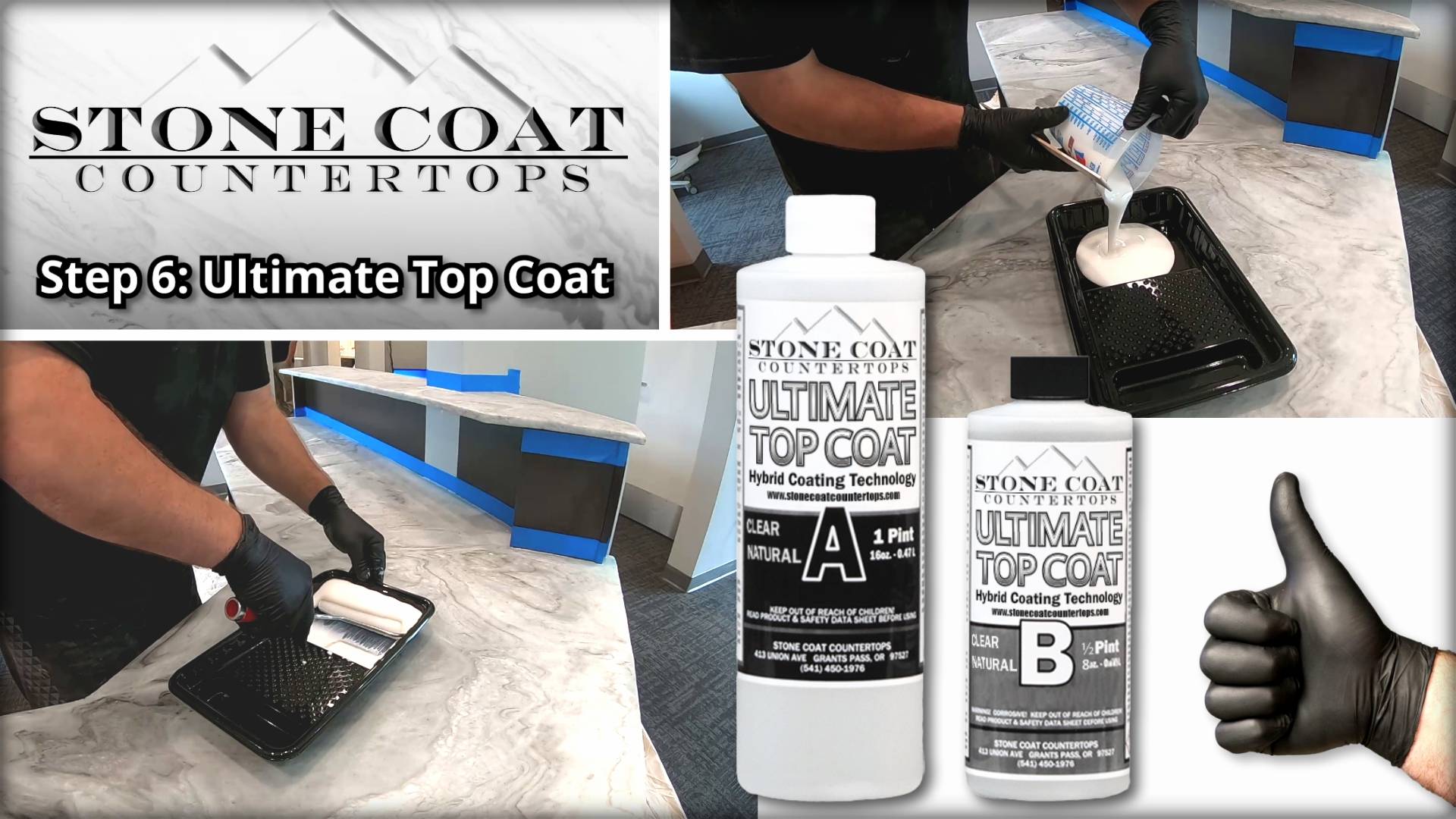 Step 13: Apply Mixed Ultimate Top Coat
De-shed two paint rollers. One will be used to apply the top coat wet, and the second will be used to dry roll the top coat. Saturate a paint roller with top coat and back roll excess off in paint tray. Apply to the center of the countertop and roll top coat thin and even. Don't forget the edges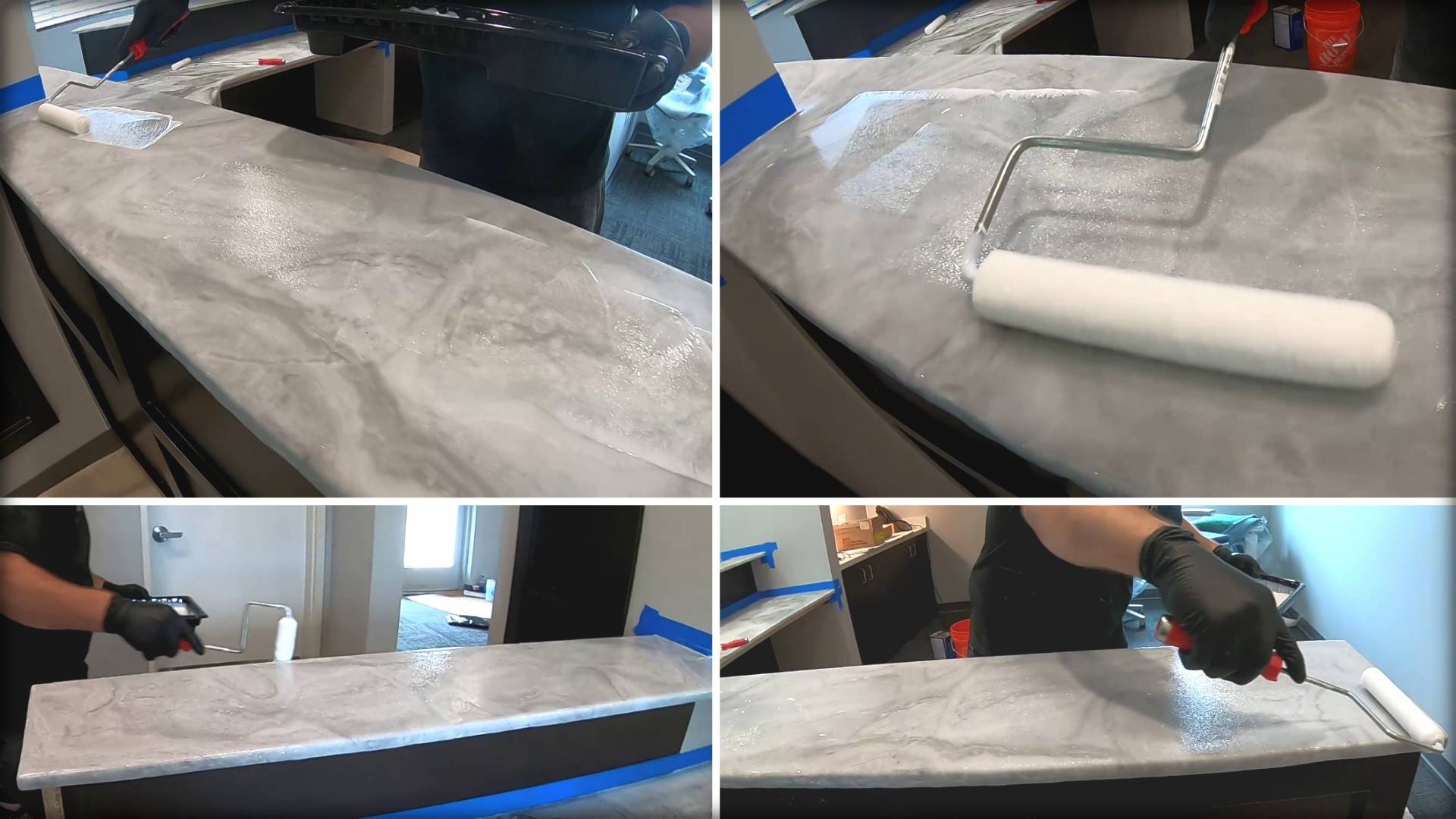 Step 14: Dry Roll Ultimate Top Coat
Dry roll the top coat to remove lap lines from roller. Only a thin coat is necessary. Apply and dry roll the top coat in 8 foot sections at a time. Avoid over rolling to keep excess bubbles Stone Coat Countertops Ultimate Top Coat will be dry to the touch in 8 hours and ready for countertop use in 24 hours! This top coat will keep your project looking natural and is extremely scratch resistant leaving your project looking like the day your poured for many years to come!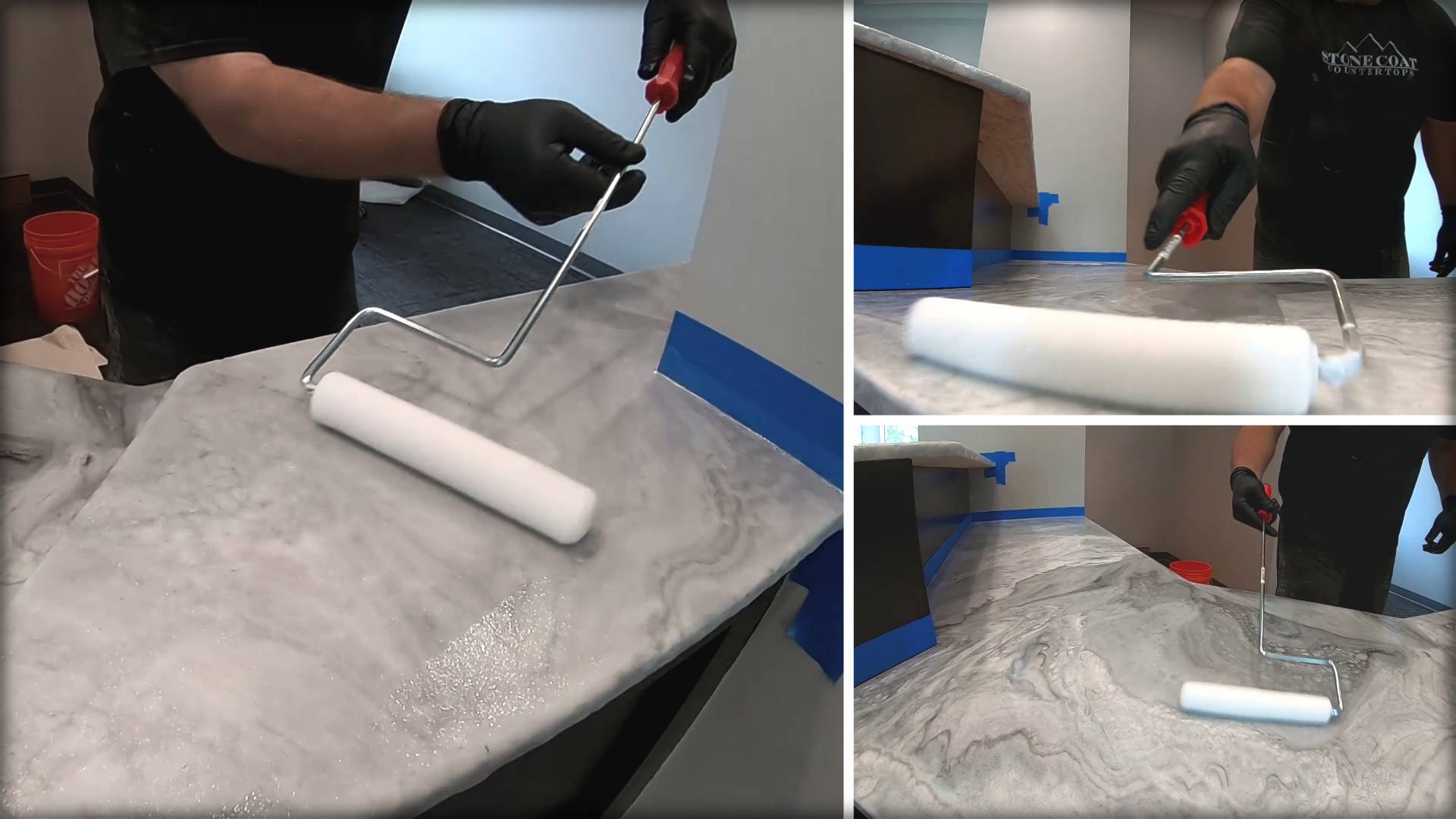 Step 15: Enjoy Your New Countertops
Clean with any non abrasive cleaners designed for countertops.