EPOXY SHOWER STEP-BY-STEP
Step 1: Template Shower Area
Use a small amount of acetone to glue Stone Coat templating material together. Use a permanent pen to mark the template with helpful information like window, & shower head placement.
Step 2: Add Screw-in Strip
If installing shower doors you will need something stout to hang the doors to. We used a plastic solid piece of trim. Router a channel large enough to fit the trim piece to be installed. Use mixed Quick Coat to glue in the screw strip. Quick Coat is a 1:1 ratio by volume epoxy. Mix for 2 min, scrape off excess Quick Coat
Step 3: Apply Fiberglass Mesh
Dry fit the fiberglass mesh to any shower panel. Use scissors or a utility knife to cut the mesh to size.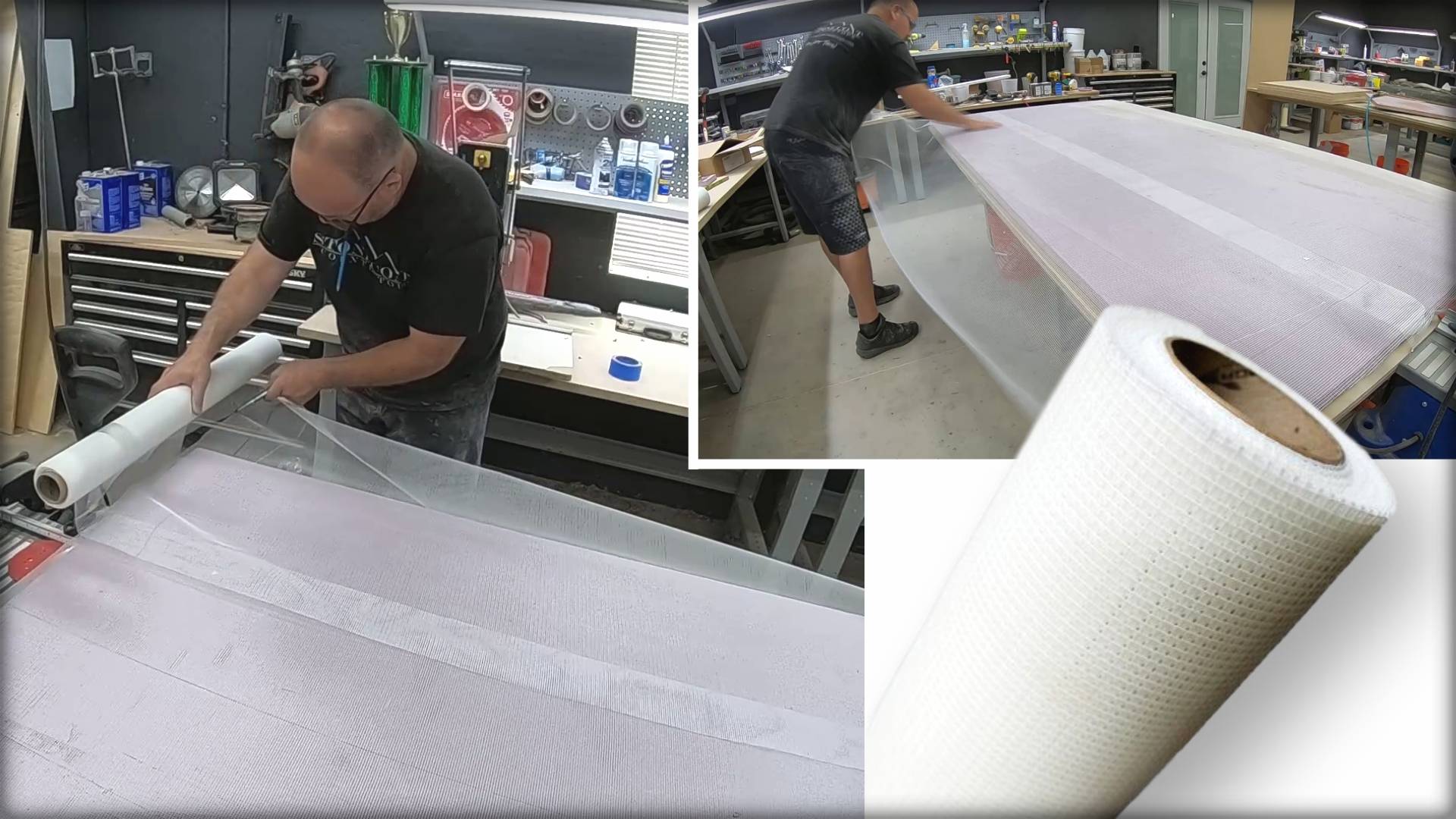 Step 4: Apply Thicken Quick Coat to Mesh
Use Stone Coat Epoxy Thickener to thicken Quick Coat to the consistency similar to Bondo. Use a squeegee or a Bondo spreader to evenly coat the Fiberglass Mesh backing over the foam panel. Use a metallic powder or epoxy dye to color your shower panel as desired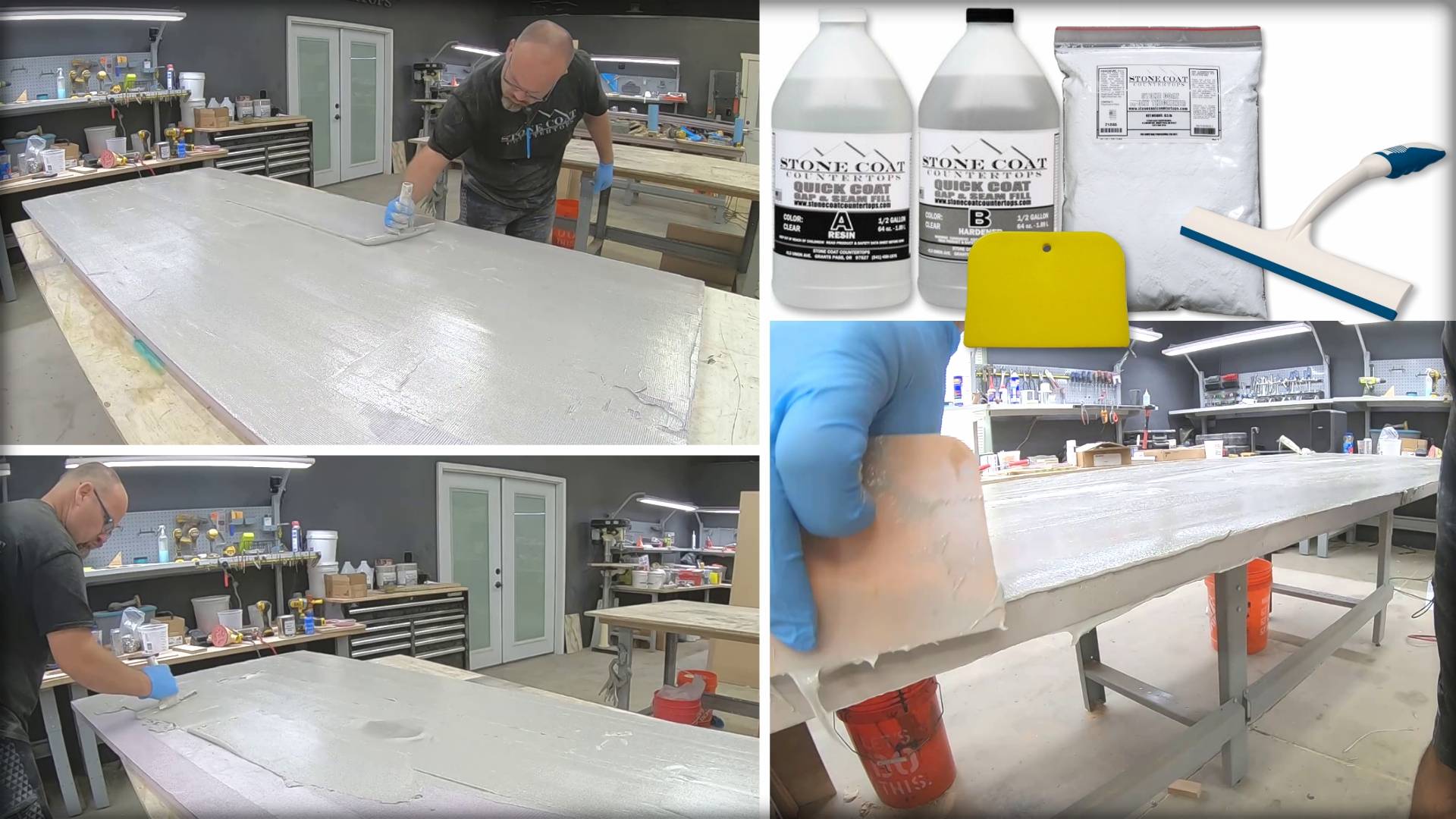 Step 5: Glue Together Large Foam Panels
If necessary, glue two foam panels together with thickened Quick Coat. Use Tyvek tape or 3 mil plastic underneath the foam to keep panels from sticking to your table.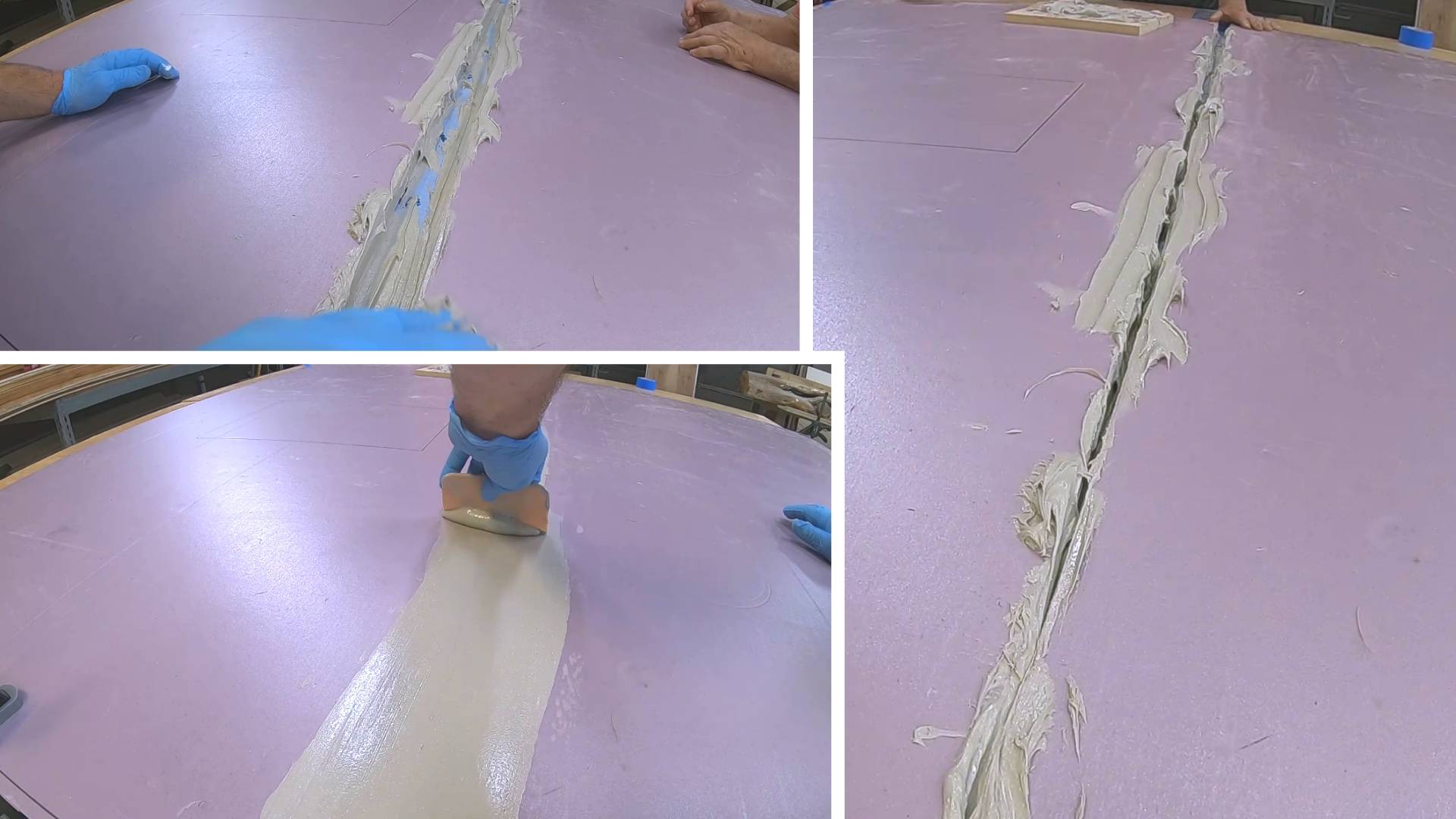 Step 6: Apply Mesh & Quick Coat To Seamed Panels
Apply thickened Quick Coat to the fiberglass mesh to strengthen the foam to prepare for the color coat of epoxy.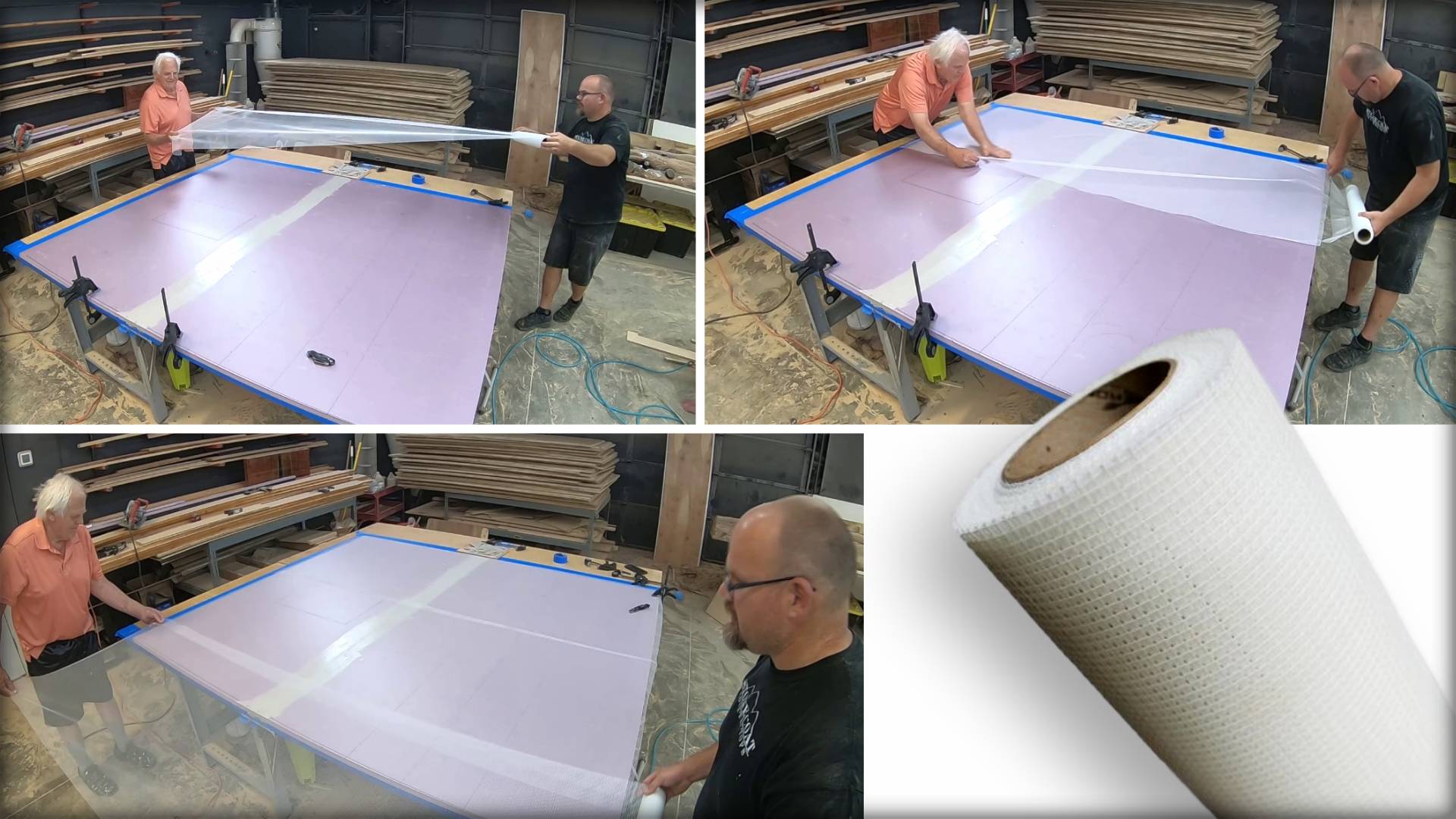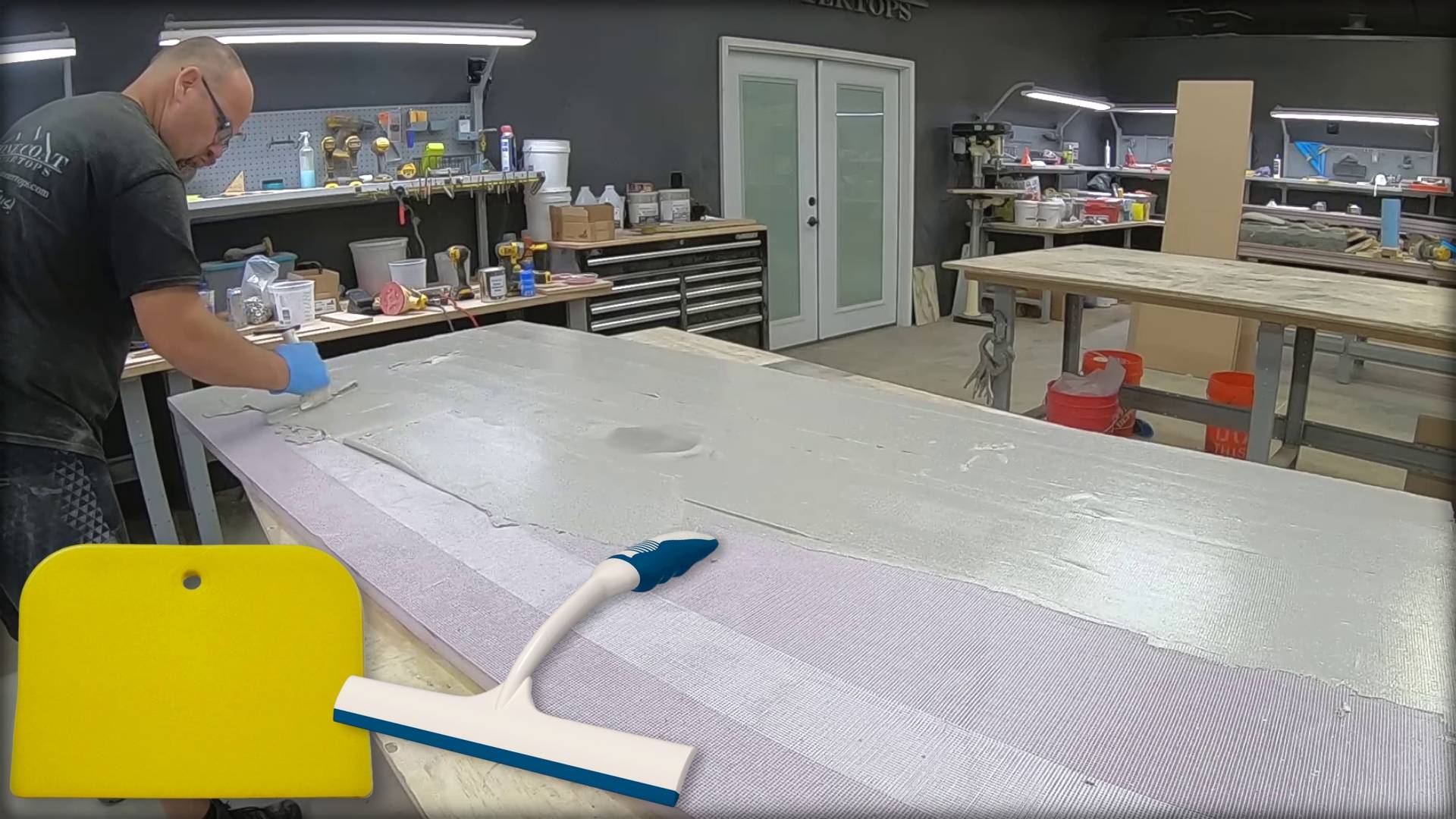 Step 7: Mix Epoxy For Color Coat Exotic Pour
Measure & mix Stone Coat Countertop Epoxy at 4 ounces a square foot of shower panel if using the Exotic Pour technique. Stone Coat Epoxy is a 1:1 ratio by volume epoxy, mix for 2 minutes with a drill and paddle mixer. Pour mixed epoxy into separate containers.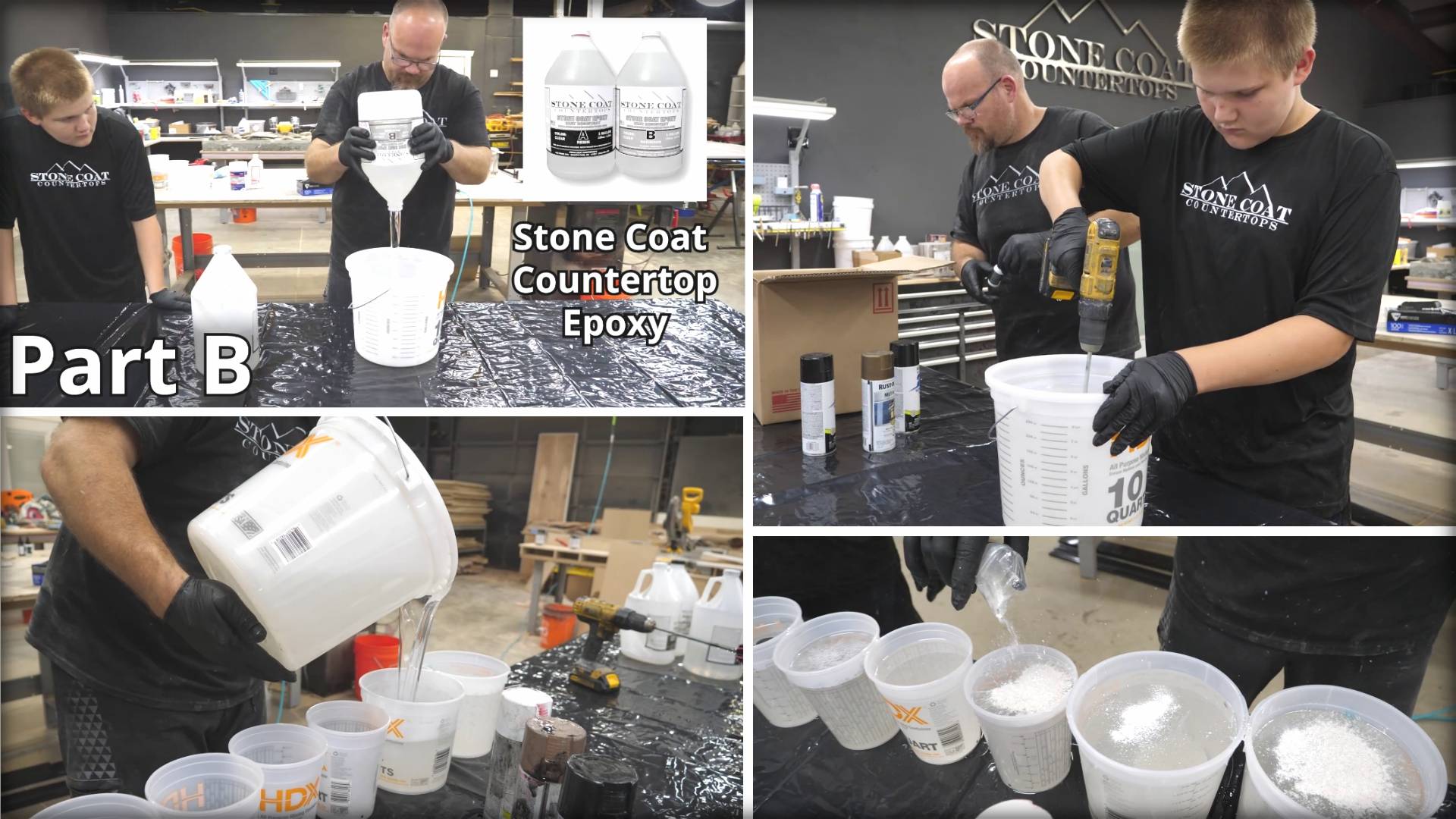 Step 8: Mix in Epoxy Color Additives
When using the Exotic Pour technique use a couple colors from each of the following epoxy additives: Metallic Powder, Liquid Epoxy Dye, Spray Paint. Add in colors and mix thoroughly. Layer mixed colored epoxy back into your larger mixing bucket taking time to fog spray paint colors between some layers of epoxy. Pour in your colored epoxy in a random fashion.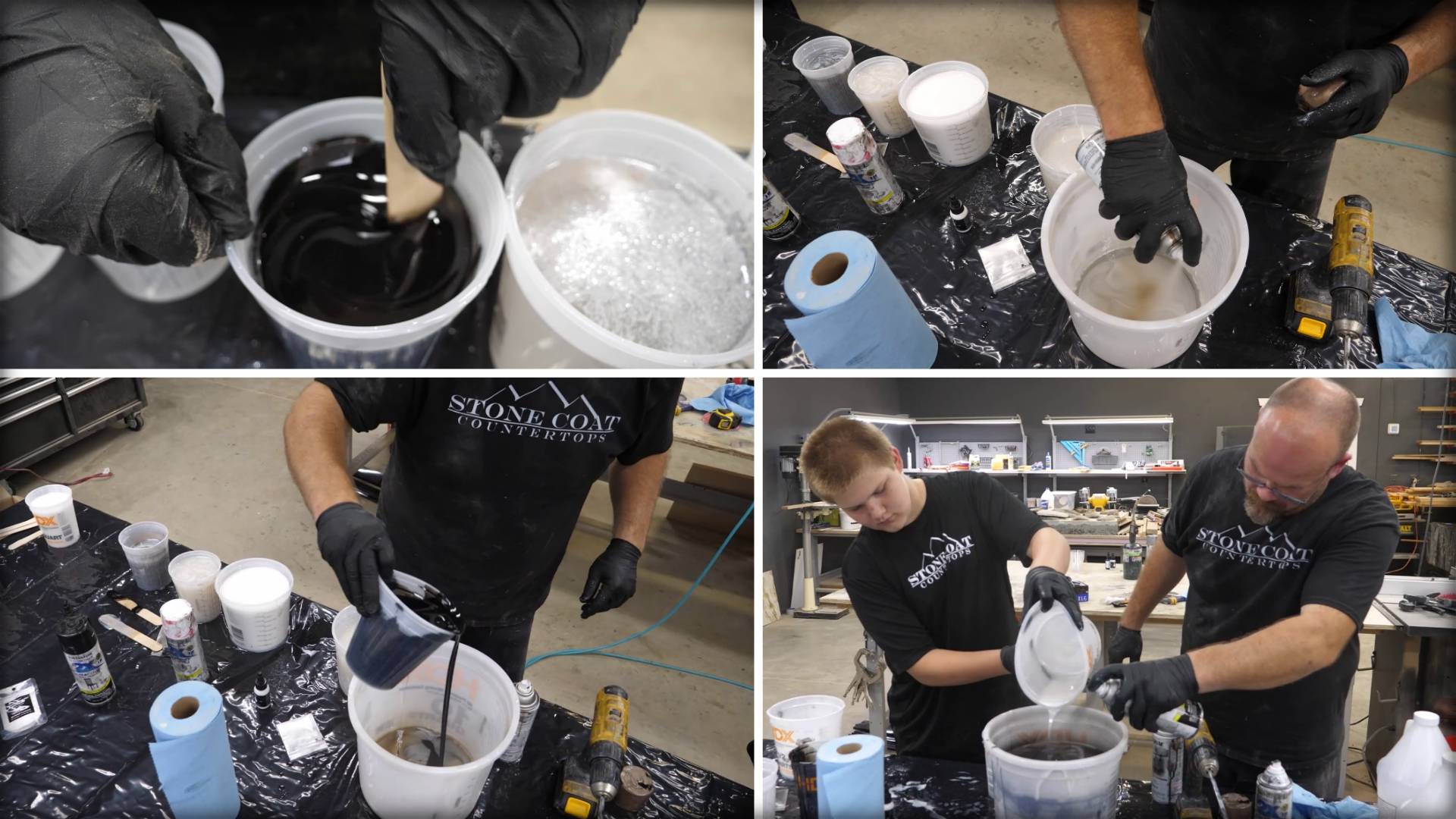 Step 9: Apply Exotic Pour
Before pouring epoxy out tape off the edges of the shower panel with masking tape. Pour the layered colored epoxy onto your shower panel.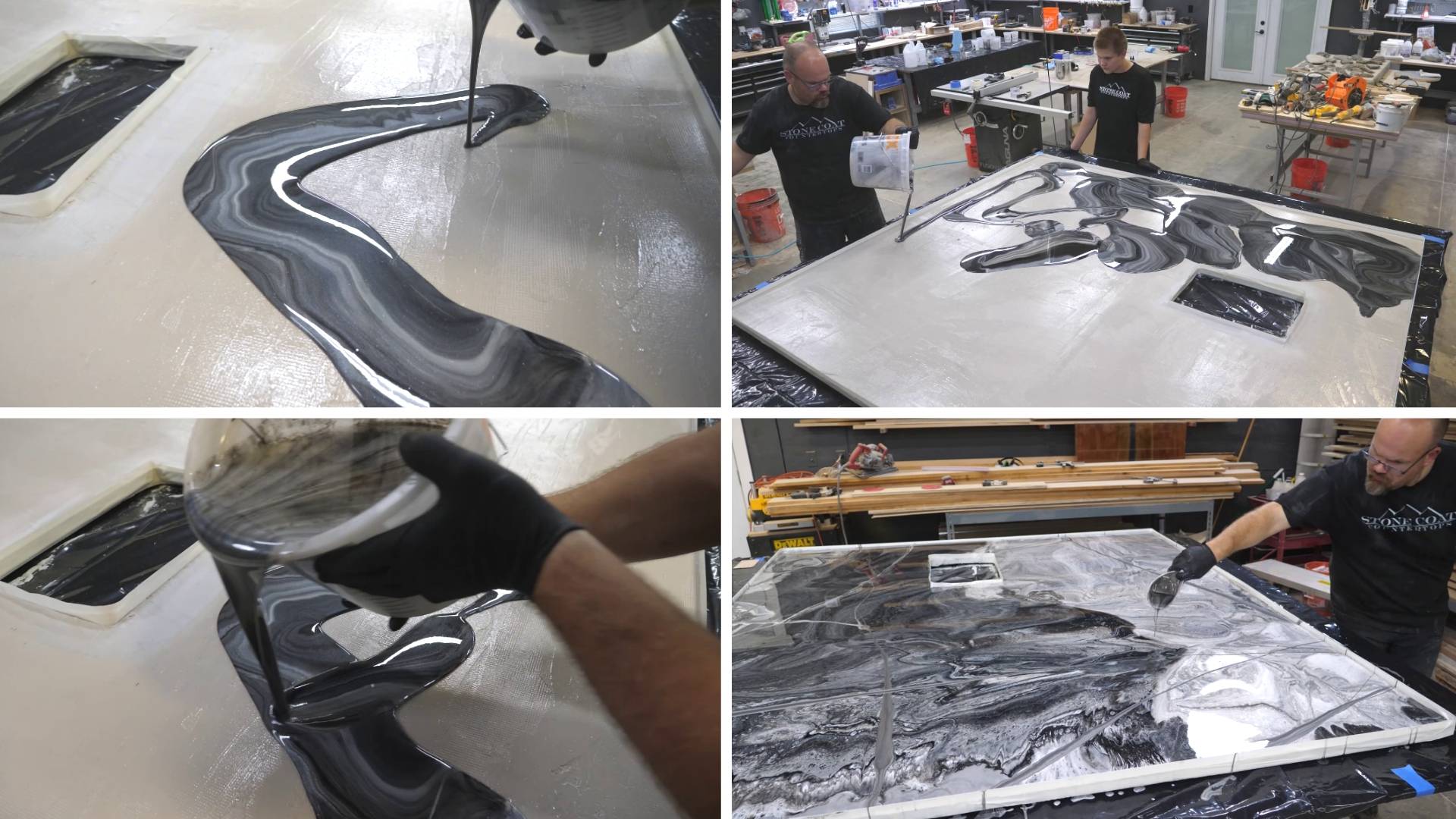 Step 10: Apply Exotic Pour
Fill any voids and break up any surface tension with your gloved finger tips. Remove air from the epoxy with a propane torch. Keep the head of the torch 2-3 inches from the surface of the epoxy, torching in a sweeping motion. Remove the tape from the panels between hours 3-4 after mixing.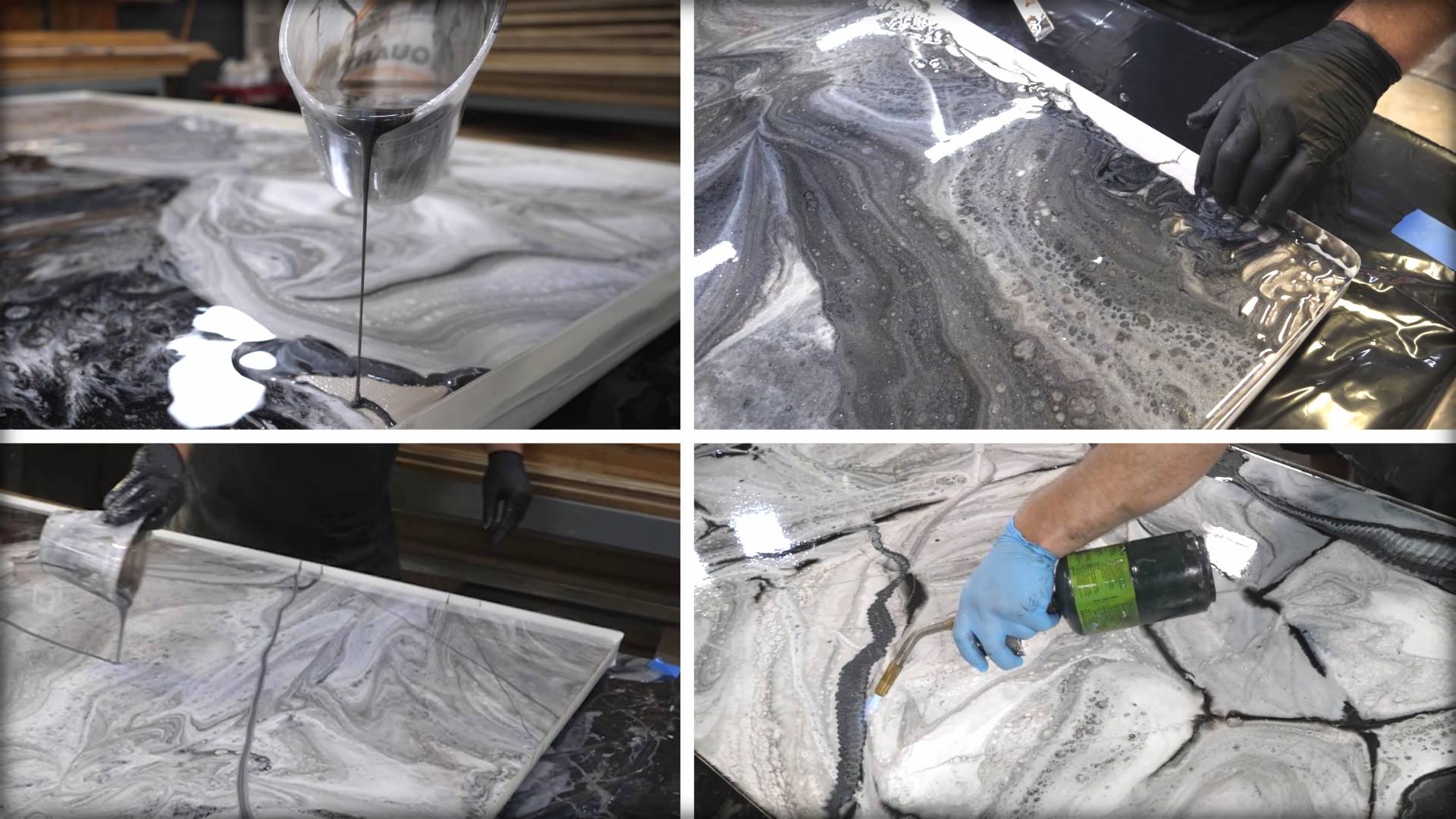 Step 11: Prepare Shower Panel for Ultimate Top Coat
Sand dried clear coat with 220 grit sandpaper to prepare for the Ultimate Top Coat. Use a grinder and 50 grit metal fiber sanding disc to remove the dried drips from the underside of the shower panel
Step 12: Ultimate Top Coat
We recommend for Ultimate scratch resistance and for the best natural sheen, mix and apply Stone Coat Ultimate Top Coat. Fast application and dry time. Mix at a 2:1 ratio by volume and add a cap full of water, mix thoroughly with a slow speed drill and paddle mixer for 2-3 minutes. Pour mixed Ultimate Top Coat in a paint tray. Only mix enough top coat that can be applied in 15 minutes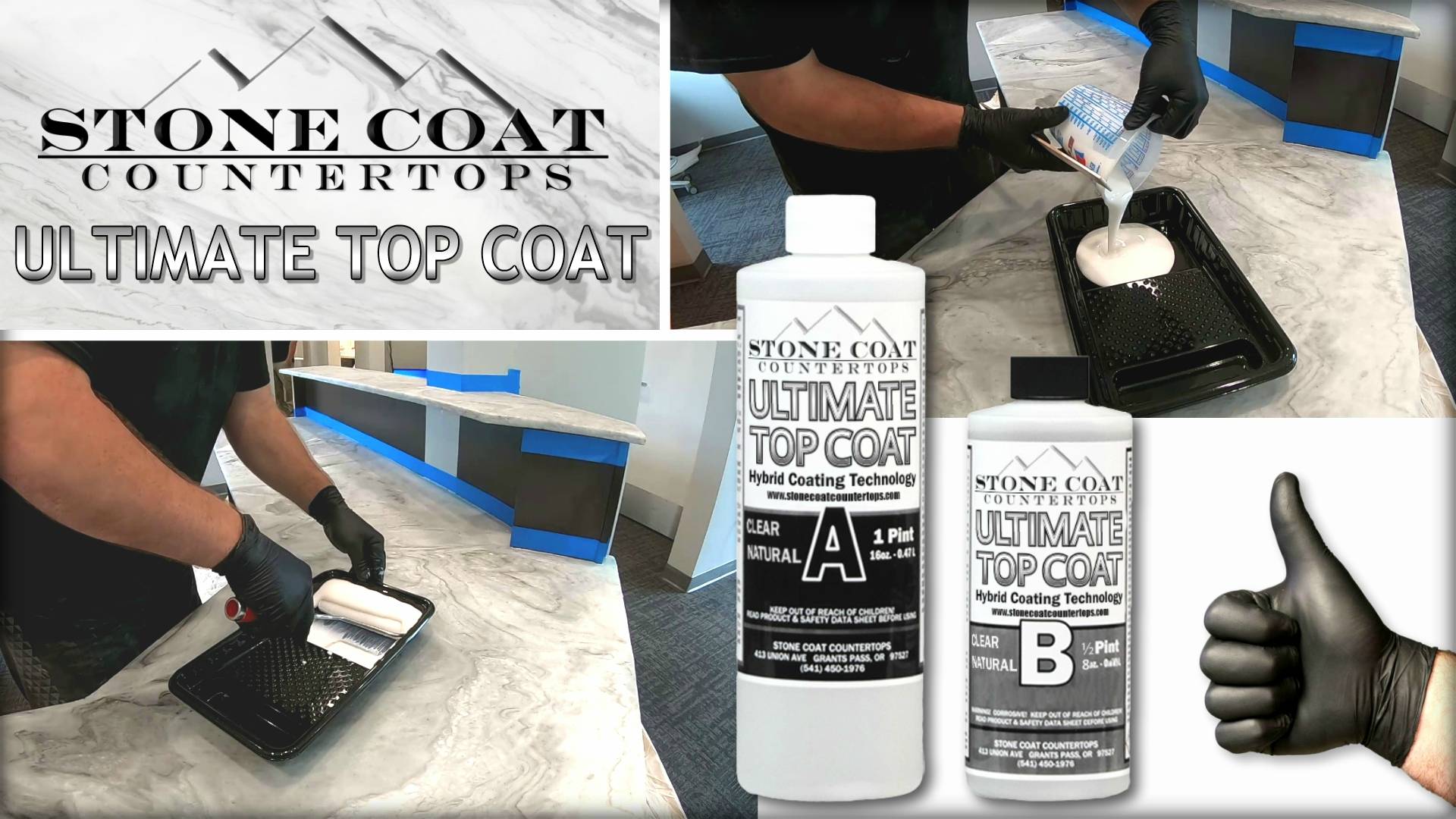 Step 13: Apply Ultimate Top Coat
De-shed two paint rollers. One will be used to apply the top coat wet, and the second will be used to dry roll the top coat. Saturate a paint roller with top coat and back roll excess off in paint tray. Apply to the center of the countertop and roll top coat thin and even. Use the dry roller as soon as you are complete wet rolling. Don't forget the edges!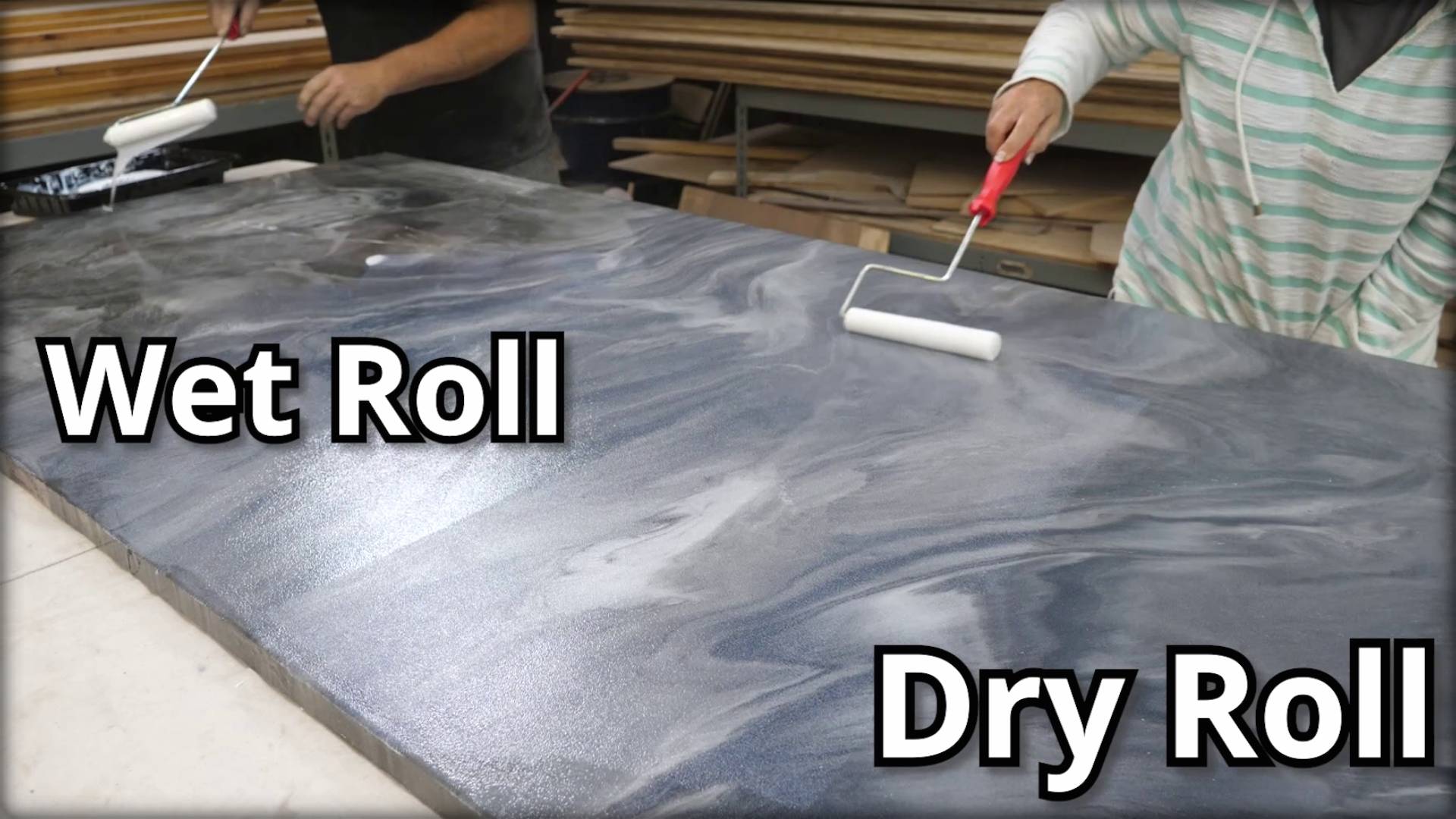 Step 14: Transport & Install
Use a fine tooth wood blade to make any cuts to your shower panel. We used a wood cutting hole saw to cut the hole for the shower head. Use delicate release tape to layout any cuts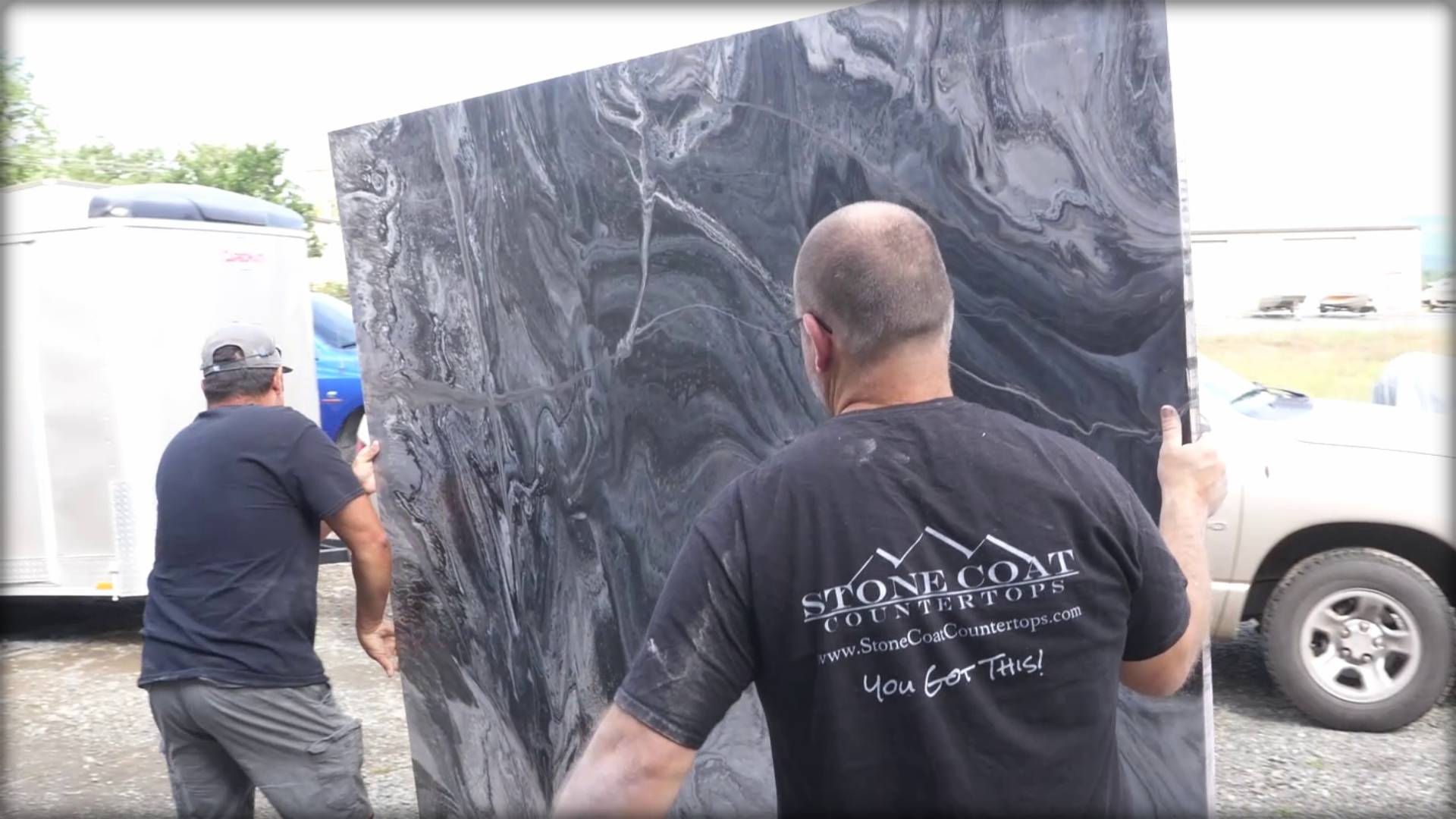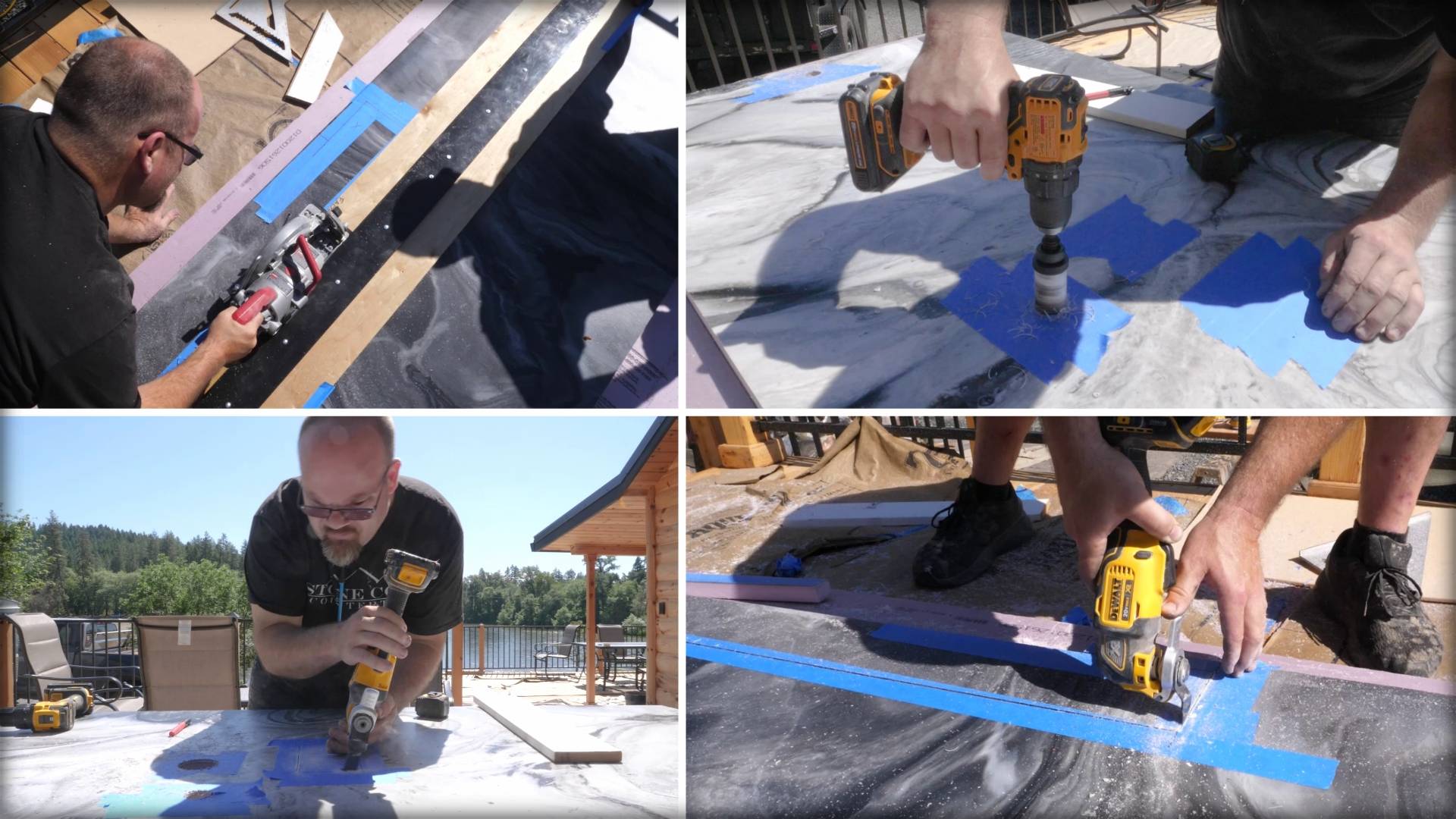 Step 15: Attach Shower Panels
Use 100% Silicone to attach your shower panels to the wall. Ensure your walls have a proper moisture barrier installed before glueing your new epoxy shower panels. Apply 2'' blobs of silicone to the wall then with even firm pressure, push the shower panel tight to the wall. Allow the silicone to dry before use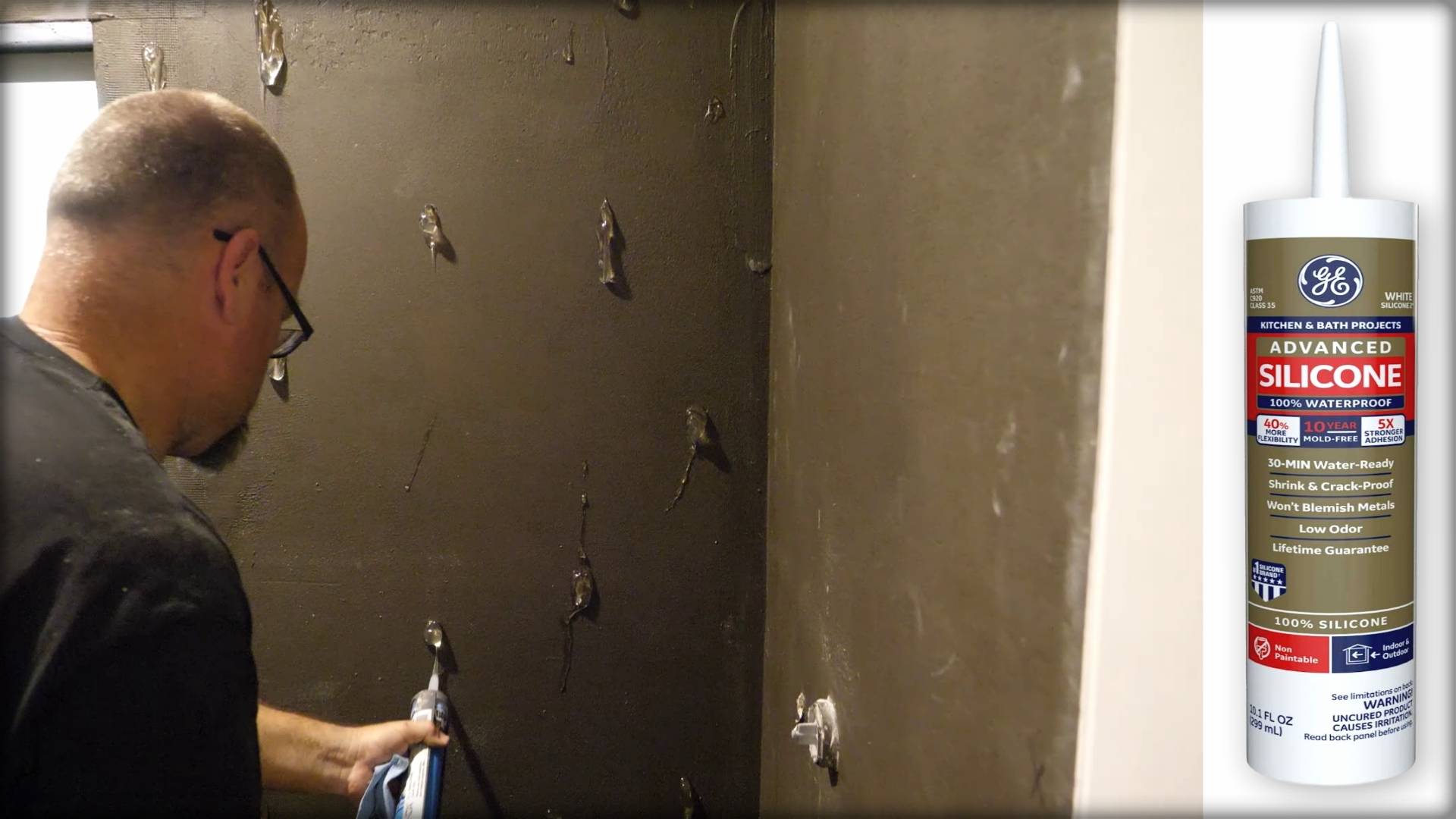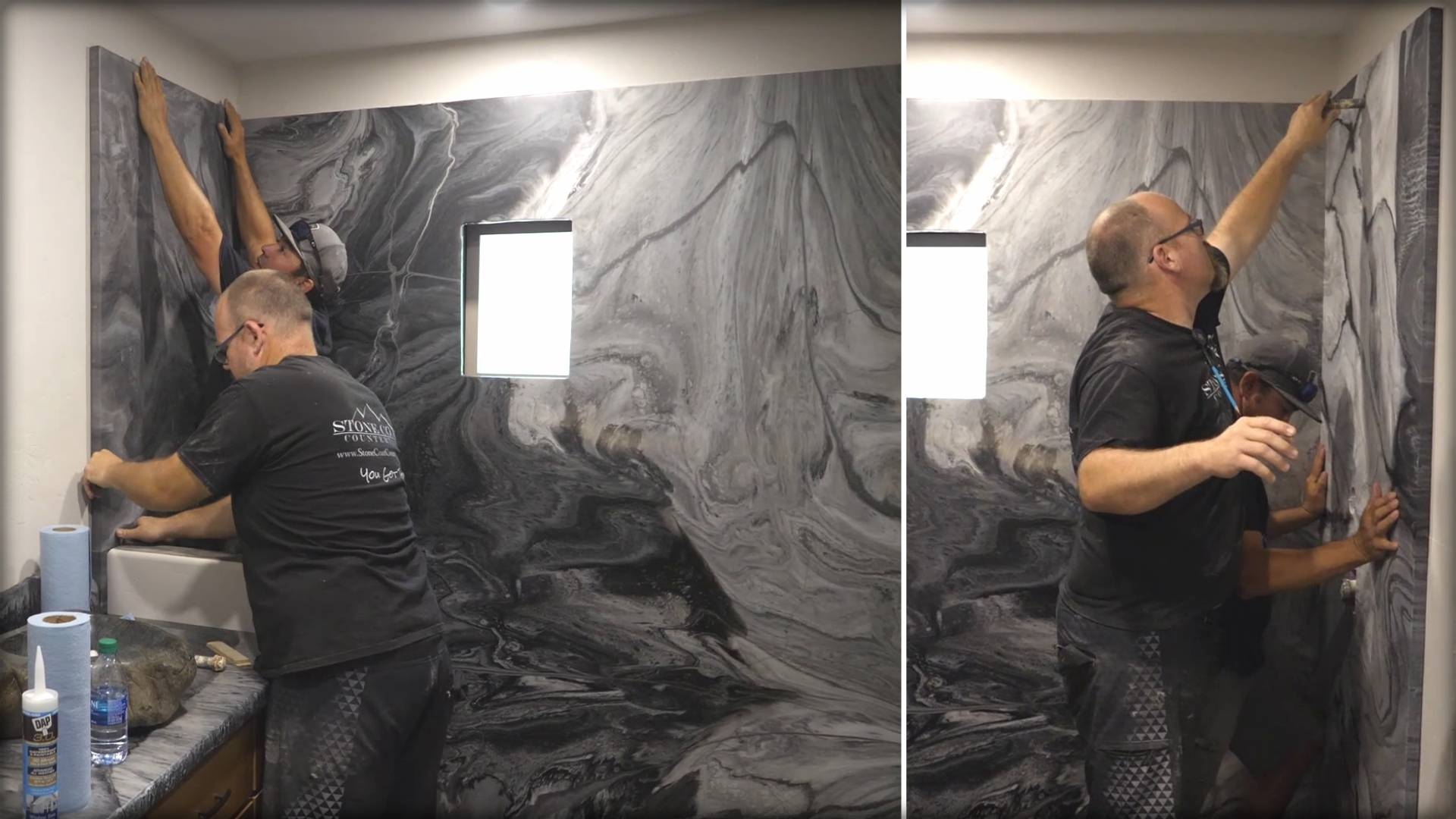 Custom Realistic Faux Stone Window Trim
We used our silicone rubber mold making material to create our own faux stone window trim. We molded a few travertine tile pieces. Use melamine to crate a form. Mix the silicone rubber at a 1:1 ratio by volume. Ensure the tile is completely covered by the silicone rubber material and let dry 24 hours. Remove form sides and peel up cured silicone rubber.
Custom Realistic Faux Stone Window Trim
Mix up Stone Coat Countertop Epoxy and in another bucket add in sand in your desired color. You want the mixture to be thick but still self level. Roughly 50/50 epoxy to sand. Mix and apply into the silicone rubber mold the sand and epoxy with your gloved hands. Let the mixture completely dry, remove from the mold and with a utility knife remove any excess dried epoxy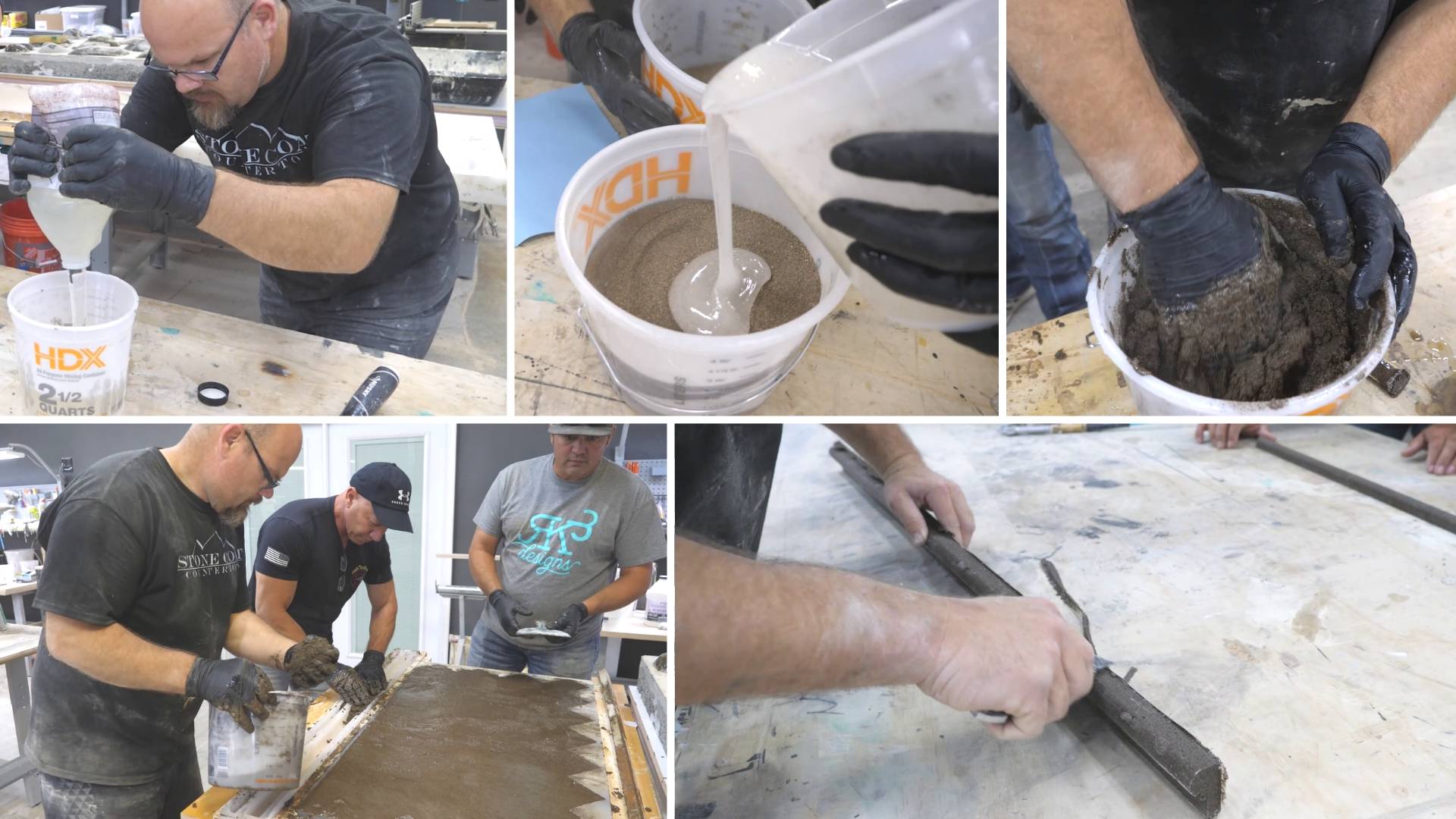 Custom Realistic Faux Stone Window Trim
Cut the window trim to size using a grinder and a masonry cut off blade. Mix a small batch of epoxy and sand to be used to glue the window trim pieces together. When dry, use your choice of spray paint colors to fog on realistic stone like texture.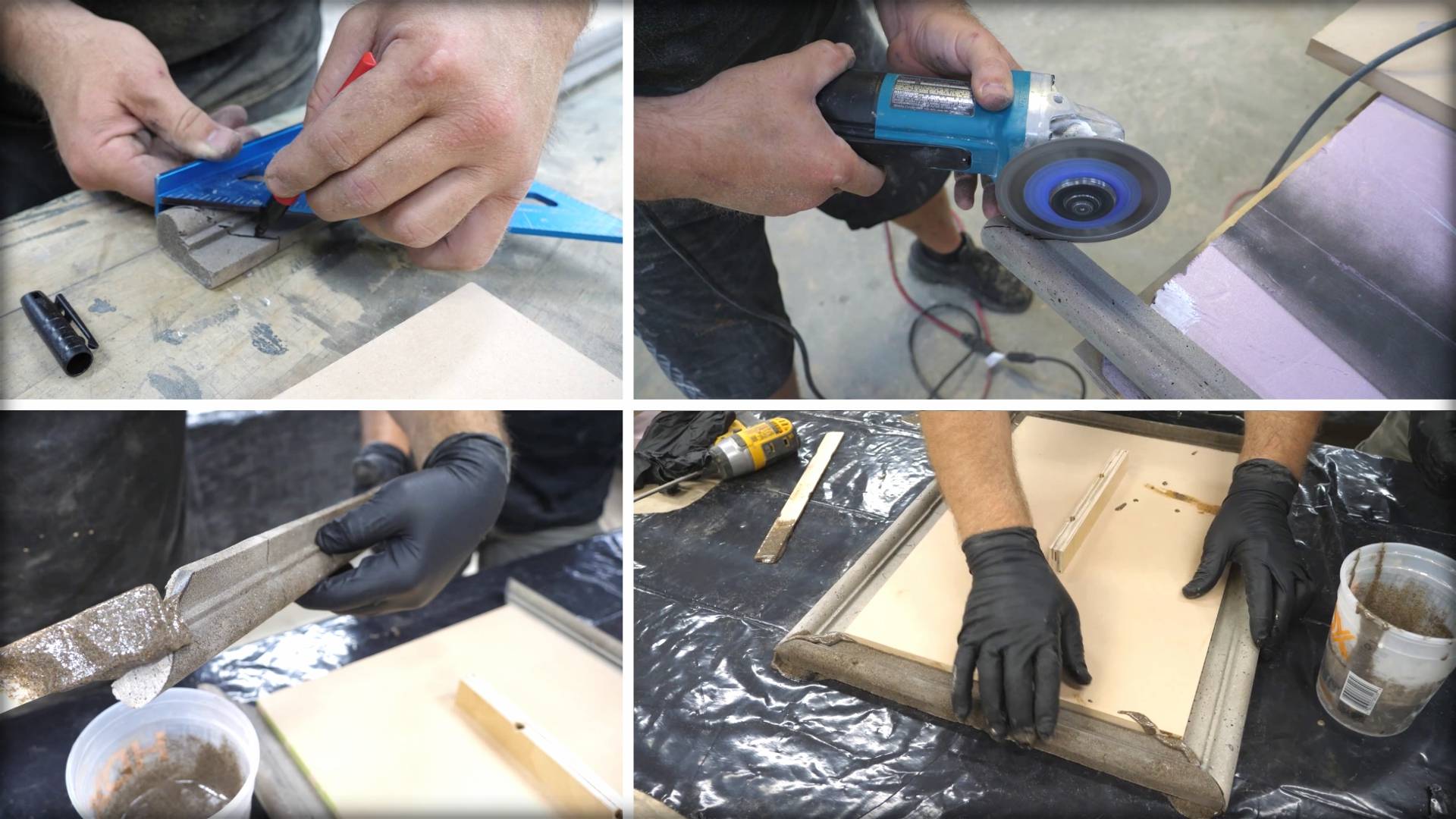 Custom Realistic Faux Stone Window Trim
Install the faux stone window trim with 100% silicone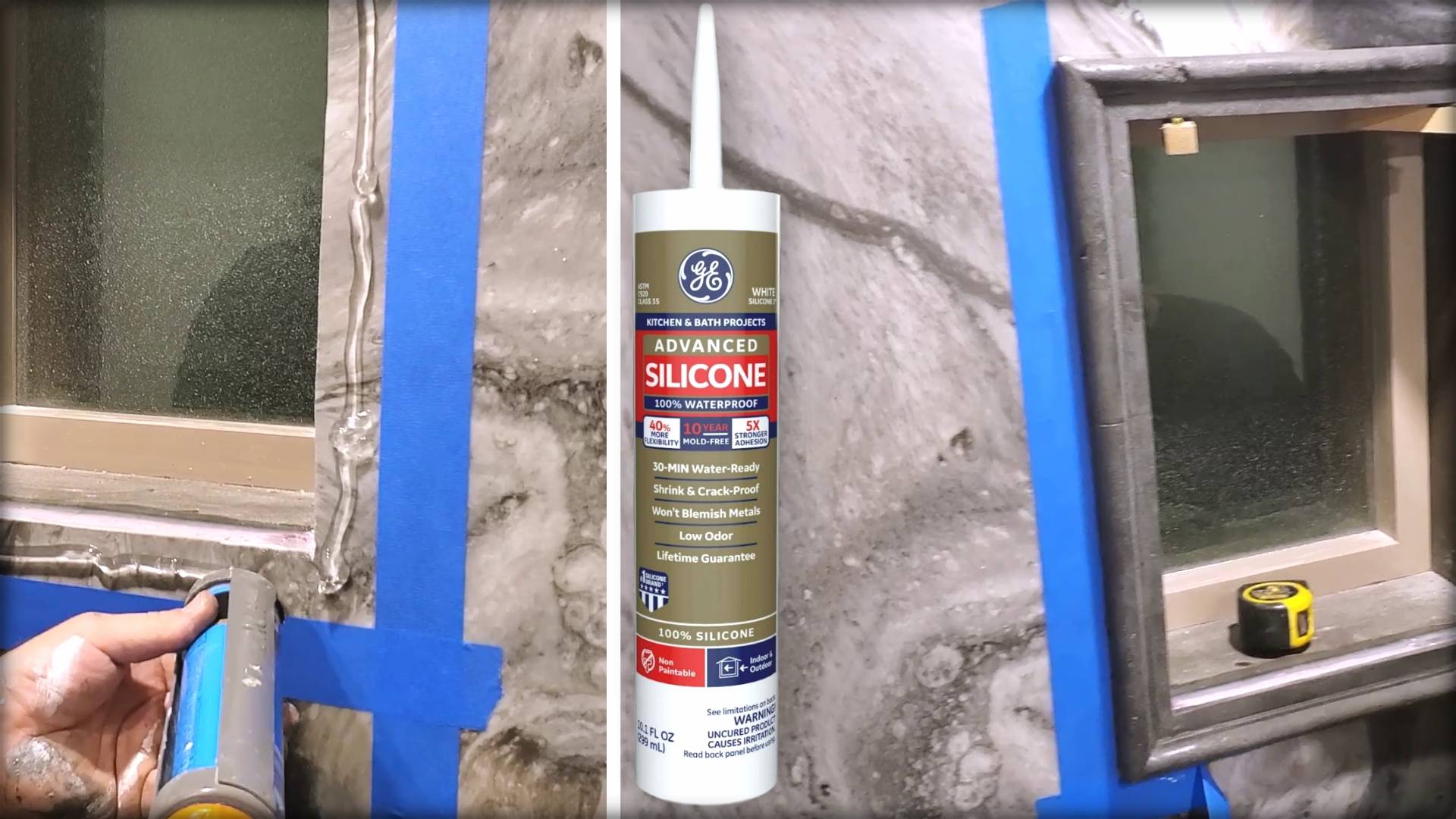 Custom River Rock Shower Pan
Thoroughly clean and dry smooth pea gravel in your color of choice.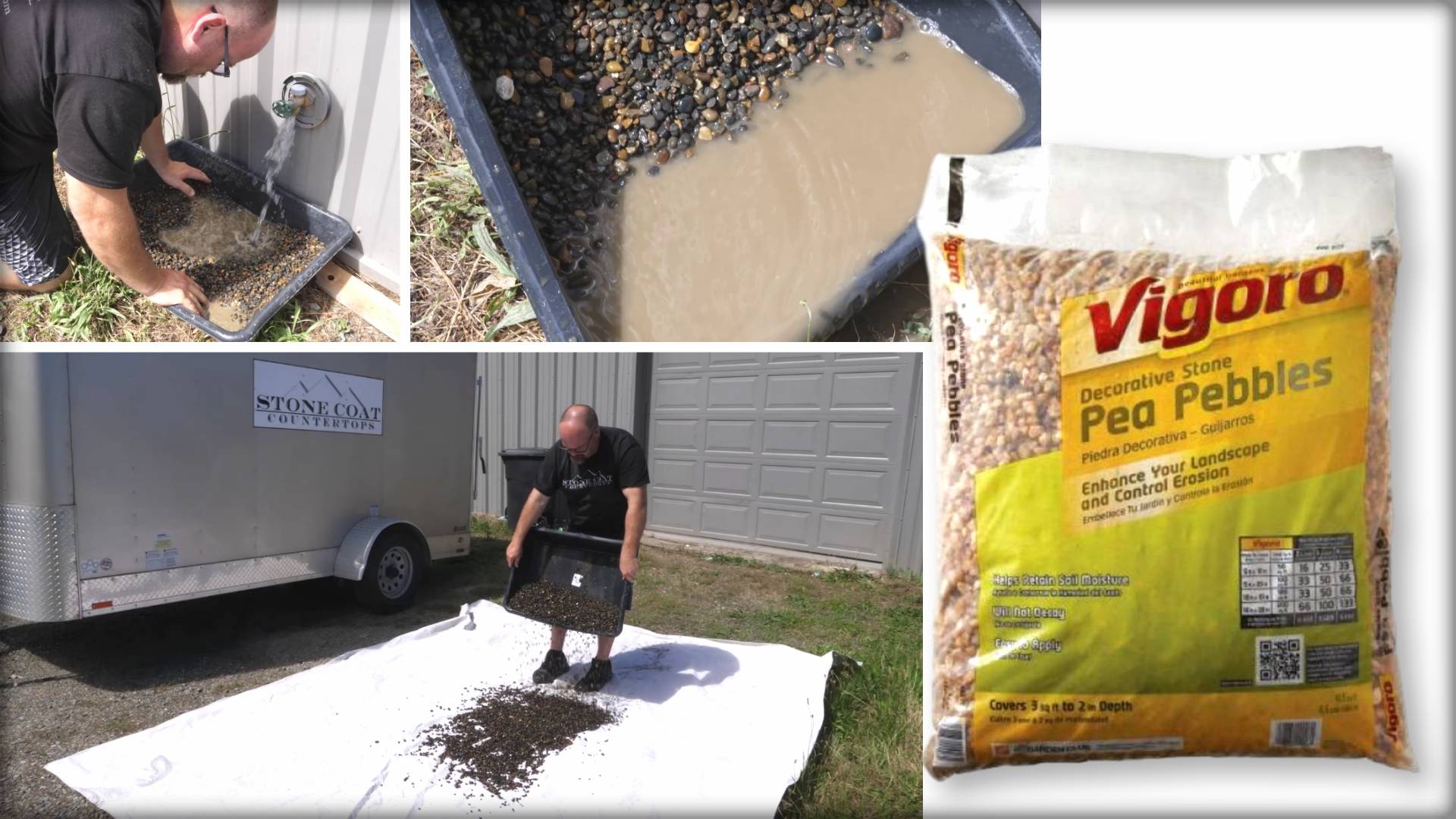 Custom River Rock Shower Pan
Mix up Stone Coat Countertop Epoxy, ensure the mixed epoxy is completely covering the pea pebbles. We use our gloved hands for a good mix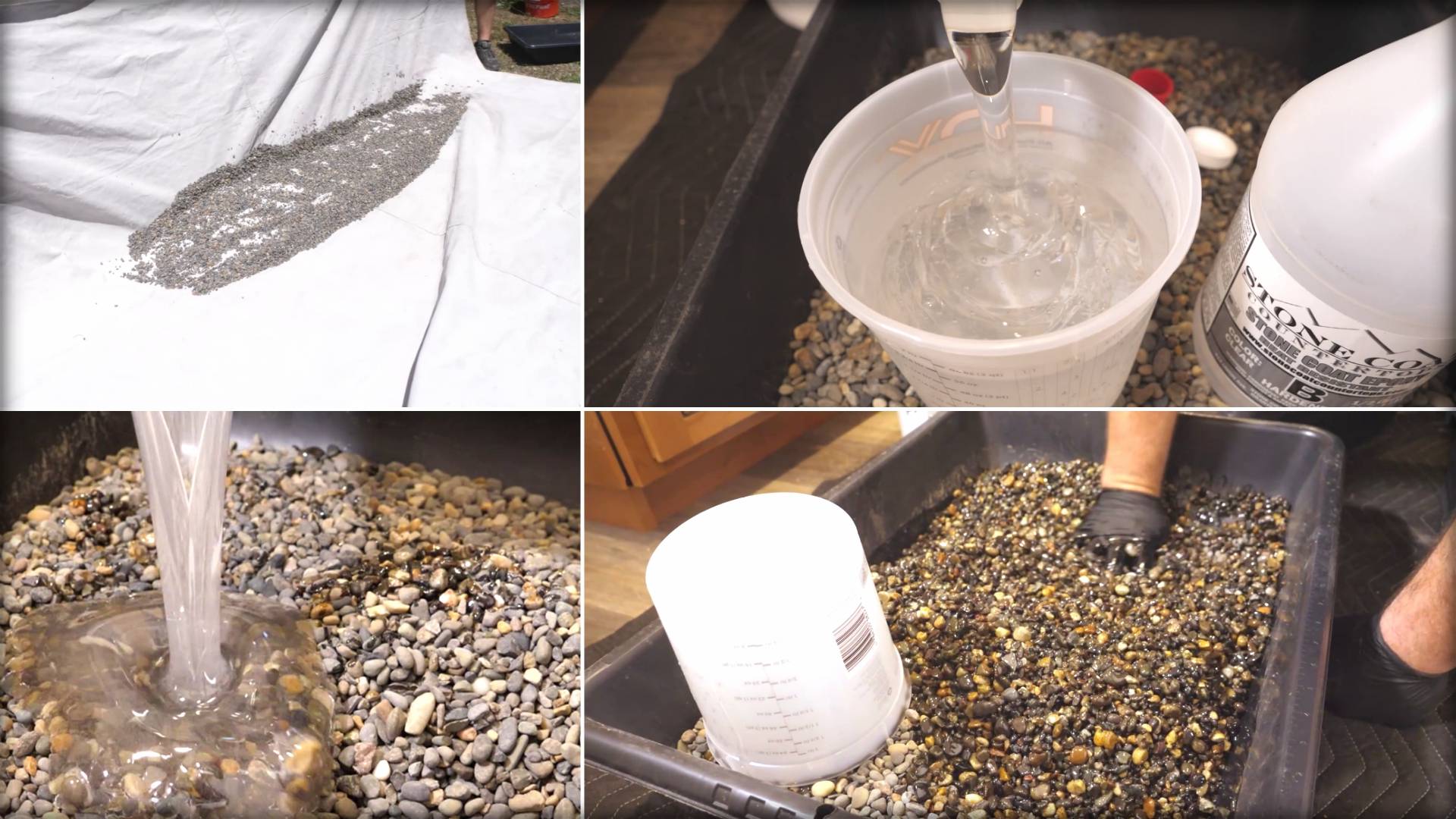 Custom River Rock Shower Pan
Using a wooden concrete float, tamp down the epoxy covered pea pebbles. Let the epoxy completely dry before using the shower.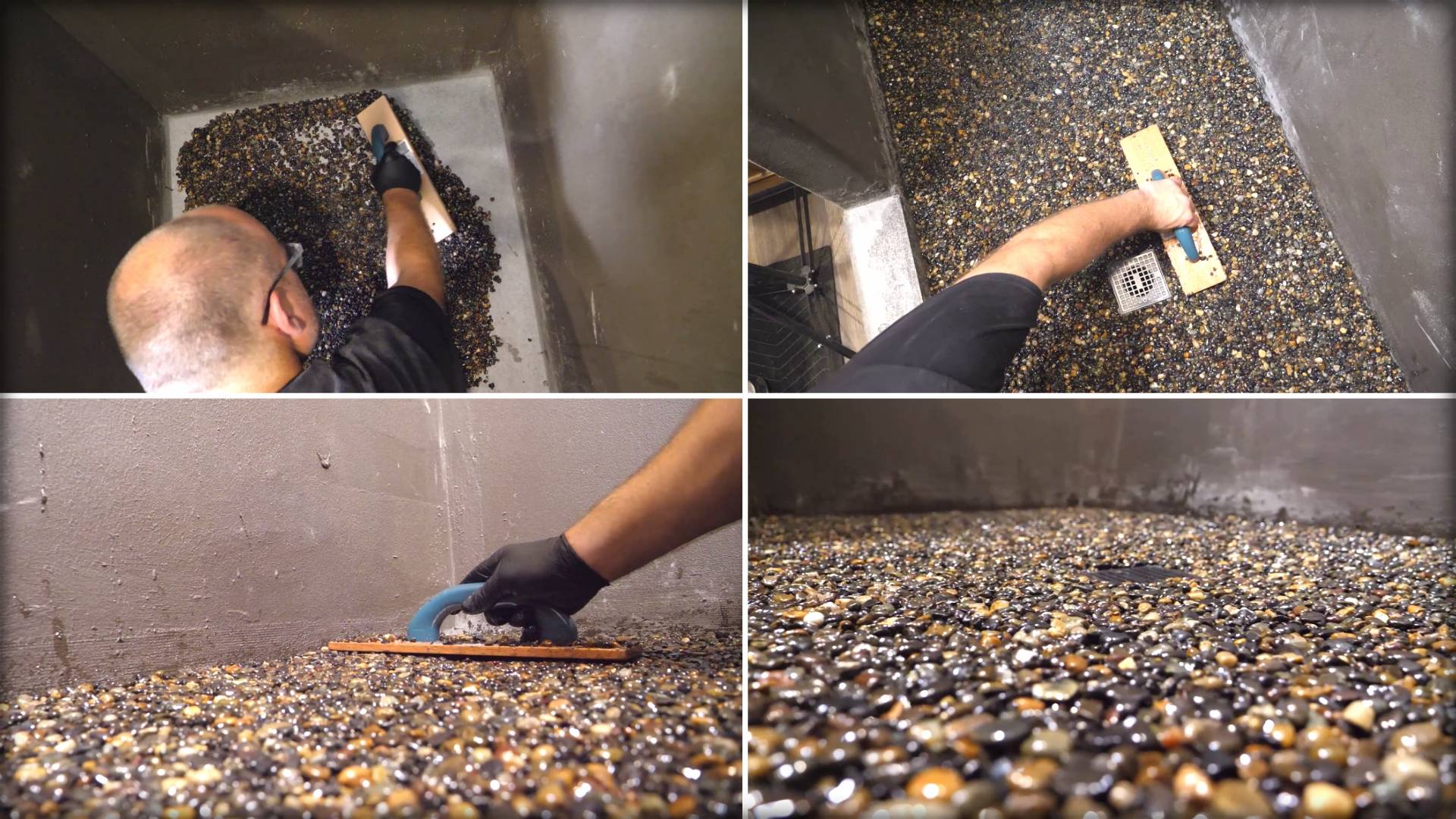 Enjoy Your New Epoxy Shower!