Epoxy River Table in 12 Steps
Step #1: Prep your wood slab.
Cut the wood slab to desired size. Remove the bark with a pry bar and hammer. Use a sanding disc on a grinder to clean up any stubborn bark. Cut your slab in half with a circular saw.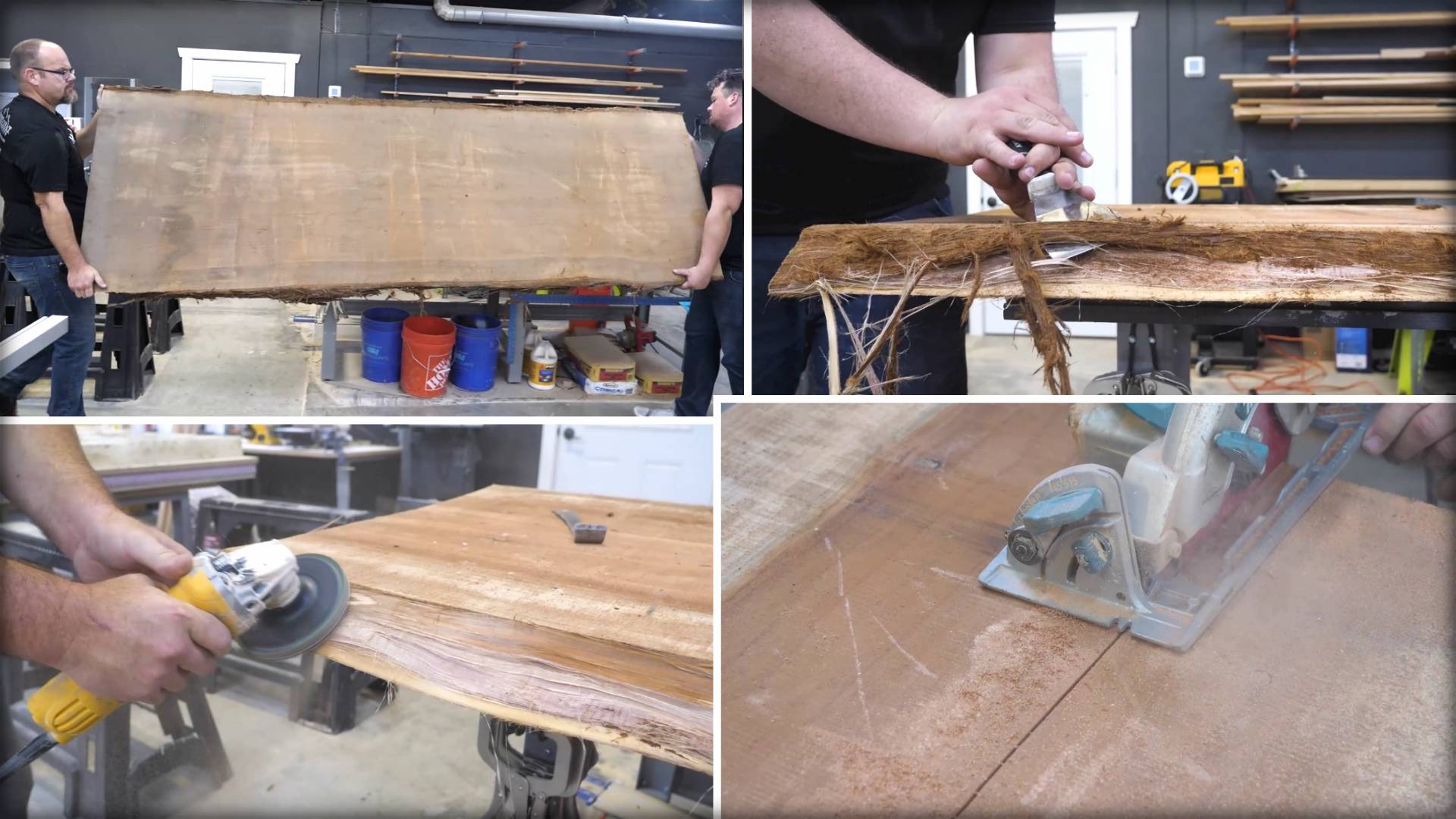 Step #2: Build your Casting Epoxy Form.

We used a sheet of Melamine wood for our form on this project. Determine the thickness of your wood slabs and cut the form sides 1/2'' taller of your wood slab. Apply Tyvek tape to the bottom and sides, overlap the tape. Screw down and secure the pieces together. Use Tyvek tape to seal where the sides meets the bottom to keep from leaking.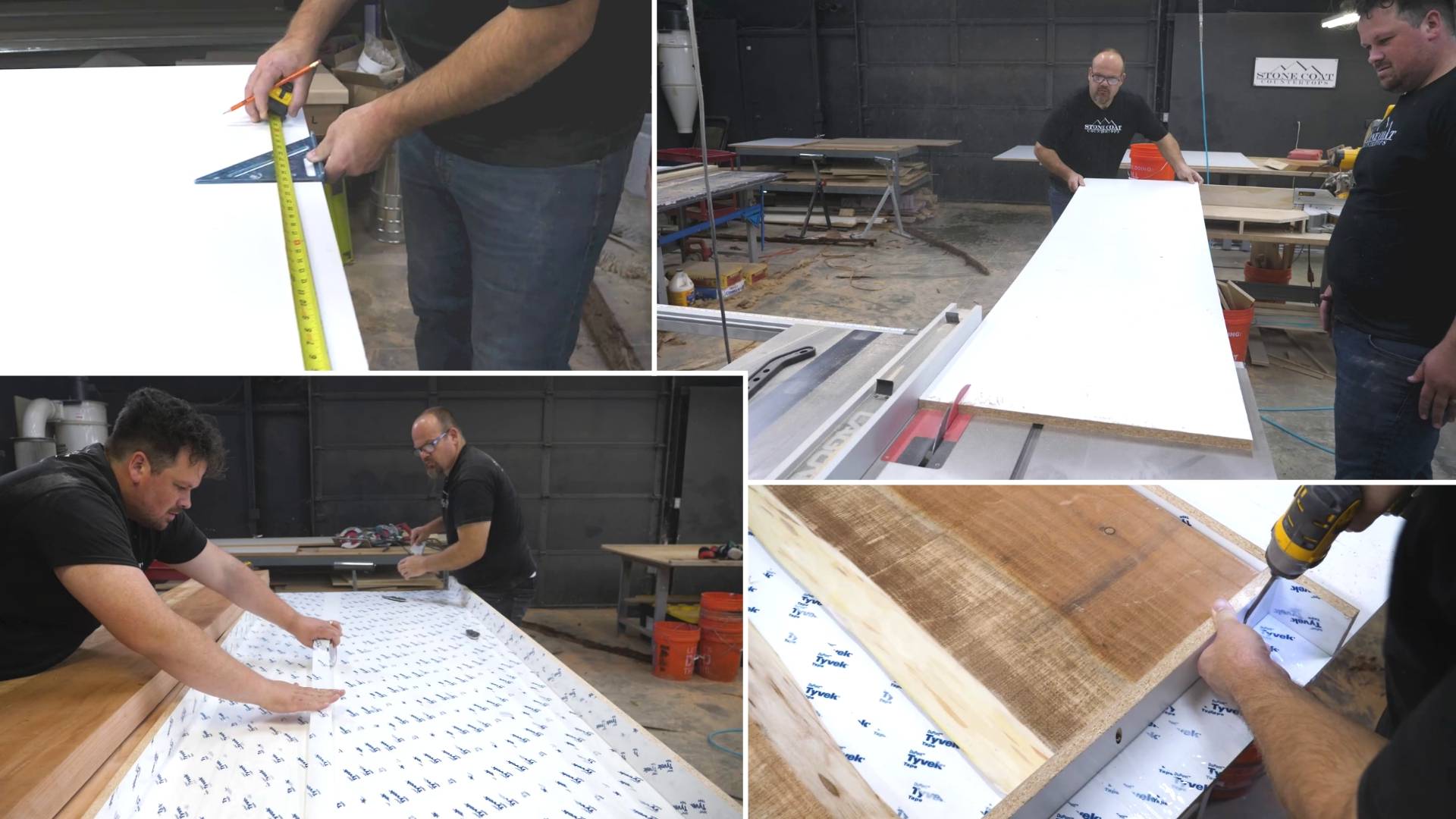 Step #3: Level the bottom & seal the slabs live edge.

Using the Slab Jig, level the bottom of your slabs. Remove 1/8''-1/4'' per pass until mostly level. Return wood slabs to your form. Mix Stone Coat's Quick Coat and apply to the live edge of the wood slab. Quick Coat is a 1:1 ratio by volume fast curing epoxy. Mix for 2 minutes with a drill and paddle mixer. Apply mixed Quick Coat with a brush or gloved hand.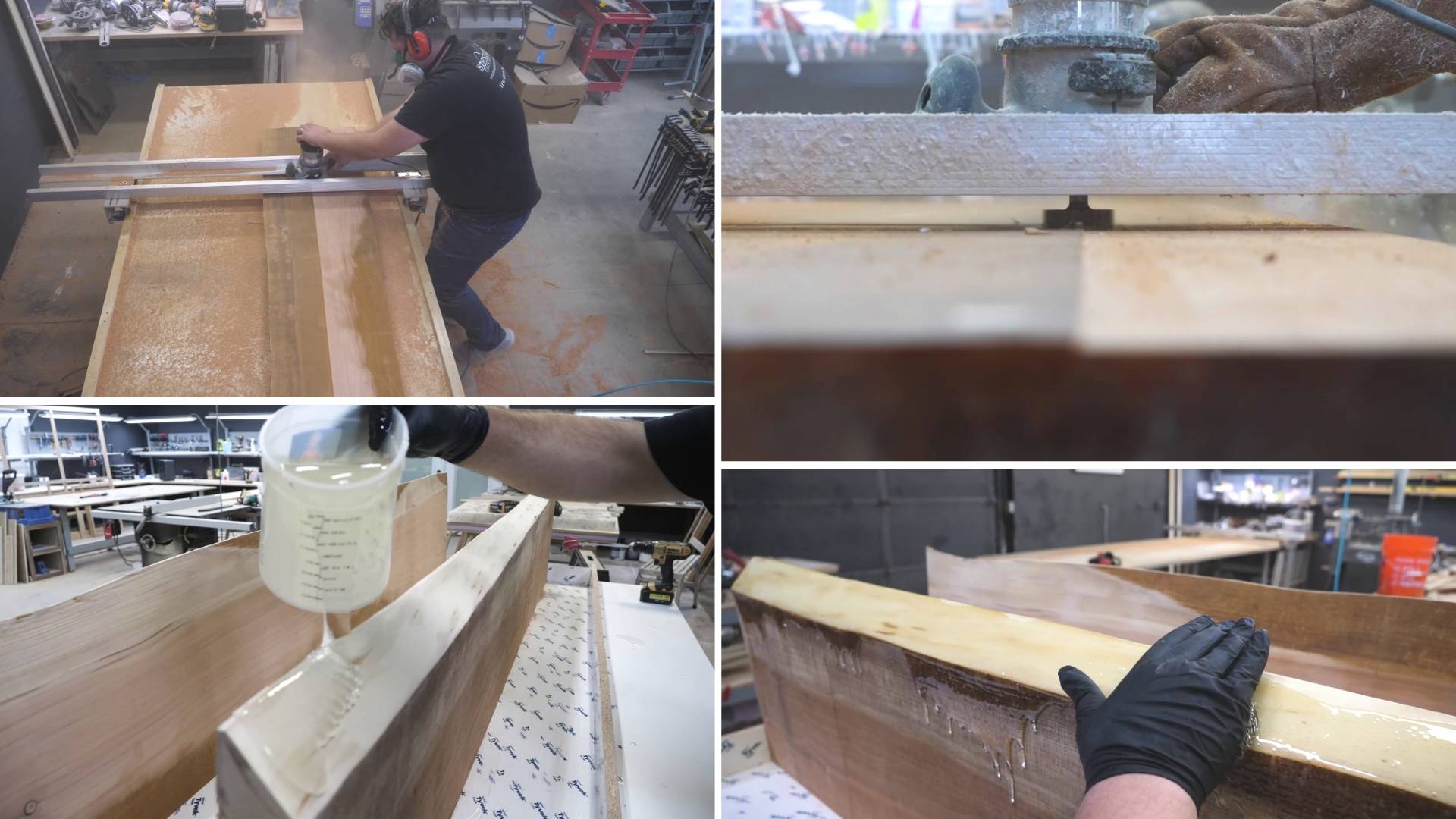 Step #4: Pour the Casting Epoxy River

Casting Epoxy or Thick Pour Super Cast Epoxy both are measured at a 2:1 ratio by volume. Add desired metallic powder or epoxy dye. Mix for 5-8 minutes by hand using a mixing stick. Pour the Casting Epoxy or Super Cast into the river form, torch the epoxy every 1/4'' to remove air.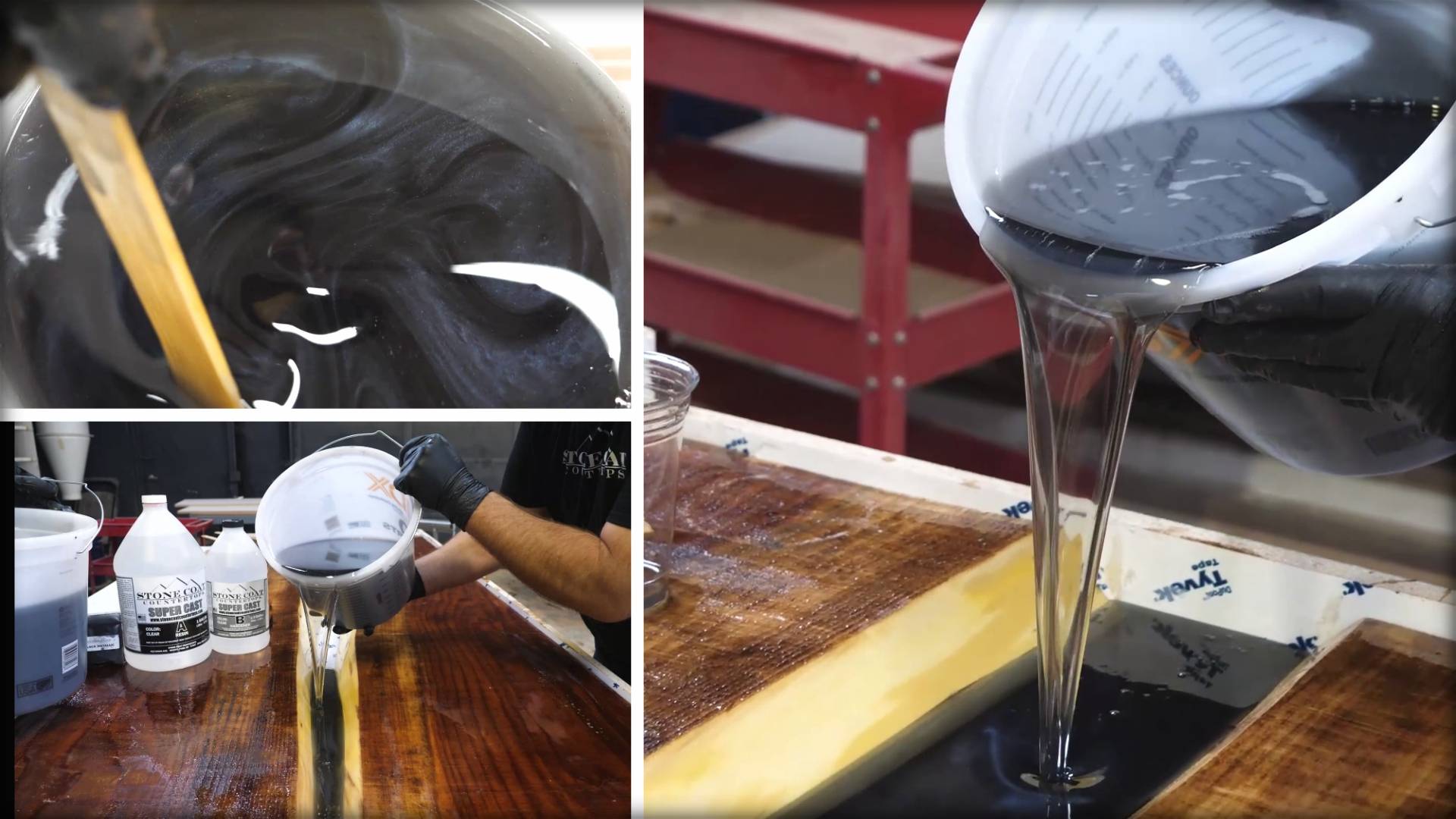 Step #5: Remove your river table from form & install support bars.
Use a pry or flat bar to remove table from form when the epoxy river is hard. Router multiple channels in the bottom of the table to install 3/4'' x 3/4'' tube steel to keep your project from cupping in the future. Use Quick Coat to install your support bars. Quick Coat - 1:1 ratio by volume, mix 2 min. Remove excess Quick Coat with a bondo spreader or squeegee.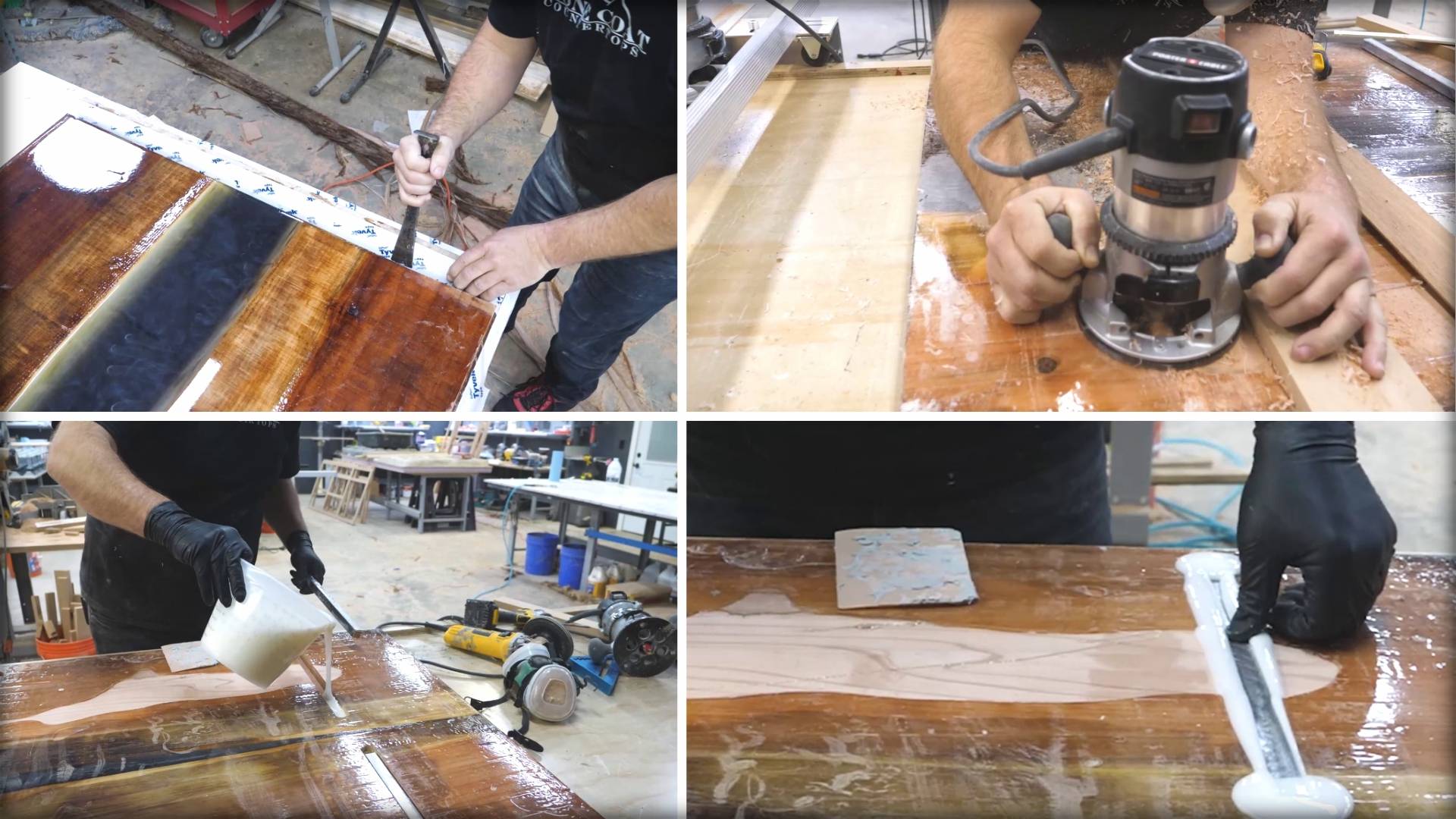 Step #6: Level the top with the Slab Jig, roundover the edge & sand.
Quickly bring the table top to level using the Slab Jig. Remove 1/8''-1/4'' per pass until level. Use a 1/8'' roundover bit to round the top and bottom edges. Sand the surface and edges with 60-220 grit sandpaper.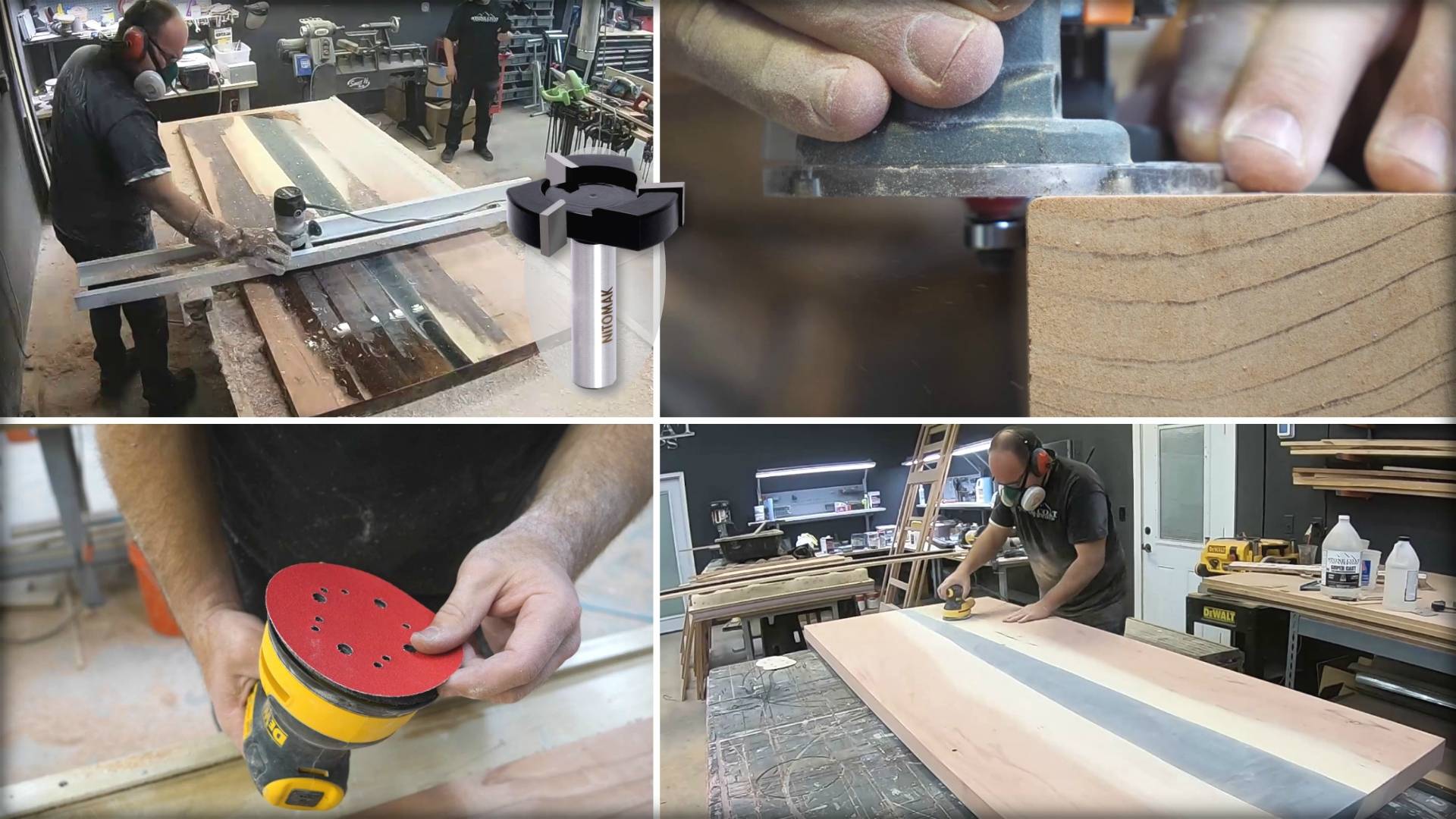 Step #7: Seal your table with Stone Coat Countertop Epoxy
Apply 3 seal coats of Stone Coat Countertop Epoxy. A Seal Coat is measured and mixed at 1 oz of mixed epoxy per square foot of table top. Stone Coat Countertop Epoxy is mixed at a 1:1 ratio by volume, mix for 2 minutes with a drill & paddle mixer. Spread the mixed epoxy with a shower squeegee. Use a propane torch to quickly remove air incorporated into the epoxy while mixing. Before applying the next seal coat, lightly sand the table with 220 grit sandpaper. Each seal coat will have less air escaping from the wood and have less bubbles than the previous seal coat.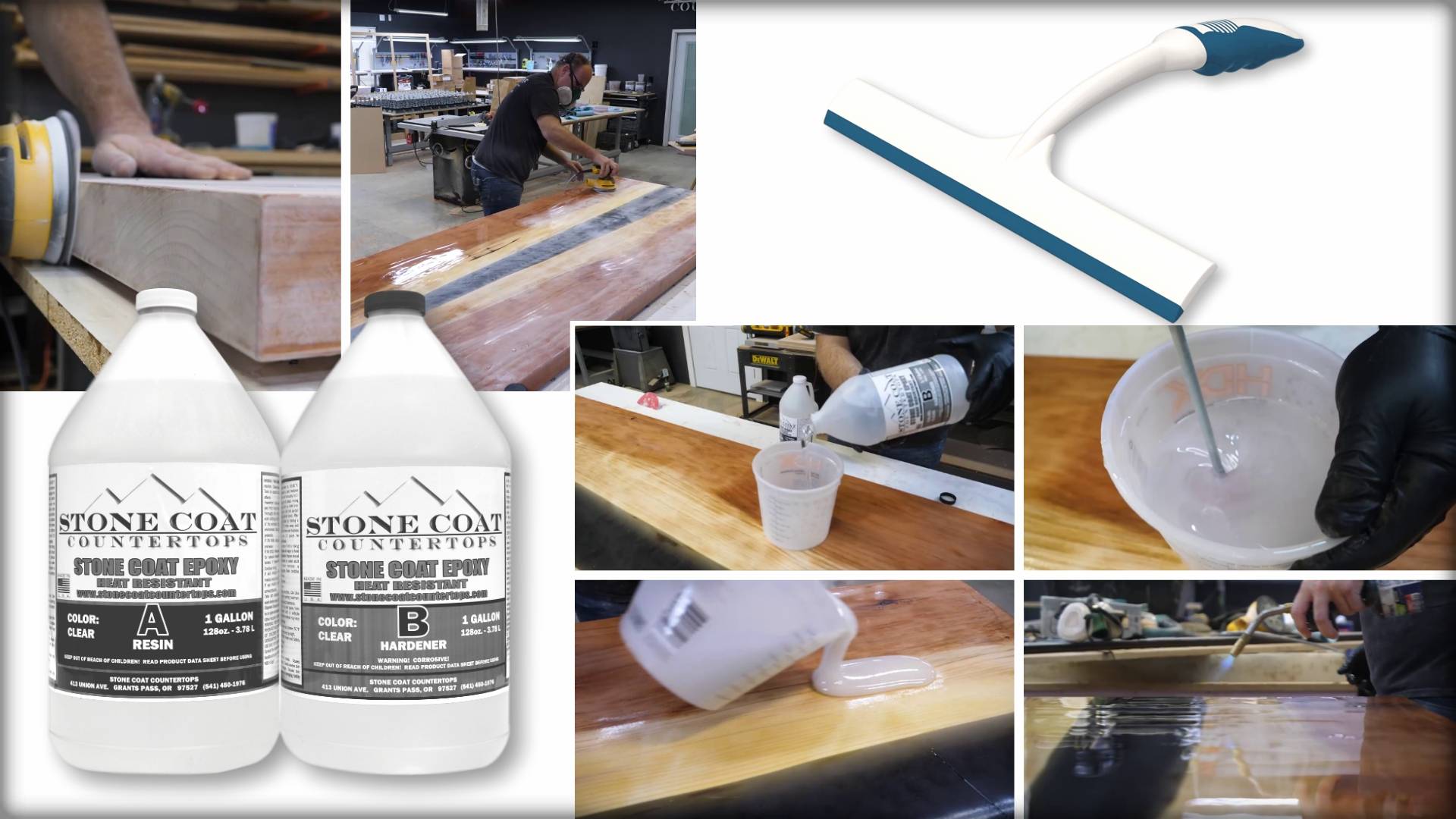 Step #8: Fill remaining pits & cracks.
Use a furniture repair burn in fill-stick to fill and seal any pits or cracks. Heat the end of the fill stick, apply fill-stick material to pit. Use a flat edge razor blade to remove excess fill-stick material.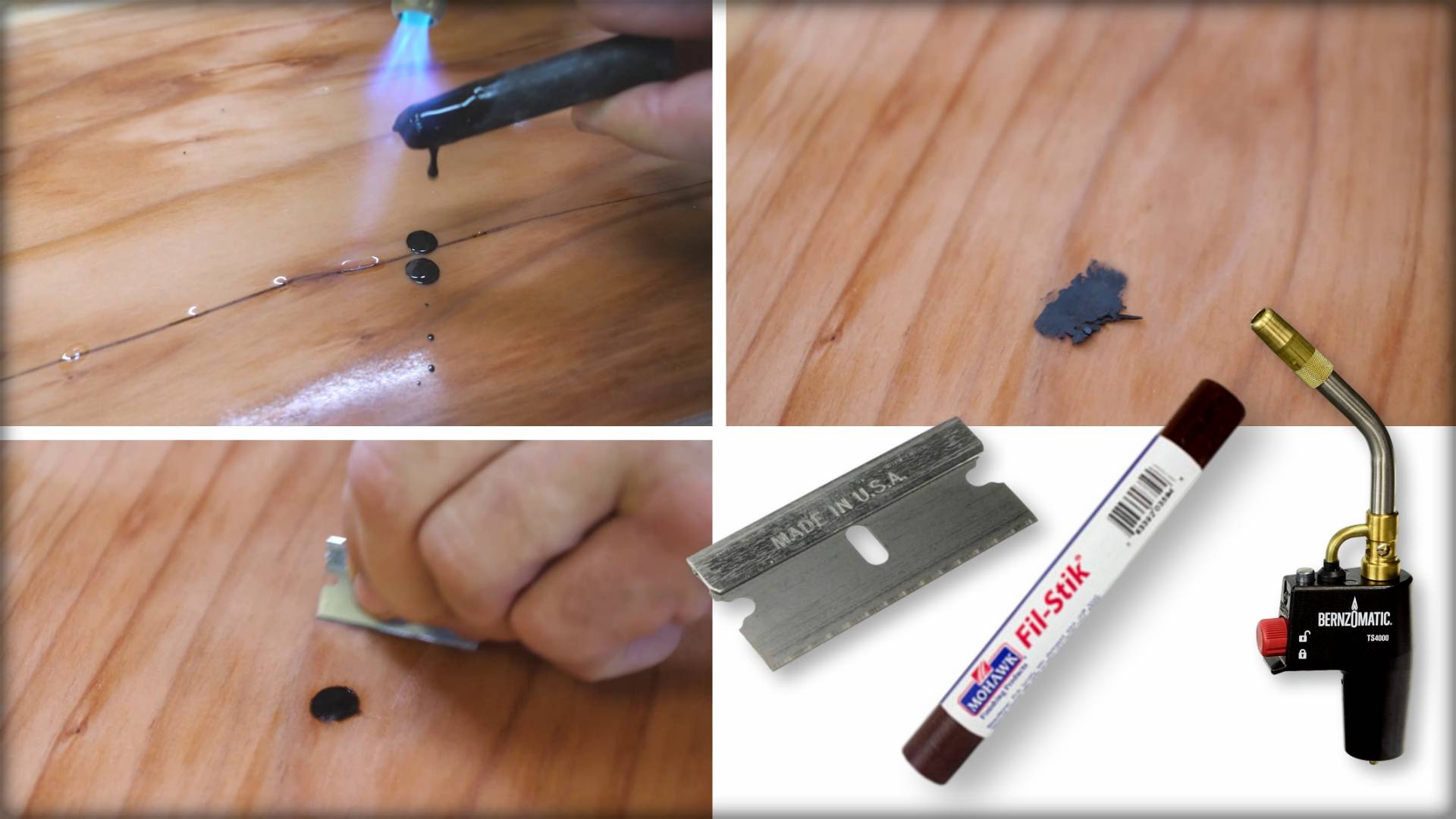 Step #9: Flood coat your Epoxy River Table.
Use Stone Coat Countertop Epoxy to apply a heat, scratch, & U.V. resistant flood coat. Flood coats are measured and mixed at 3 ounces of mixed epoxy per square foot of tabletop. Stone Coat Countertop Epoxy is a 1:1 ratio by volume epoxy, mix for 2 minutes with a drill and paddle mixer. Pour mixed epoxy onto the center of the table, use a 1/8'' x 1/8'' square notch trowel to evenly spread the epoxy. Using the heel of a brush, chop the top to remove trowel lines and ensure one last mix. Next remove the air from the epoxy with a propane torch. Torch the surface at least 3 times in a sweeping motion to remove all air.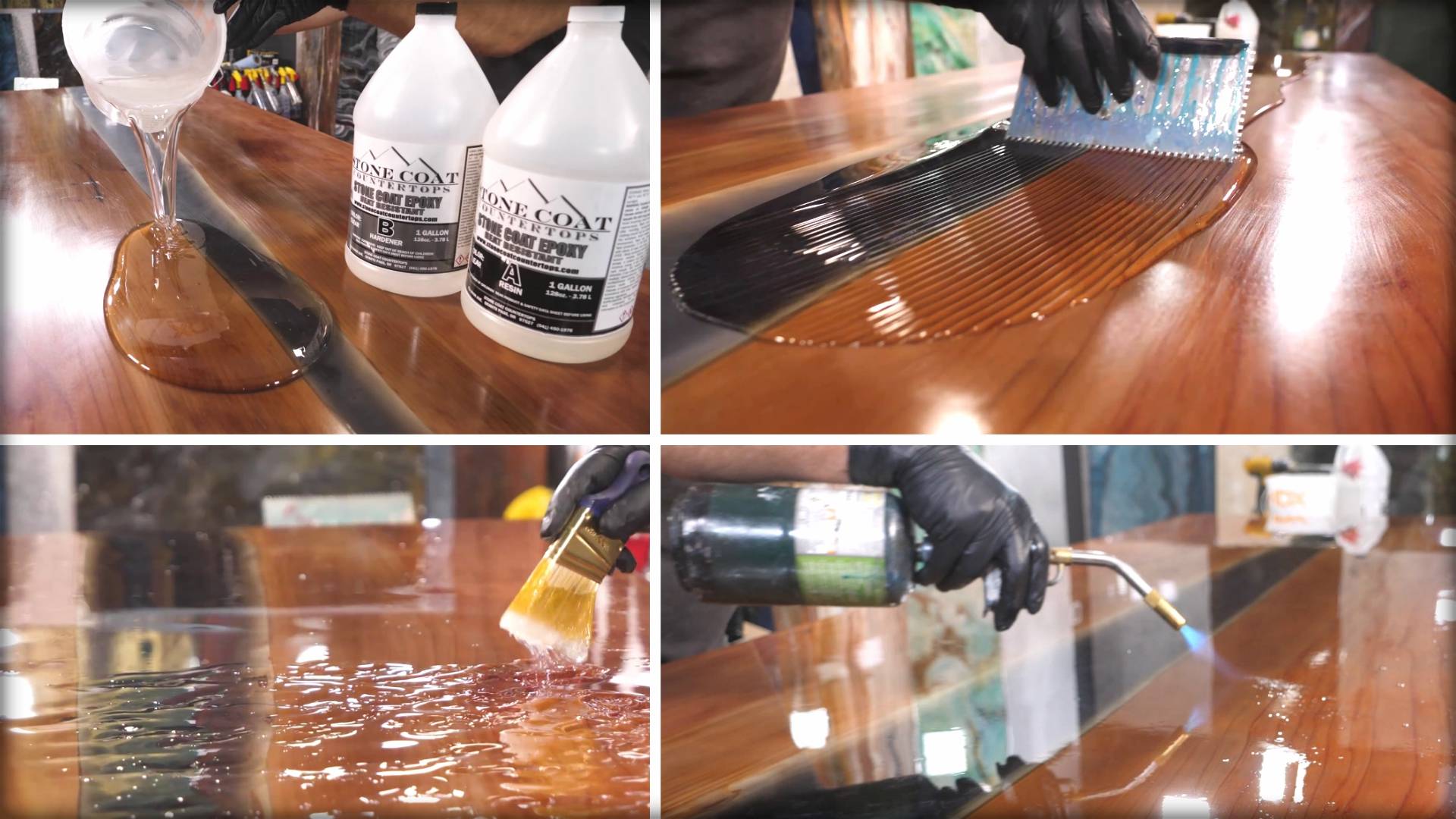 Step #10: Remove dried drips.
Use a grinder and a 50 grit metal fiber sanding disc or a orbital sander to remove the dried epoxy drips from the bottom of the project.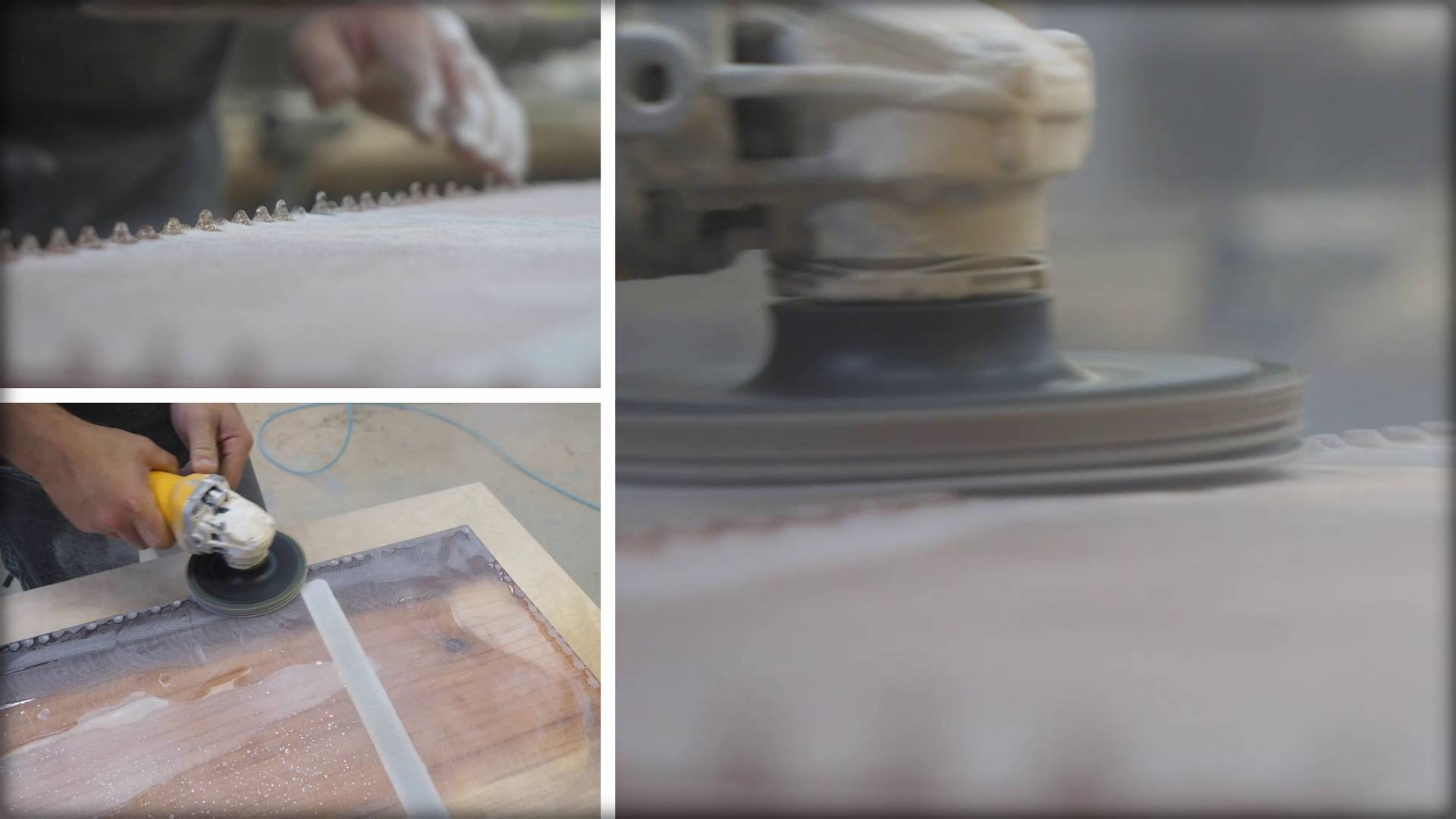 Step #11: Install on cabinets or install table legs.
Install on cabinets: Ensure your table overhangs the cabinets evenly. Tape off the cabs with delicate release tape. Use 100% silicone to secure your table to the cabinet. Installing table legs: Layout and pre drill where your table legs will be installed. Use lag bolts to secure the legs.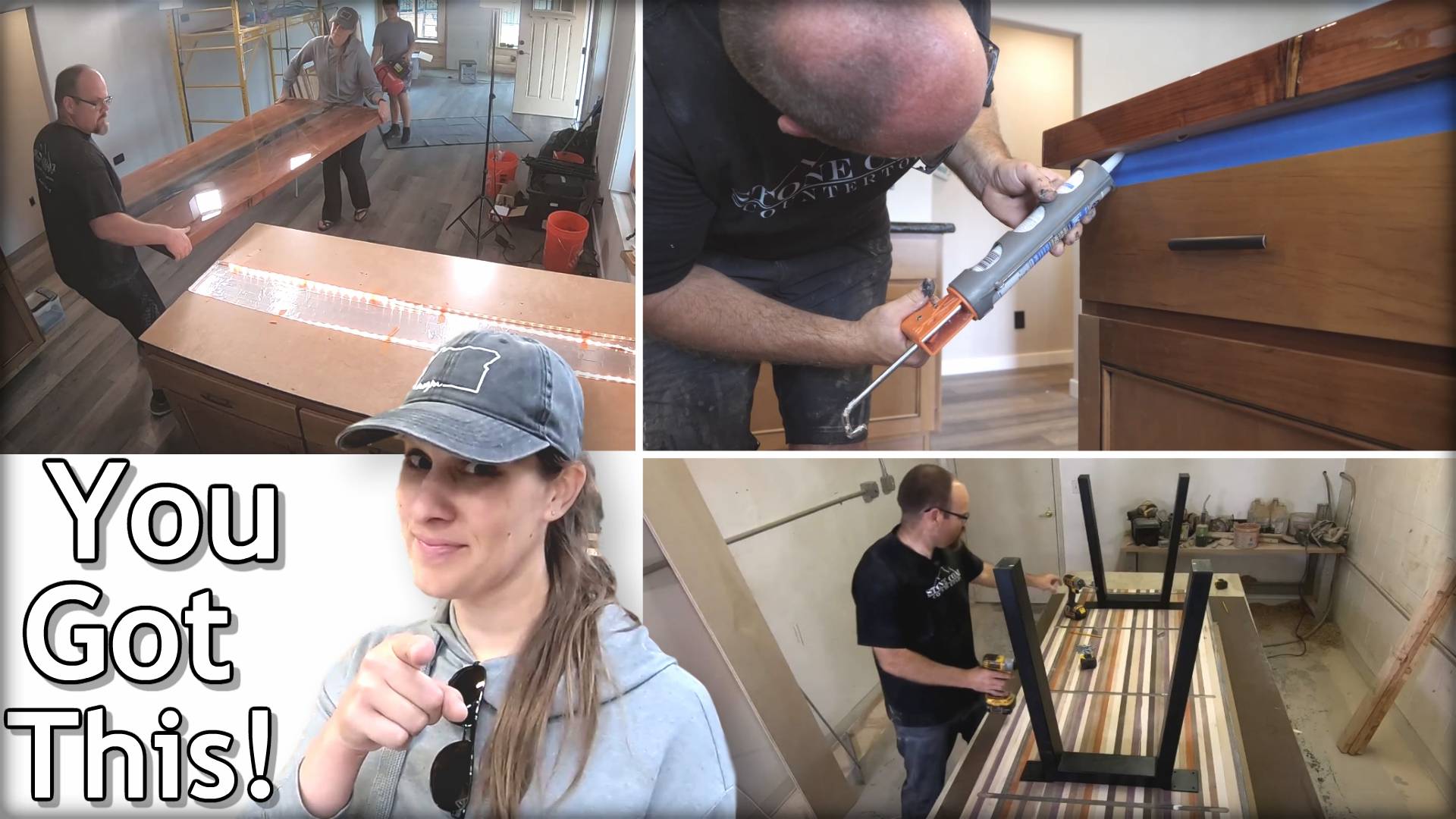 Step #12: Enjoy your Epoxy River Table.
Your table will last many years to come. To clean use any countertop cleaner designed for laminate or solid surface countertops. We like dish soap on a soft cloth. Keep from using a cleaner with any scrubbing additives. Use our Liquid Smooth product for a pleasant finishing touch. The epoxy will be cured to its full scratch and U.V resistance after a 30-day cure. Begin using your new table after a 72-hour cure.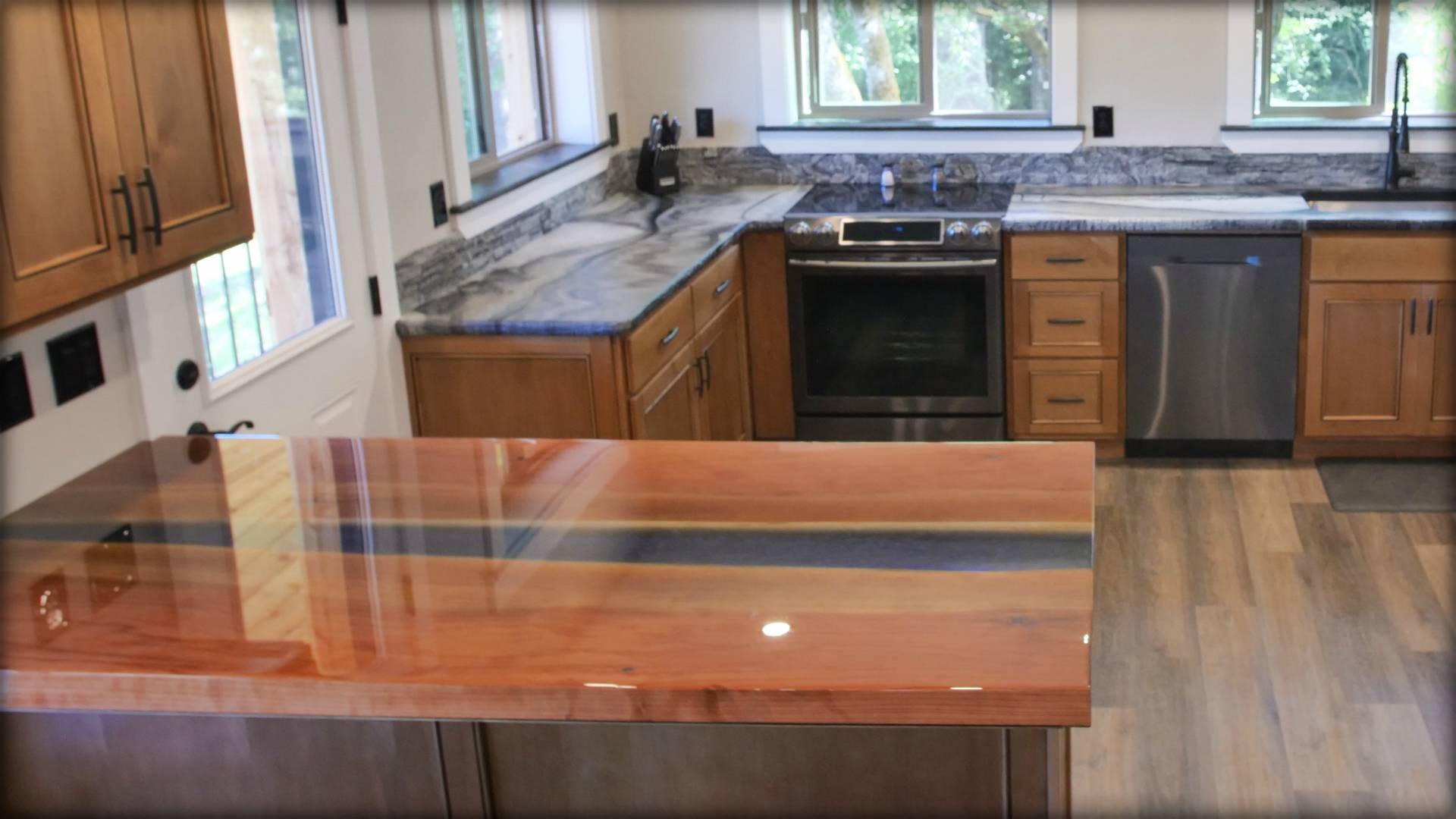 Follow along with Mike in our Free Project How-to Video
Epoxy River less than 1''
Epoxy River more than 1''
Create a stunning epoxy river table for yourself with our DIY epoxy resin table kit
Not many things say "statement piece" quite like an epoxy river table, but how much work is it to make such a spectacular piece of furniture? Surprisingly, it is not as difficult as you might think and we are here to help every step of the way. With our premium epoxy resin, you can have your own, one-of-a-kind table in just a week. Our how-to videos provide you with step-by-step instructions and step one is to begin prepping the wood and making a sealed mold so the epoxy dries in place.
Epoxy river tables, as well as full epoxy resin tables, are incredibly versatile in addition to being incredibly striking. Whether you are looking to make a modern coffee table with a live edge, a beautiful-yet-durable work surface or bar top, fashionable end tables, or a stunning dining table, an epoxy river table is an excellent choice.
Depending on your epoxy resin color choice, the type of wood you choose, and your design, you can create a table for any décor style, from modern to traditional to industrial. Traditional epoxy river tables have rivers running through the middle with a blue color and it highlights the wood with a nice color contrast of bright wood and bright rivers. The wood of this river table is the centerpiece and star of the show.
More industrial river tables have to be darker colors for the river, they may have a metal board or mixed in a theme with the wood. In this the epoxy is downplaying the wood and may include LED's or something else to highlight the piece's modern touches and outshine the wood.
Epoxy River Tables can look more like an ocean surrounding the table or like a river running through the table with ponds. You can showcase greens or murky blacks and grays in your epoxy river table. While we provide tried and true color pallets for your reference, we always encourage creativity and for you as the designer to use the colors and designs you love the most.
Stone Coat Countertops Epoxy River Tables

Stone Coat epoxy resin is UV resistant, food safe, and dries hard to become highly durable. This means you can enjoy your exclusive, hand-crafted furniture for many years to come. Our epoxy resin is also designed to be perfectly suited for epoxy river table projects that require a deep pour—up to two inches—and is specially formulated to limit the potential for air bubbles, saving you valuable time on your projects!
For this project you will want to use the calculator above to determine how much epoxy you need and then use quick coat for sealing wood quickly and allowing you to start pouring sooner. Use the casting or thick pour for your actual river riparian themed area. Then use Stone Coat Countertop epoxy or art coat epoxy for the final layer for the enhanced durability and heat resistance.
Pairing the right wood and resin together is only the first step in the process. If you are looking for the right piece of wood, we can help with that, too! We offer a variety of exotic wood slabs for you to use to create the perfect epoxy river table for whatever space you are looking to adorn.
Next, choose from our vast array of epoxy addatives include epoxy dyes, epoxy metallic pigments, epoxy spray paint and more. These will perfectly match your wood natural color and take your project to the next leve. Now you are on your way to a beautiful one of a kind epoxy river table!
Such a gorgeous end product may seem like a massive undertaking, but our epoxy resin kits and step-by-step instructions, as well as our free how-to videos, will have you up and running in no time. You got this!