How-to Build Epoxy Countertops
from MDF or Plywood

Video # 1
Building Substrate

Video # 2
Pouring Color Coat

Video # 3
Pouring Clear Coat

Video # 4
Ultimate Top Coat & Install

What is Medium Density Fiberboard MDF?
MDF is a combination of sawdust and shavings from other bits and pieces of wood in an industrial mill. They dehydrate those wood fibers and mix them with resin as wax before getting formed into panels. The process apply's high heat and intense pressure on those panels
MDF is affordable and has a wide range of applications similar to plywood or engineered wood products. MDF is known for having no knots, warping, etc. like real wood gets and it's easy to work with.
MDF has a lot of advantages including buying it with fire retardant mixed in, it's usually less than $50 depending on where you live, comes in 2 easy to work with formats ½ and ¾ inch, it is more pliant, etc.
Pros and Cons of MDF
Moisture resistance is low so you'll want to apply a layer of a waterproof membrane to any side that is touching a sink, dishwasher, etc. This also means that the wood is prone to expanding so you'll need to make sure that you are concious of what type of project and that it's the right fit for what you want to do.
This being so compressed means that it is heavier than plywood, which for being easier to work with can offset needing an extra pair of hands. With the silky smooth wood means it is easier to stratch or more likely damage a clean edge. So make sure to put down something to protect the wood or make something where you change the edges and scuff up the top.
With wood we'd always recommend a N95 or ventaliated mask and googles for dust, but with MDF that is especially true because it's mixed with resin and sometimes fire retardant depending on which one you buy. So wear a mask google, have well ventilated area or be outside and vaccum thoroughly.
Pro's
Budget friendly
Easy to work with
Enhanced fire safety
Con's
Corners and edges are prone to damage
Needs moisture barriers
Dustier and needs proper safety equipment like you would for wood
Before you do a project we always recommend researching the materials, techniques and pro's and con's of what you want to make. So checkout our YouTube for more step by step tutorials on epoxy, DIY and all your favorite cost saving projects.
As always……………….
You Got This!
Video #1: How-to Build a Countertop Substrate
Step #1: Cut MDF to Size & Add a Drop Edge
Using a table or circular saw, layout and cut your MDF or Plywood to size. Our countertop overhangs the cabinet 1.5'' Using the same MDF sheet cut a strip 1.25'' thick. Use wood glue and pin nails to secure the drop edge strip.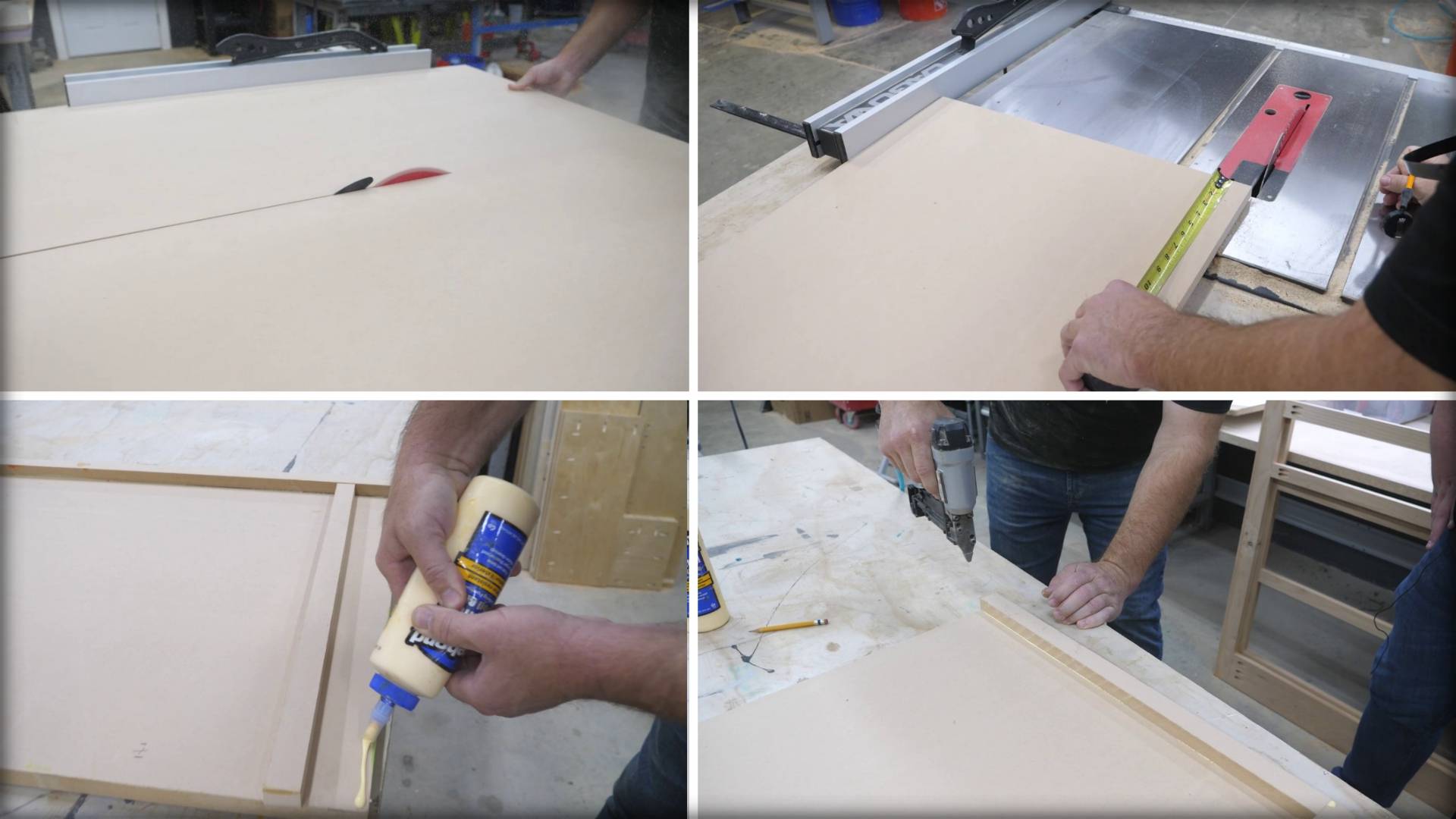 Step #2: Create a Rock Face Edge
Use a grinder and 50 grit sanding disc to contour and create a rough looking chiseled rock edge. Angle the grinder back and forth to make the realistic look.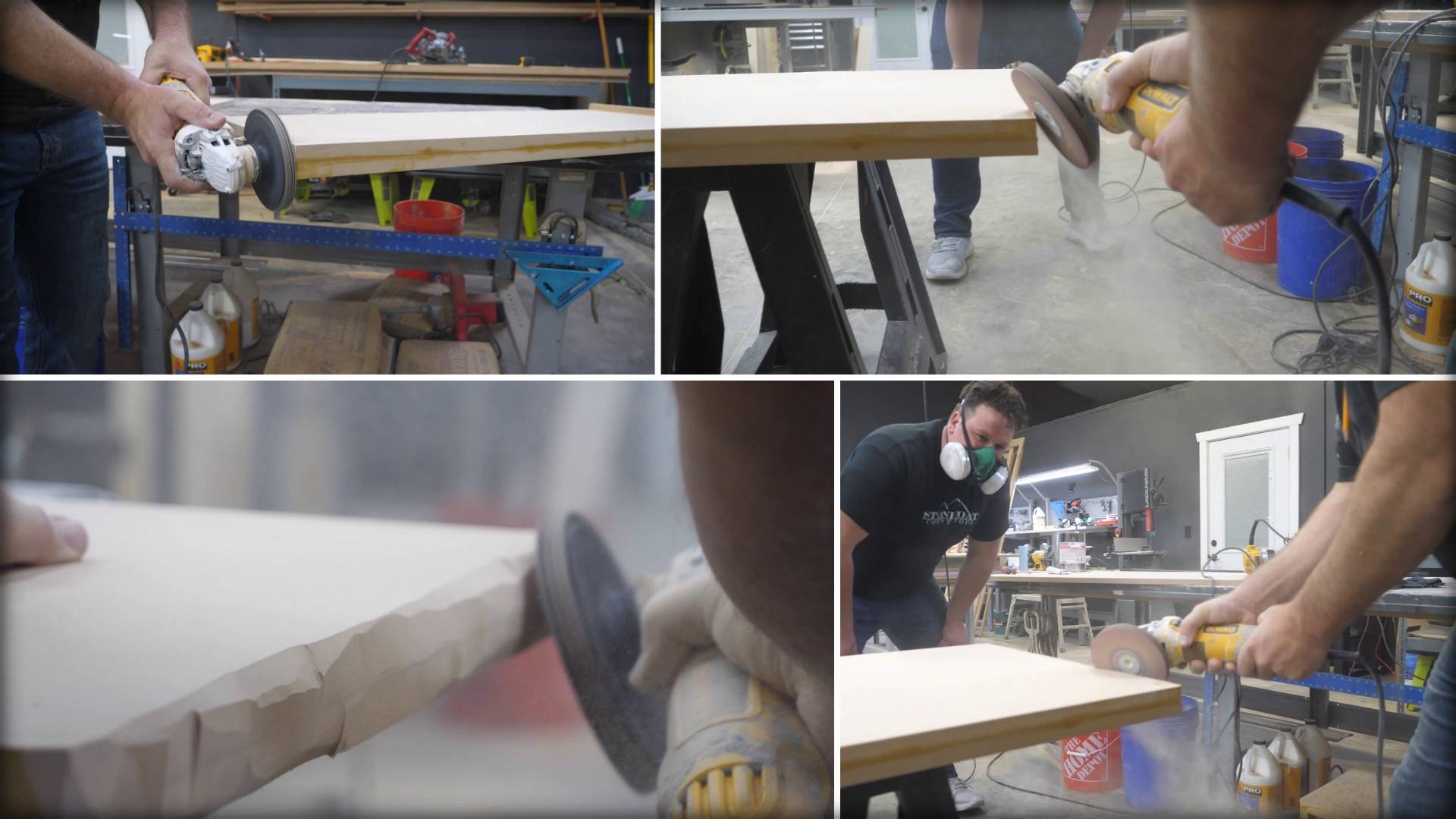 Step #3: Mix & Apply All Purpose Bondo
Using gloved hands, mix and apply all purpose Bondo to your sanded and contoured MDF countertop edge. Rub on the Bondo then tap to create random high points and valleys. Let the Bondo fully dry before moving on to the next step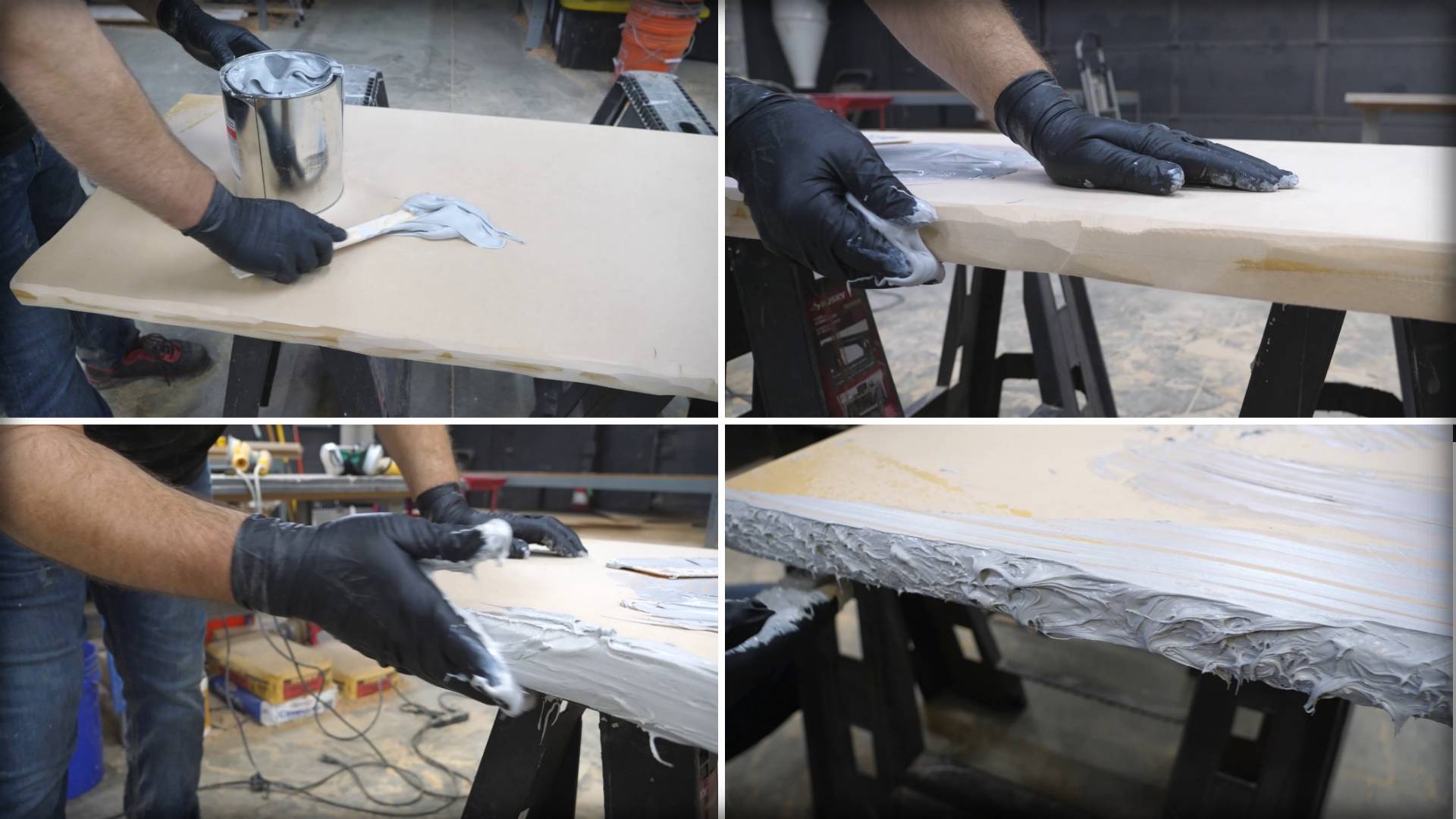 Step #4: Sand Rock Face Edge
Use 120 to 220 grit sandpaper to sand down and sharp high points. Remove any dry Bondo from the surface and bottom of your project. Sand until desired Rock Face look is achieved. Wipe the dust with a paper towel and acetone or isopropyl alcohol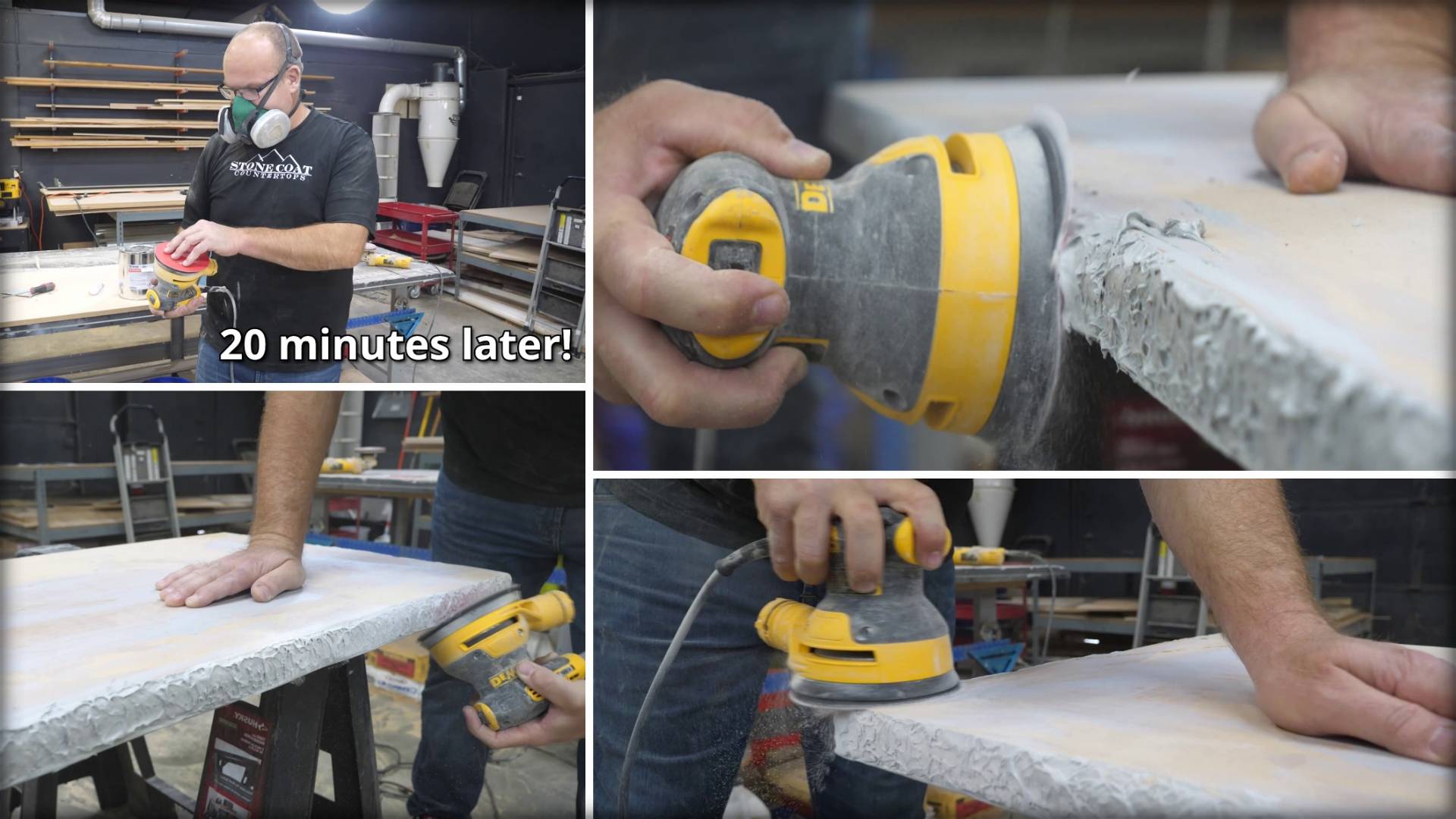 Video #2: How-to Exotic Pour Epoxy
Step #1: Apply Epoxy Undercoat
Use either Stone Coats White or Black Epoxy Undercoat to prepare your MDF or Plywood for Epoxy. Use a 1/4'' roller and apply two coats of Undercoat. Sand between coats with 220 grit sandpaper. Let the Epoxy Undercoat fully dry before applying epoxy.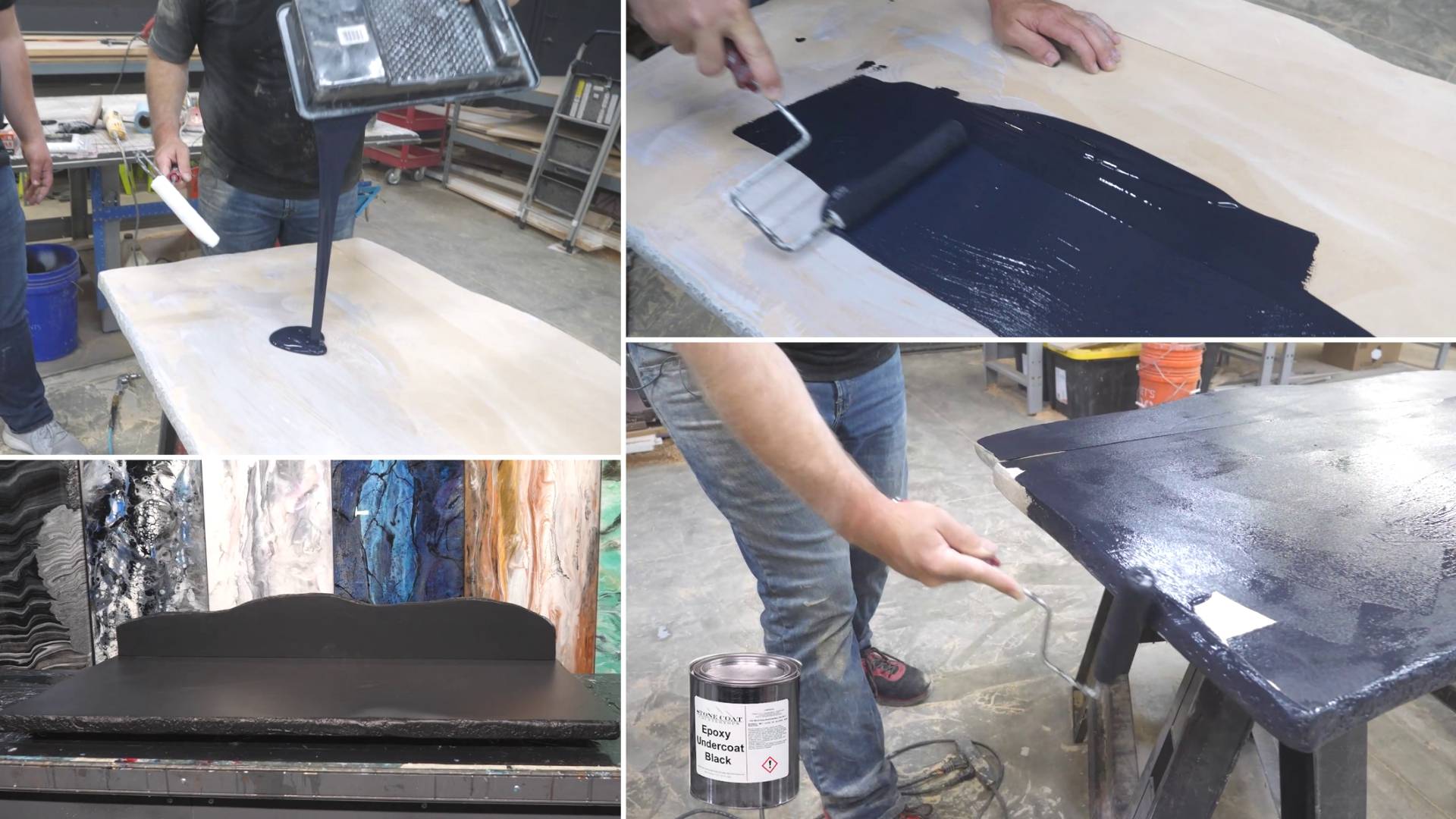 Step #2: Tape Off Edges & Mix Epoxy
Use masking tape and apply a couple layers around the perimeter of your project. Measure and mix 4 ounces of epoxy per square foot of project for the Exotic Pour technique. Stone Coat Countertop Epoxy is a 1:1 ratio by volume. Mix for 2 minutes with a paddle mixer and drill. Hold the bucket while mixing.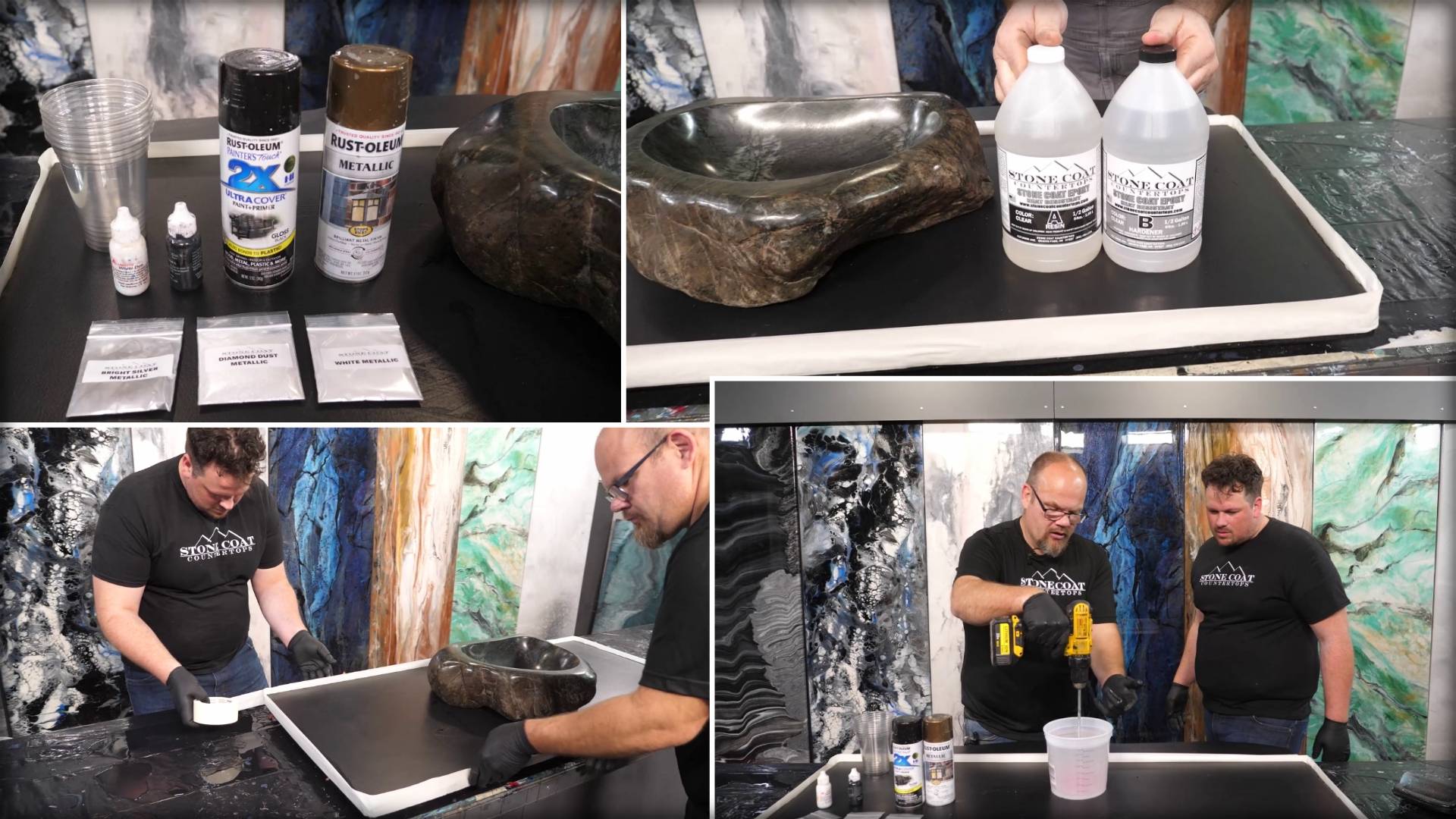 Step #3: Mix up Additives
Pour mixed epoxy into smaller mixing cups. Add metallic powders, epoxy dyes and spray paints into the mixing cups. When tinting epoxy with spray paints, spray for about 10 seconds, mix and add more paint until desired color is achieved. Use a stir or paint stick to mix the additives.
Step #4: Exotic Pour Bucket
Layer the different colored epoxy back into the larger mixing container. Take time to spray different colors of spray paint between most layers of epoxy. Continue to layer until your additive mixing cups are empty.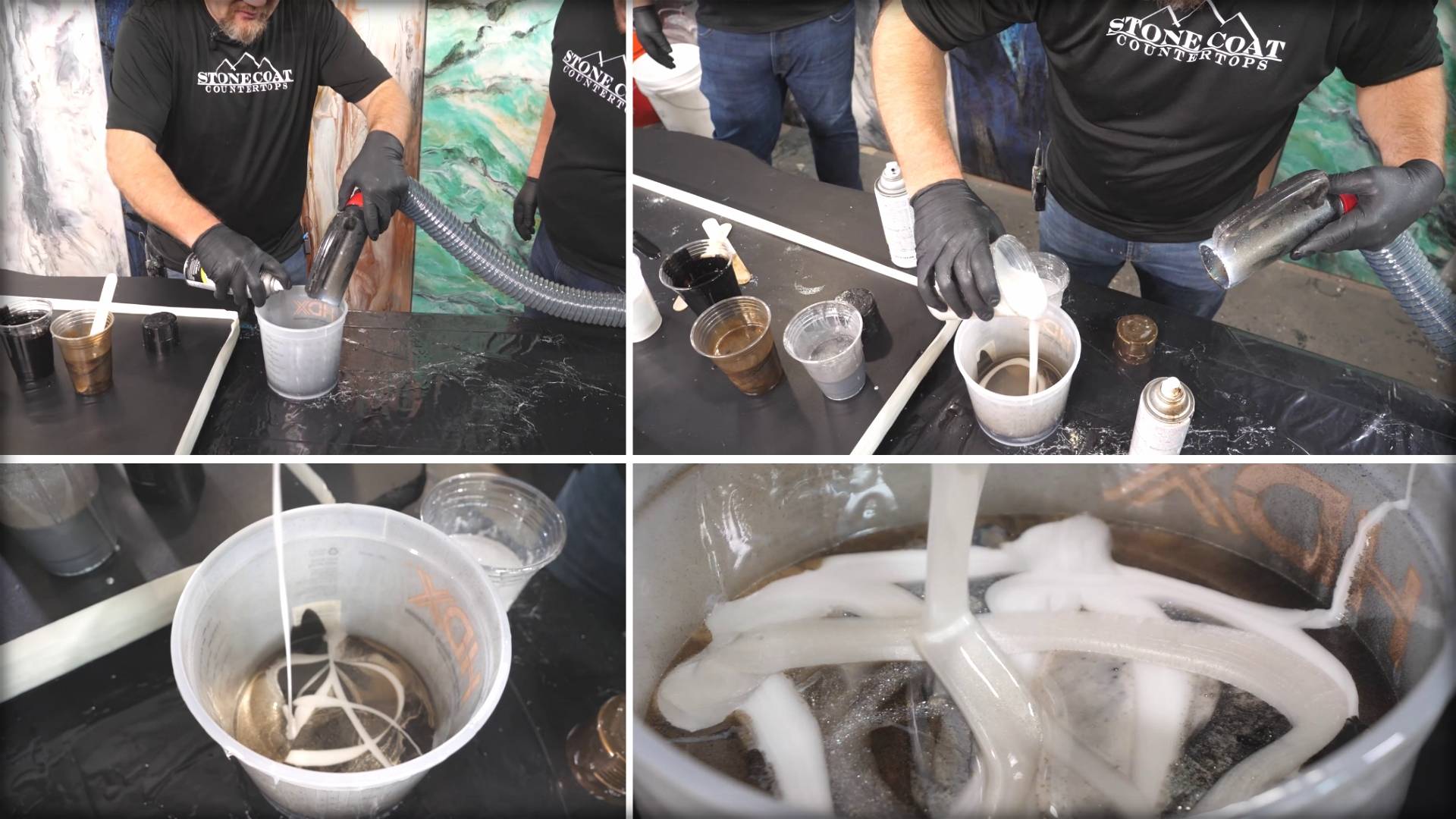 Step #5: Wash Coat & Exotic Pour
To help the Exotic Pour move and meld, we like to apply a thin wash coat first. Use just enough epoxy to thinly coat the countertop. Use a mixing stick or your gloved hands to apply the wash coat. Slowly pour out your bucket on your countertop. You can pour in rows, or in a ring, or in any random way you'd like. The epoxy and additives do all the hard work for you. Pour your countertop right out of a bucket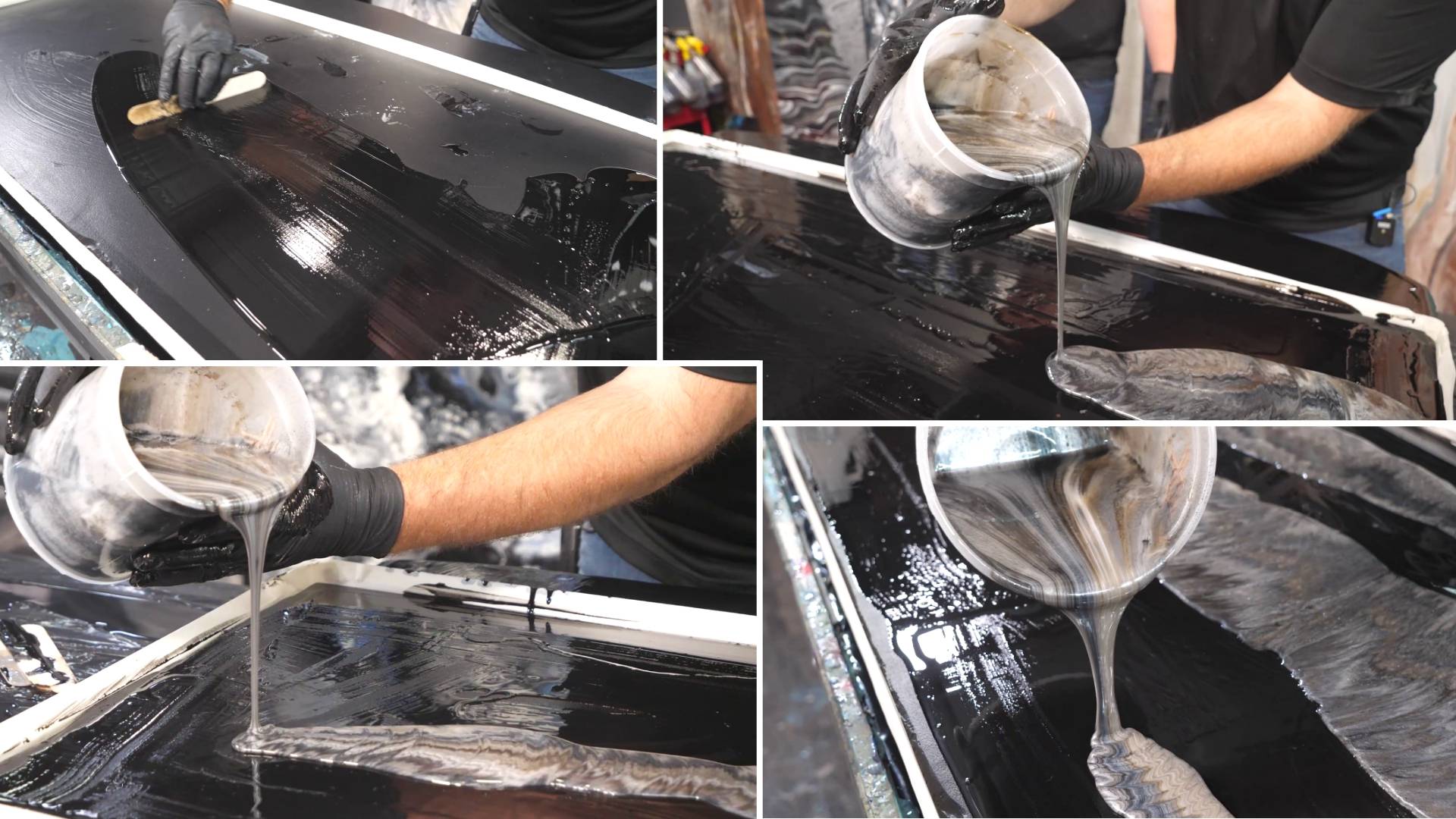 Step #6: Meld Epoxy
Use a heat gun to push and meld the epoxy or use our tilt table to meld the Exotic Pour together. Use your gloved finger to break up any surface tension to get the epoxy to flow.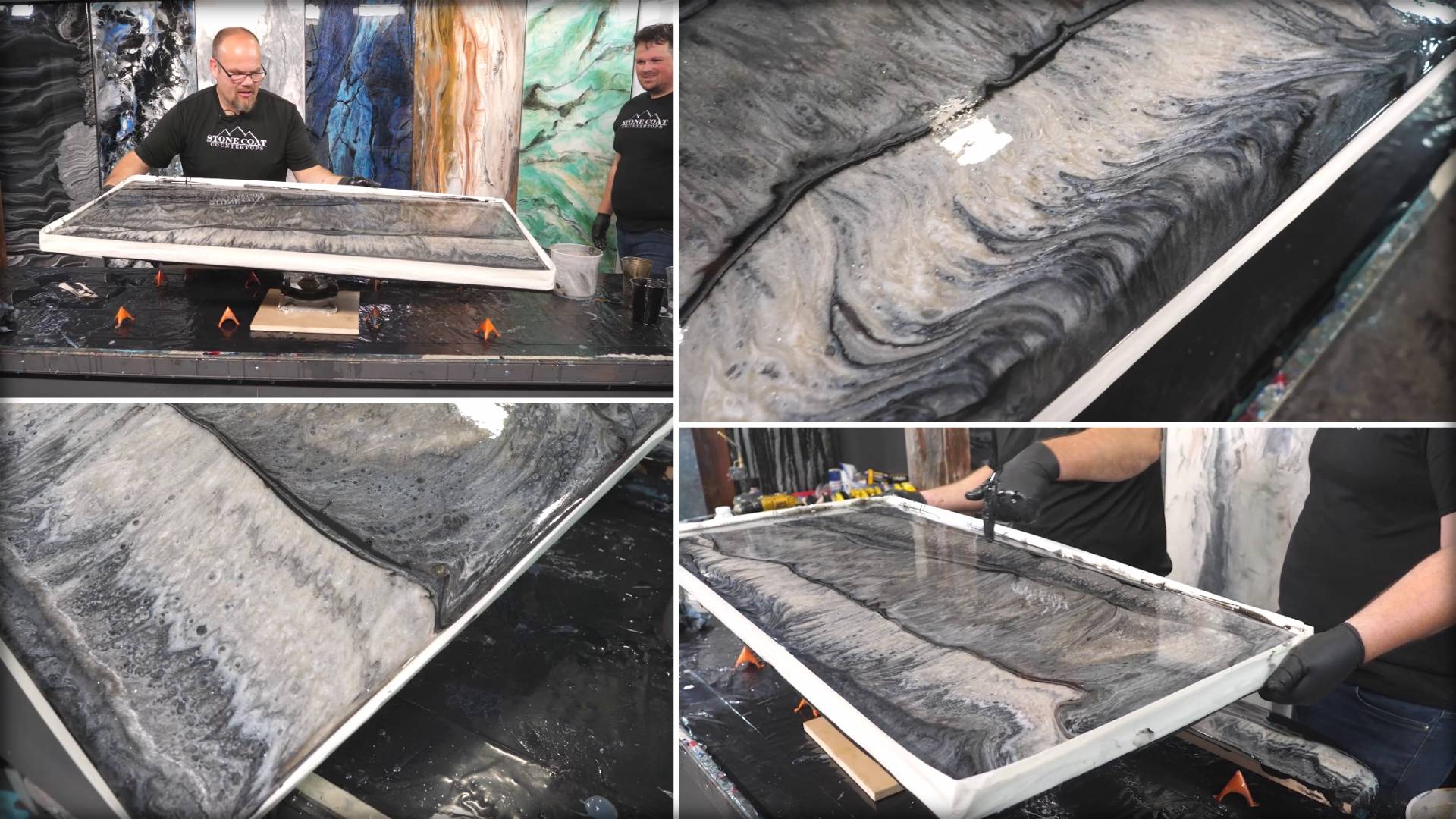 Step #7: Remove Edge Tape
Peel the masking tape from the edges, pulling away and down from the surface of the project. Use your gloved hand to break any surface tension on the edges to help the epoxy flow.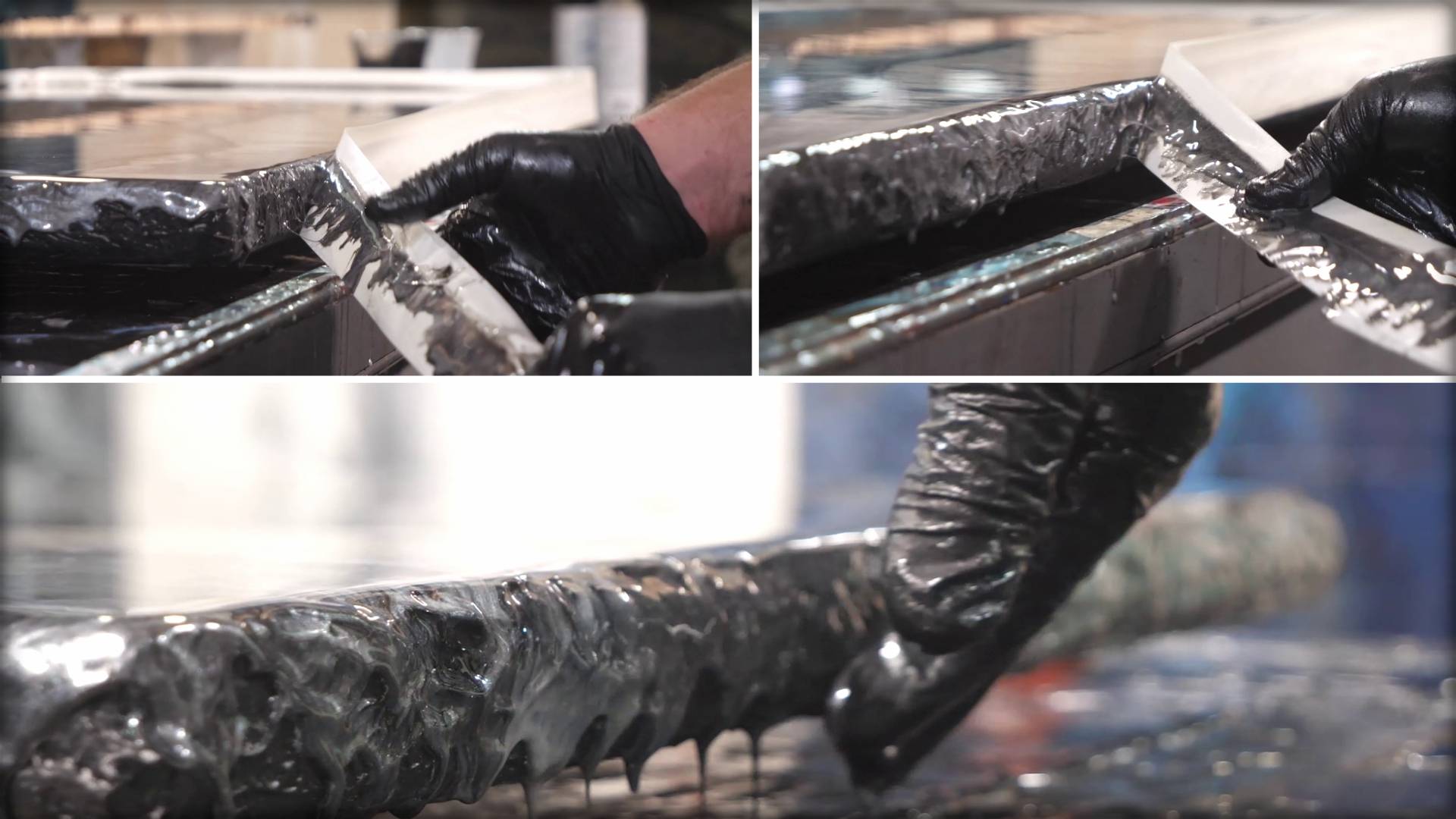 Video #3: How-to Clear Coat
Step #1: Sand with 220 & Mix
Sand the surface with 220 grit sandpaper and use a scotch brite sanding pad to hit the edges. Wipe of the dust with a paper towel and clean the surface with 91% Isopropyl alcohol or acetone. Mix 3 ounces of epoxy per square foot of countertop, mix for 2 minutes with a paddle mixer and drill.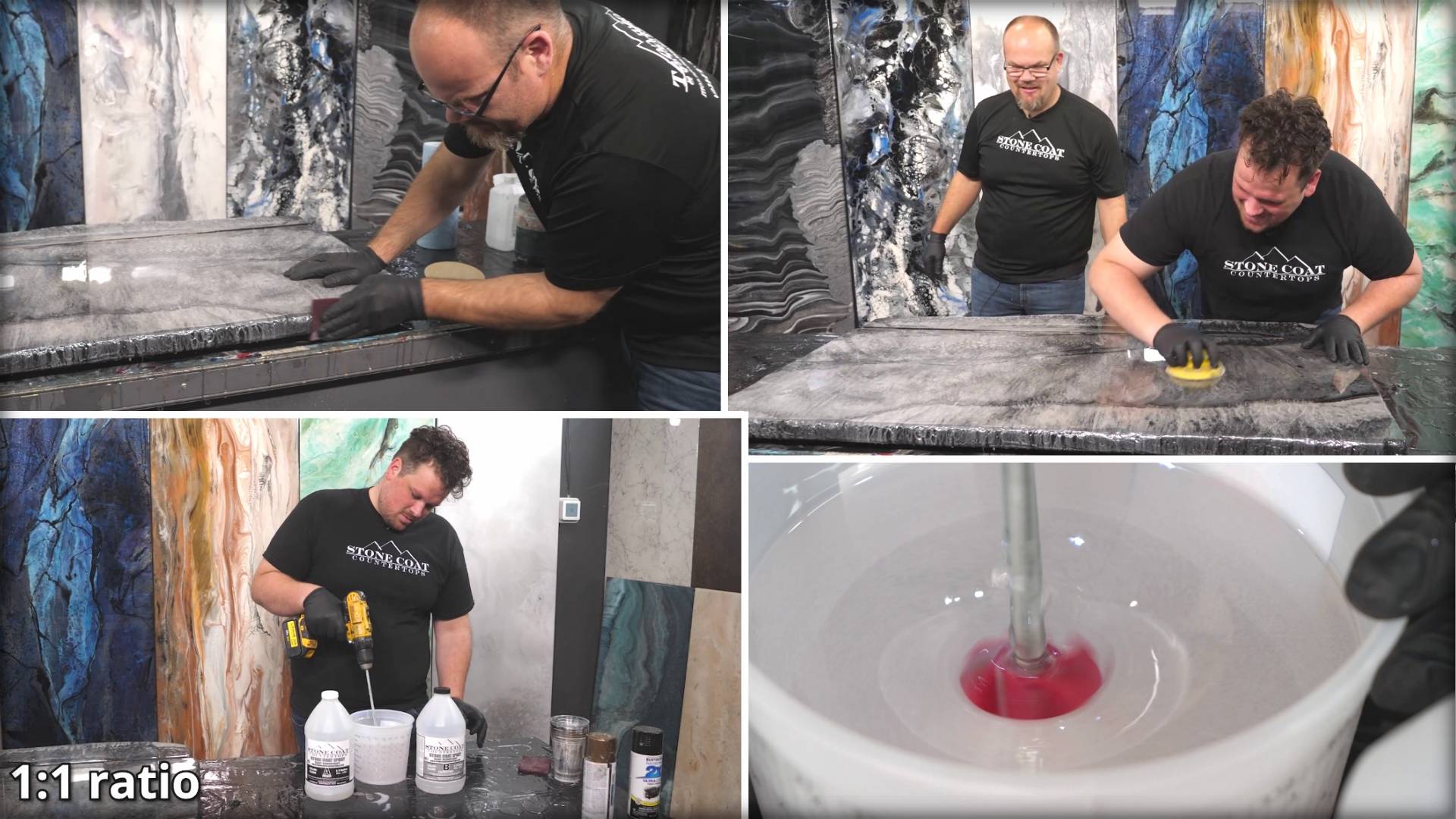 Step #2: Apply & Trowel
Pour the mixed Stone Coat Epoxy on the center of your countertop. Use your 1/8'' X 1/8'' in square notch trowel to evenly spread the mixed epoxy. Don't forget to spread the epoxy over the edges.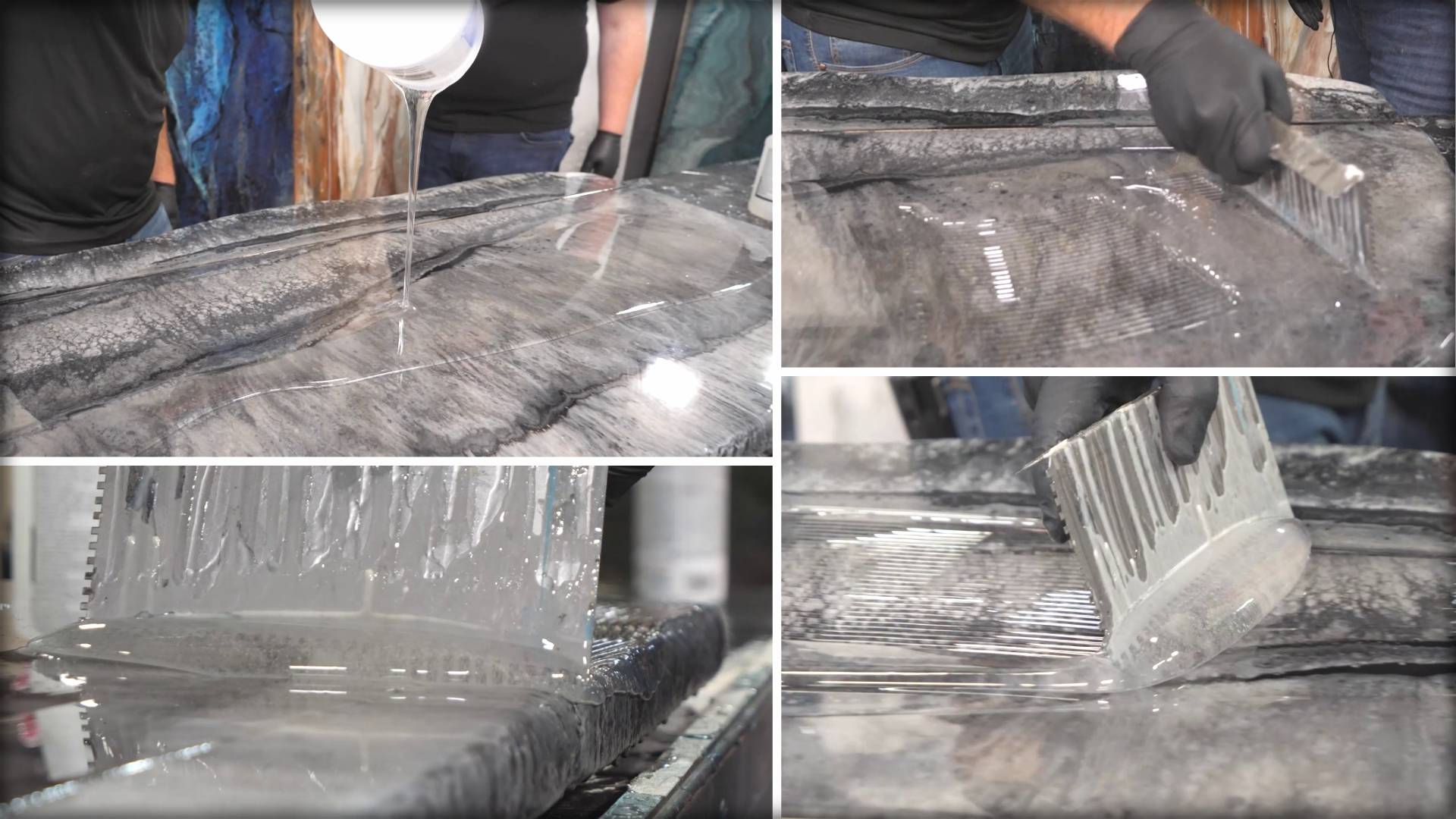 Step #3: Chop the Top
Use the heel of a 2'' nylon brush to remove any trowel lines left behind from spreading the material. De-shed the brush 1st to remove any lose bristles, next wet the brush with epoxy in your mixing bucket. Randomly chop the surface of the countertop, lastly use the brush to lightly smooth any runs on the edge of the countertop.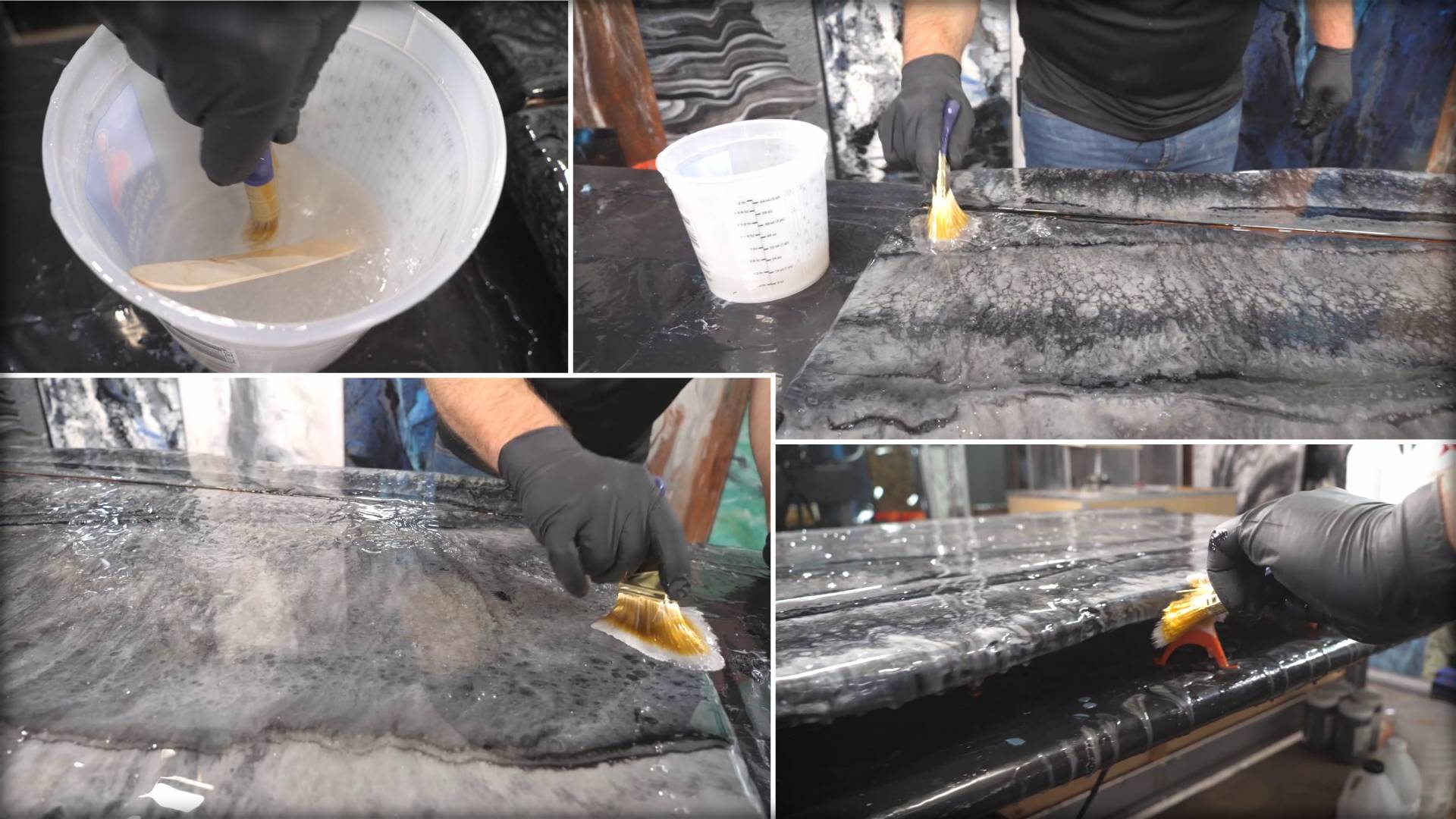 Step #4: Remove Air Bubbles
Use a propane torch in a sweeping motion 2-3'' from the surface to remove air bubbles incorporated into the epoxy while mixing. We like to use the Bernzomatic TS-4000 as our torch, be sure to torch the surface at least 3 times to remove the bubbles.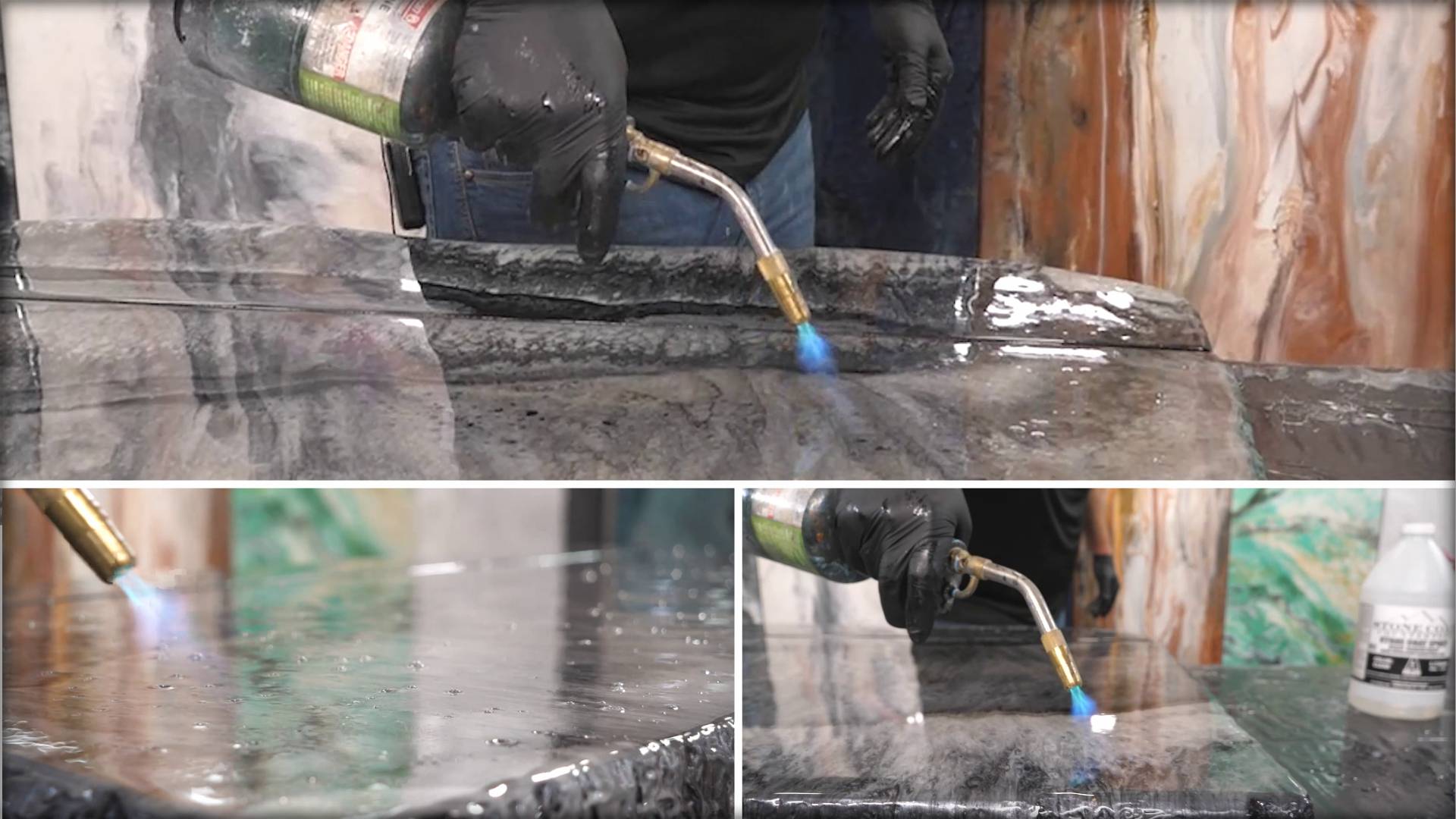 Video #4: Ultimate Top Coat & Install
Step #1: Apply Ultimate Top Coat
Sand the dried epoxy with 220 grit sandpaper and wipe the dust with acetone or 91% Isopropyl alcohol. Pour part A into a mixing container and mix separately before adding part B. Ultimate Top Coat is a 2:1 product by volume. Mix for 2 minutes with a mixing stick. Prepare 2 - 1/4'' nap rollers for use by first deshedding on masking tape. One roller will be used for wet rolling and one will be used dry. Completely saturate your wet roller and evenly spread the top coat. Use your dry roller with light pressure to remove lap lines. Work in 6-8 foot sections at at time. Let the Top Coat dry before install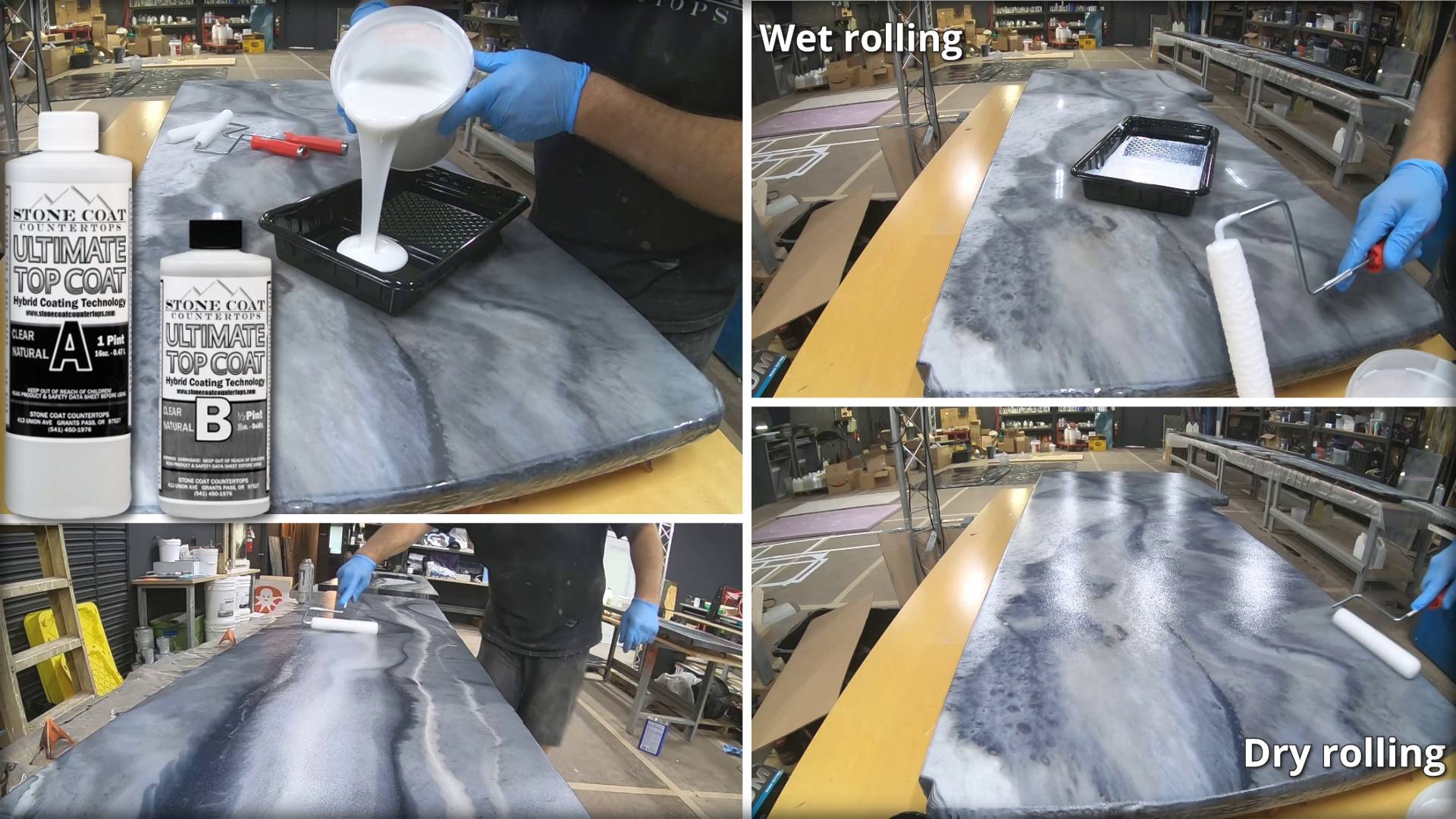 Step #2: Build Up Strips & RedGard
Install 2'' strips the same thickness as your drop edge to keep your new countertop from interfering with your cabinet drawers. We apply two coats of RedGard waterproofing membrane on the underside of any countertop exposed to a sink or dishwasher.
Step #3: Dry Fit
Before securing the countertop with glue, check to see if your top is a snug fit.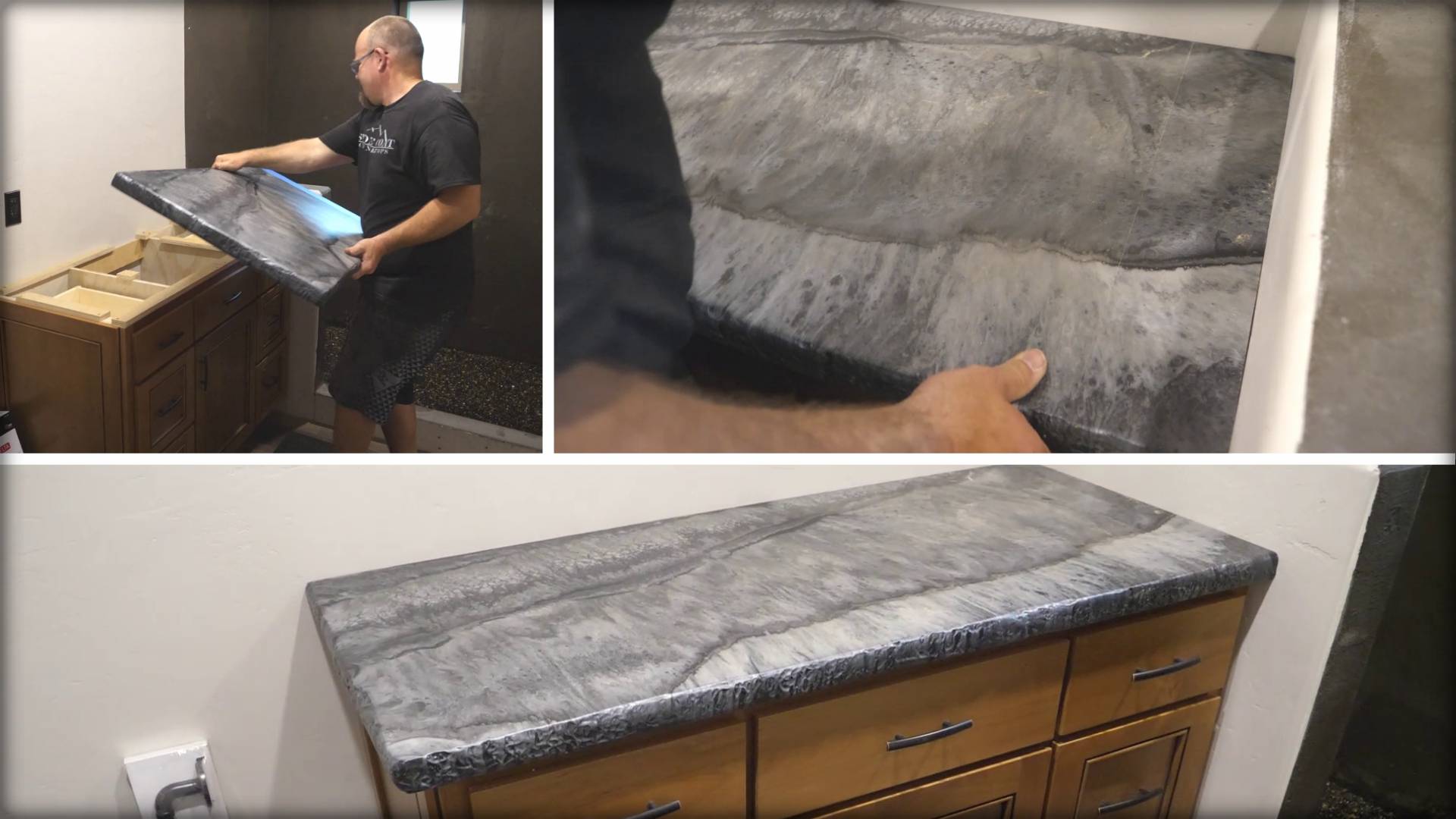 Step #4: Drill Faucet Hole
Use a wood bit hole saw to cut your sink faucet hole into the countertop. For a standard faucet use a 13/8'' hole saw. We used a vessel sink for this project. Use the proper size hole saw the sink manufacturer recommends to fit the sink tailpiece.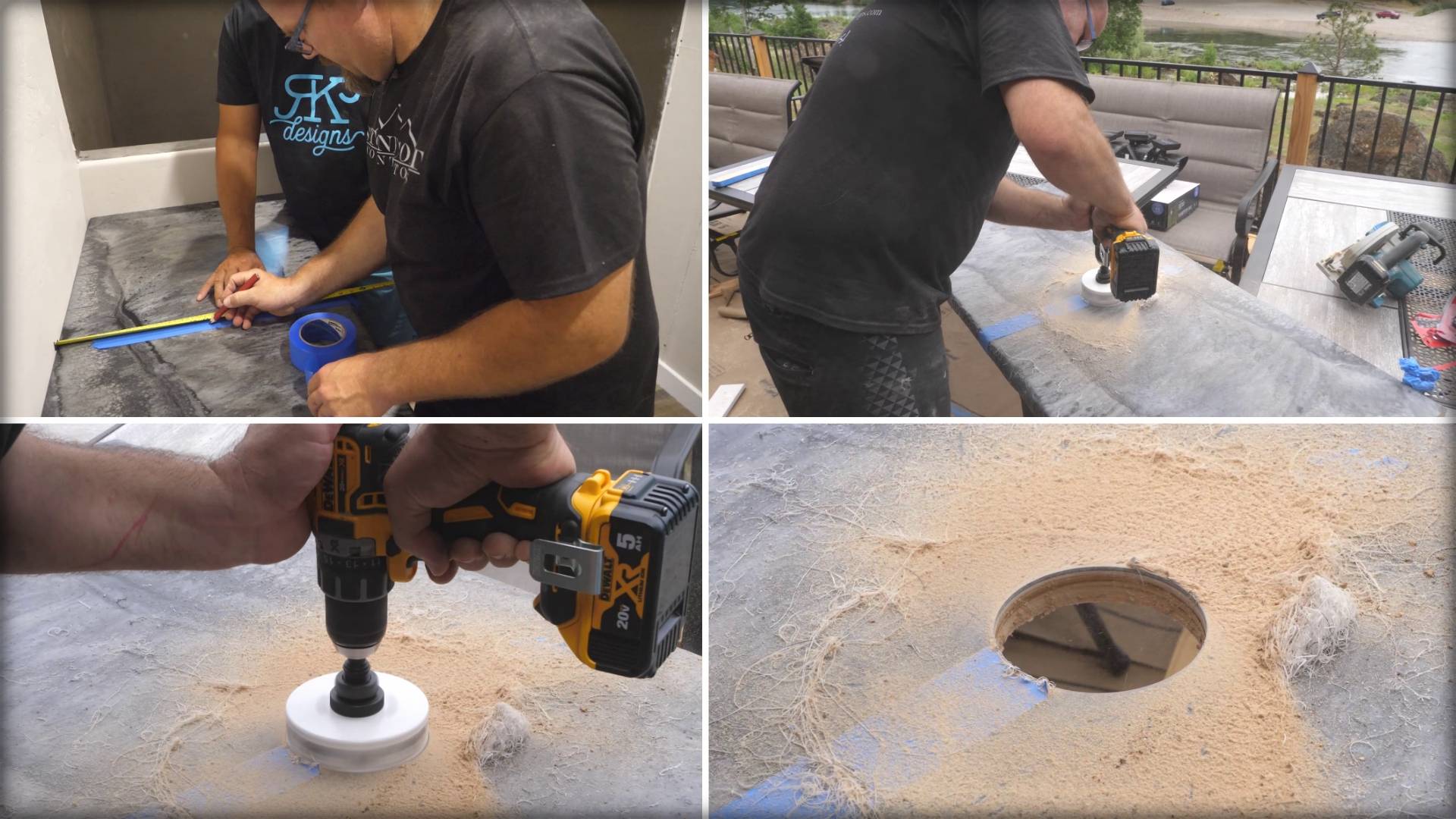 Step #5: Secure Countertop
Use 100% silicone to secure your countertop to the build up strips. Apply many dalups of silicone to secure your project. We use latex paintable caulking where the backsplash meets the wall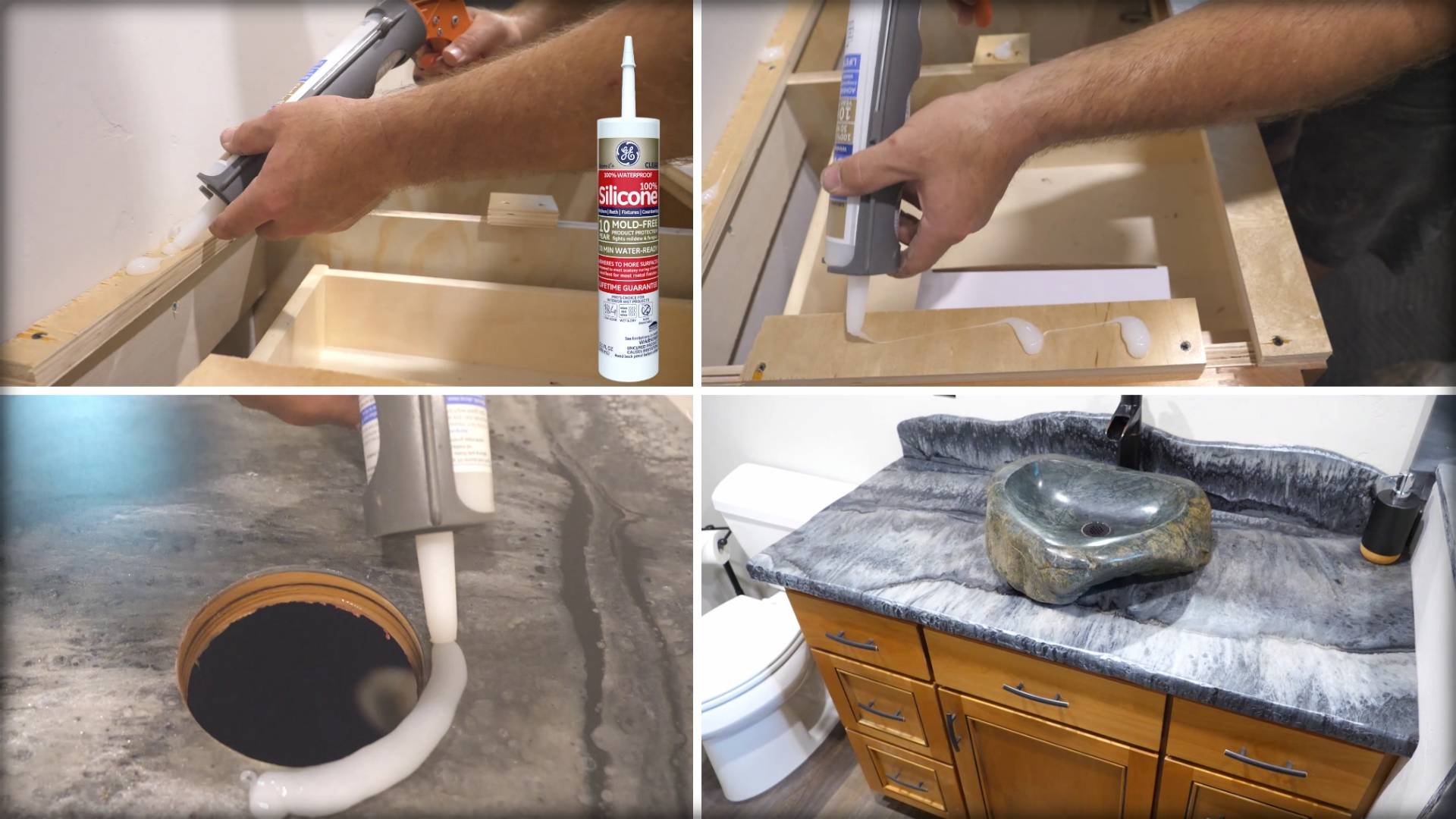 Step #6: Enjoy!
Enjoy your new Stone Coat Epoxy countertop for many years to come. Use any non-abrasive cleaner designed for laminate or solid surface countertops to keep your project looking the day you poured.