How to make Custom Galaxy Granite
Build-Your-Own-Galaxy Granite Kit
Create your own Custom Galaxy Granite Kit by choosing your colors! Select each of the following below:
- Stone Coat Countertop Epoxy
- Epoxy Undercoat
- 2 Glitters
- 1 Metallic Powder
- Gloss Black Spray Paint
---
Step by Step Instructions
Step #1: First Coat
On a prepared surface (2 coats of epoxy under coat and sanded with 220 grit), Pour a coat of clear Epoxy mixed with your choice of Glitter(s). This will act as your base coat. Make sure to cover the entire surface and edges. Then, using a torch or heat gun, torch the surface to pop any potential air bubbles.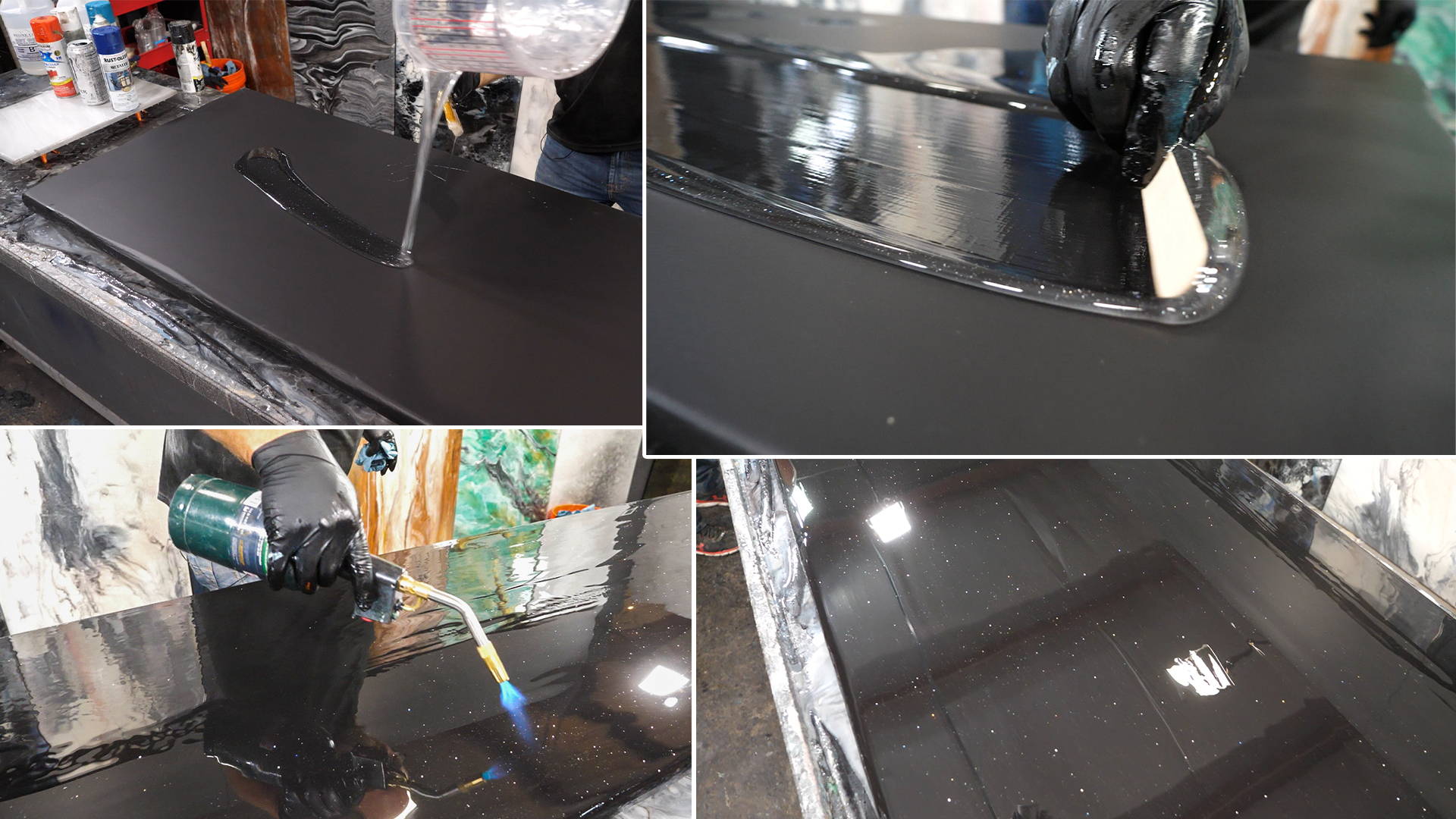 Step #2: Granify
Fog sections at a time with black spray paint. Then immediately follow up by spraying metallic powder mixed with 91% isopropyl alcohol over your fogged surface. Continue doing this over the piece until desired look. Once complete, let this coat set up overnight. Tomorrow you will pour a clear coat over this.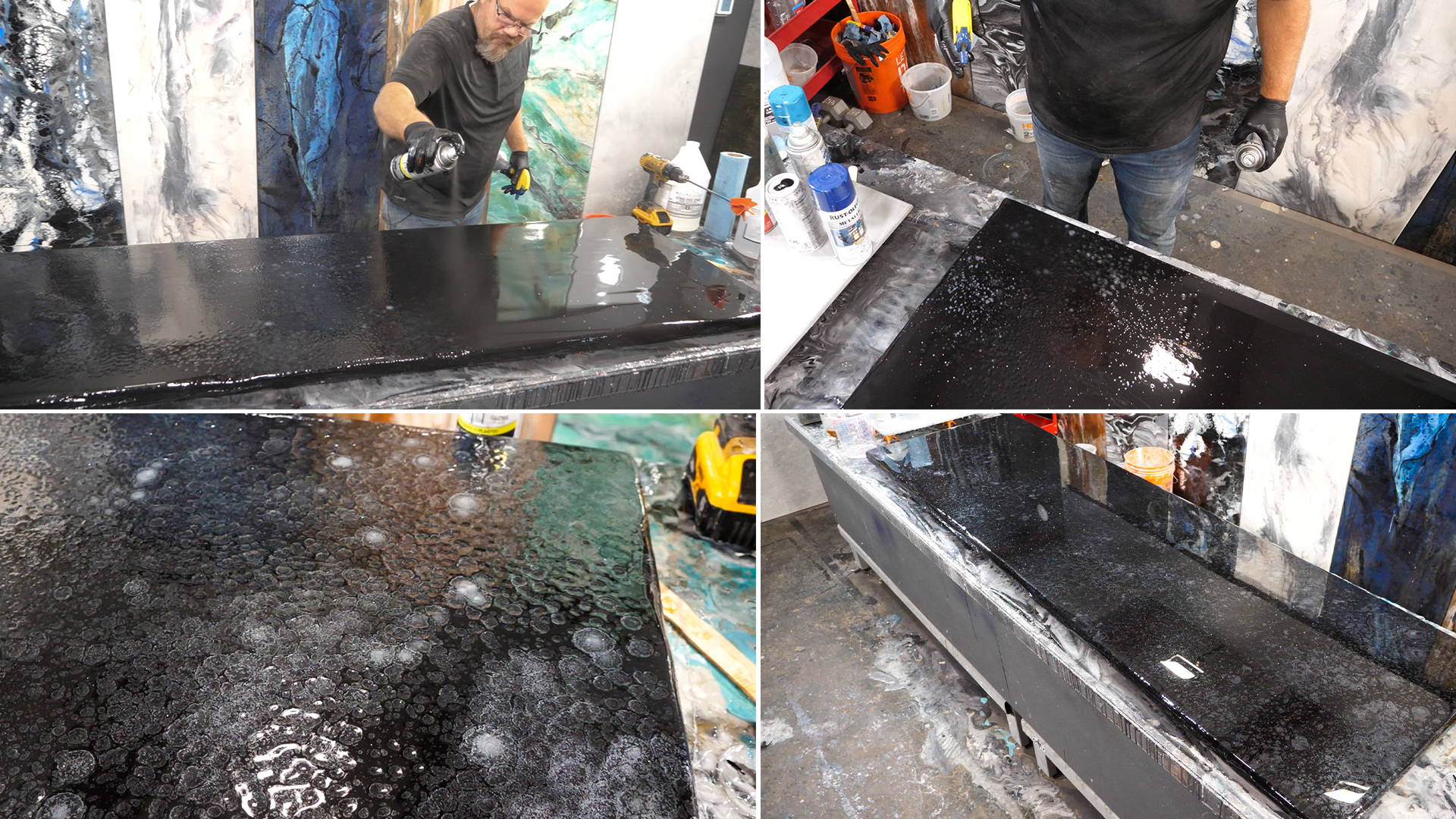 Step #3: Sand and Clean
18-24 hours after your first coat was poured, you will want to sand the surface and sides with 220 grit sandpaper. This will promote a great bond for the next coat. Then, you will wipe the dust. You can use alcohol or acetone to help with this step as well.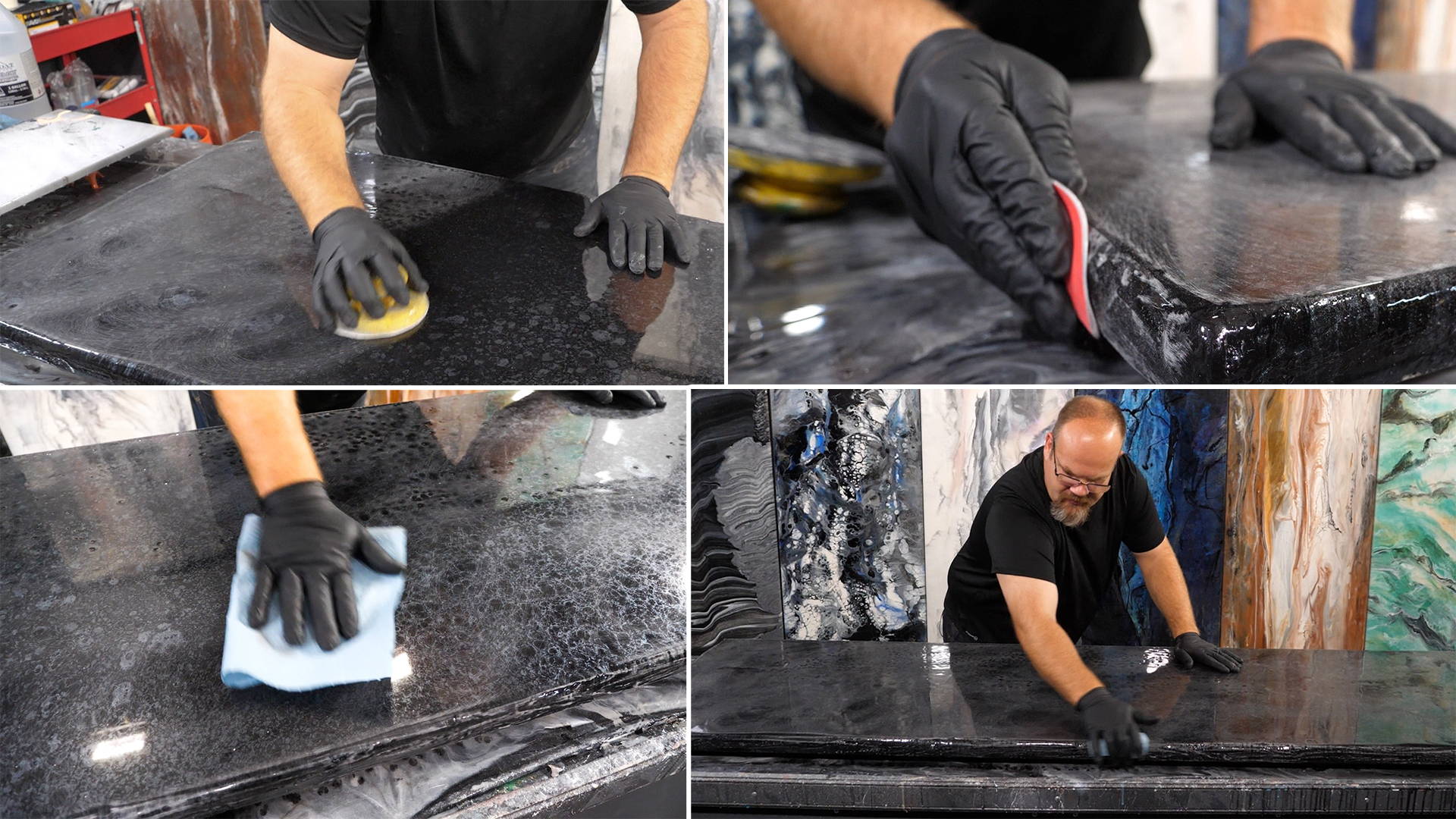 Step #4: Mix the Epoxy with Glitter
Mix together our 2-part Stone Coat Epoxy at a 1:1 ratio by volume. Measure 3oz of Epoxy per square foot of surface. Mix with a drill and paddle attachment for 2 minutes. Or several minutes if by hand with a stick. Once mixed, add in your choice of Glitter(s). Mix one final time until the Glitter is evenly mixed.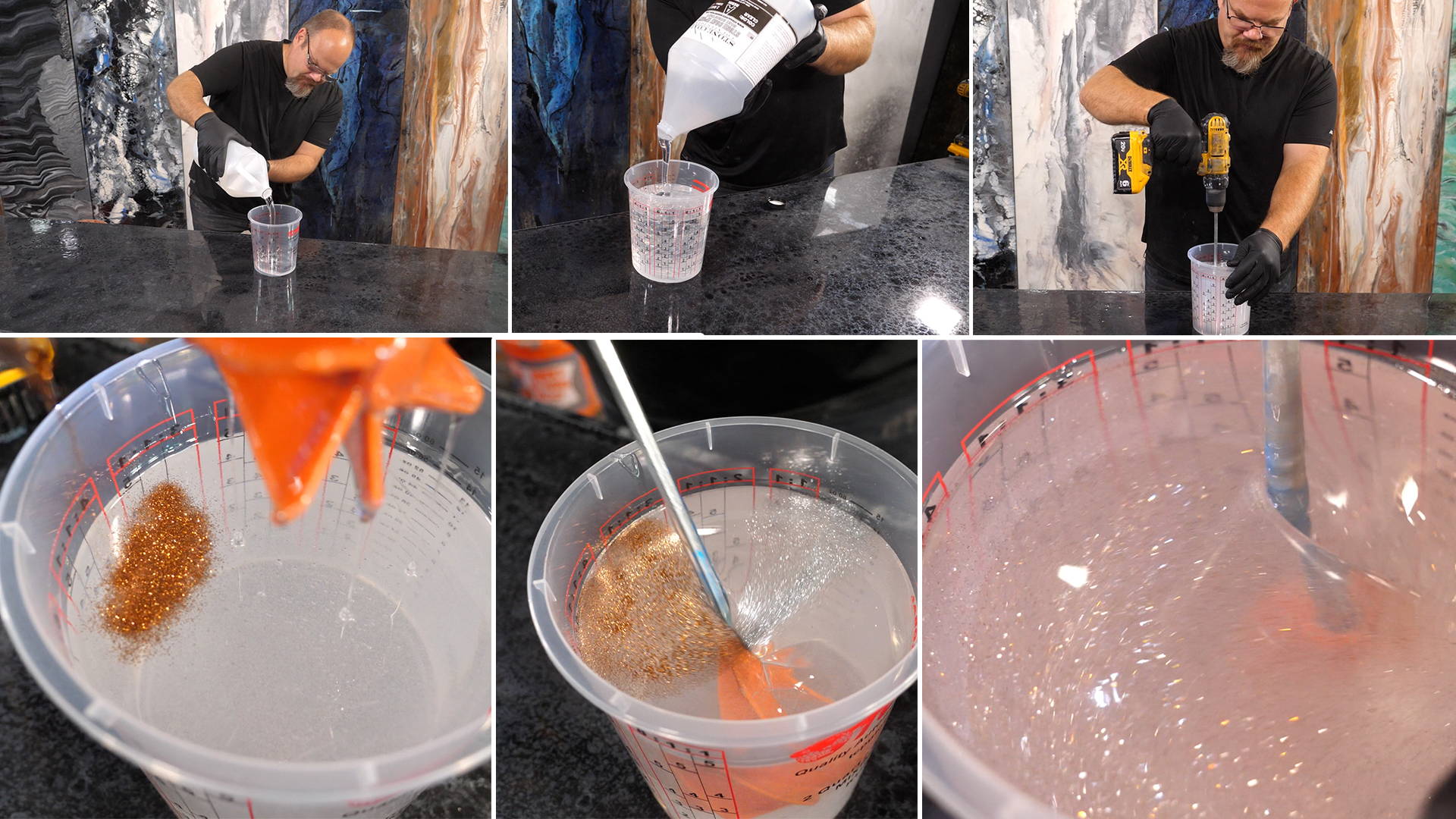 Step #5: Flood Coat - Pour, Trowel, Chop, Torch
Pour out all of the Epoxy into the center of the project. Use our 1/8" x 1/8" Square Notch Trowel to evenly spread the Epoxy around until the entire surface is covered. Then, use a brush to "chop" the surface. In a stamping motion, chop the entire surface and edges. This will hide any trowel lines, help mix the epoxy one final time, and ensure the Epoxy is spread evenly. Lastly, in a sweeping motion, torch the surface to pop any air bubbles and to help your project level out as smooth as glass. Do this at least 3 times waiting a couple minutes between each pass to ensure best results.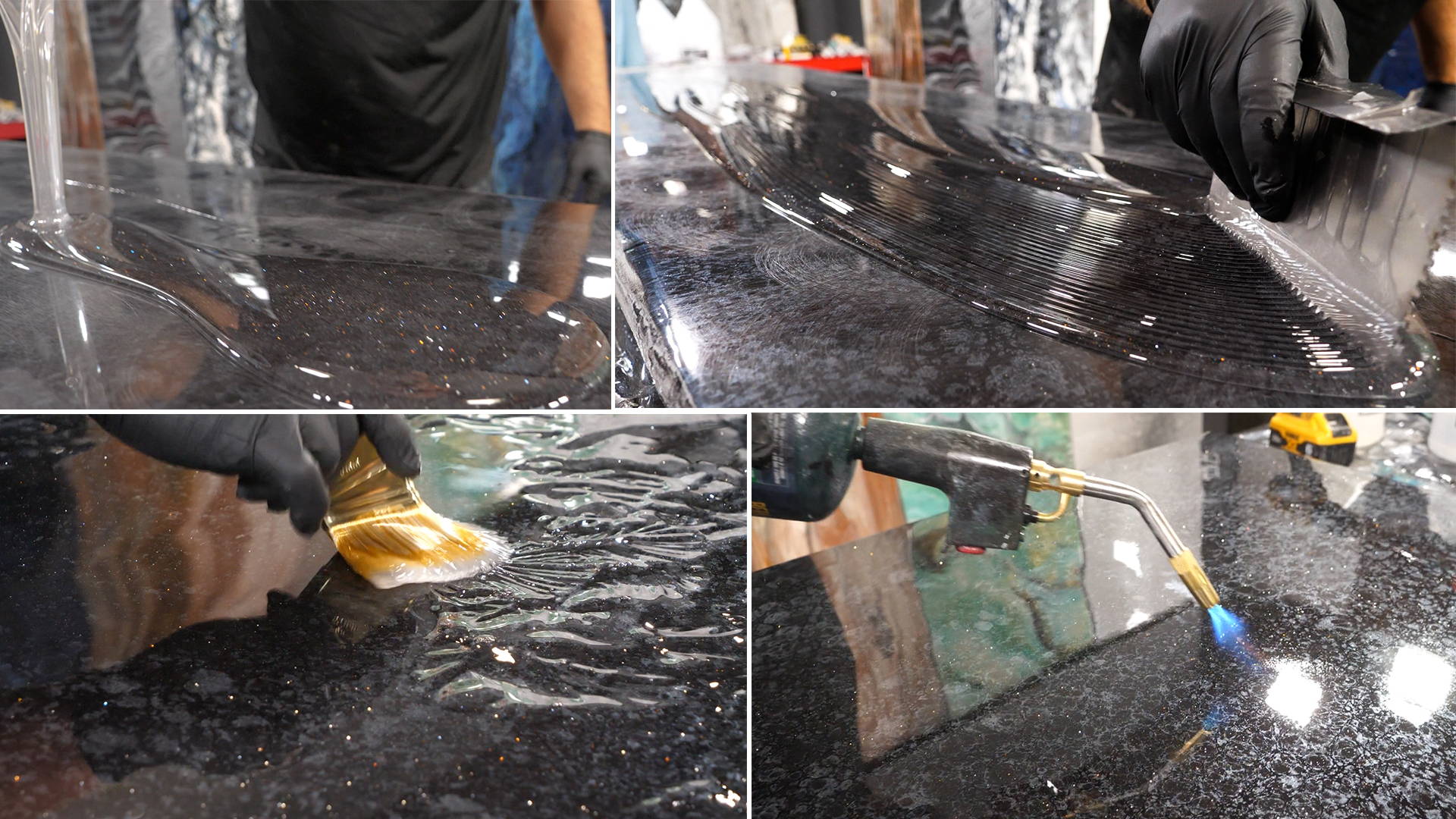 Step #6: You're Done!
Great job on creating your own custom Galaxy Granite recipe! Your Masterpiece is complete, and you are officially an Epoxy Pro. You Got This!