How to Make Soap Stone with your Hands
Step #1: Sand and Clean
Before applying Stone Coat Countertop Epoxy over your existing surface you will want to first sand the surface with
220 grit sandpaper. Be sure to sand thoroughly along the top, and the edges of your project to get rid of any high points
and help promote adhesion. Once you're finished sanding, you will want to wipe the dust off with Acetone or 91% Isopropyl Alcohol until clean.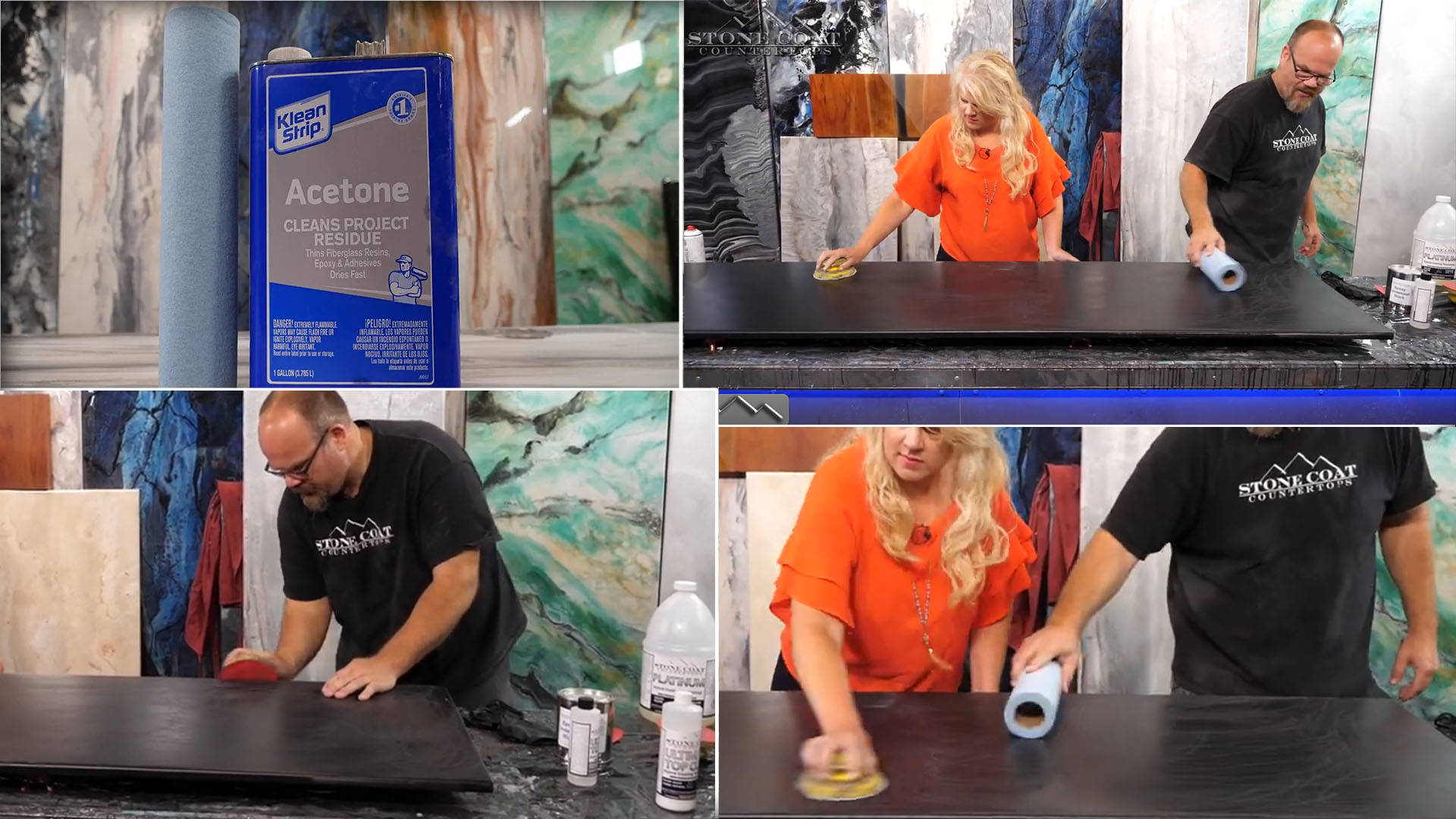 Step #2: Mix Stone Coat Countertop Epoxy
Our regular countertop epoxy is a 1:1 ratio by volume coating. Pour part B and then part A into a mixing container and mix for 2 minutes with a drill and paddle mixer. Once you've finished mixing, pour the epoxy out into individual cups so you can add your different color additives.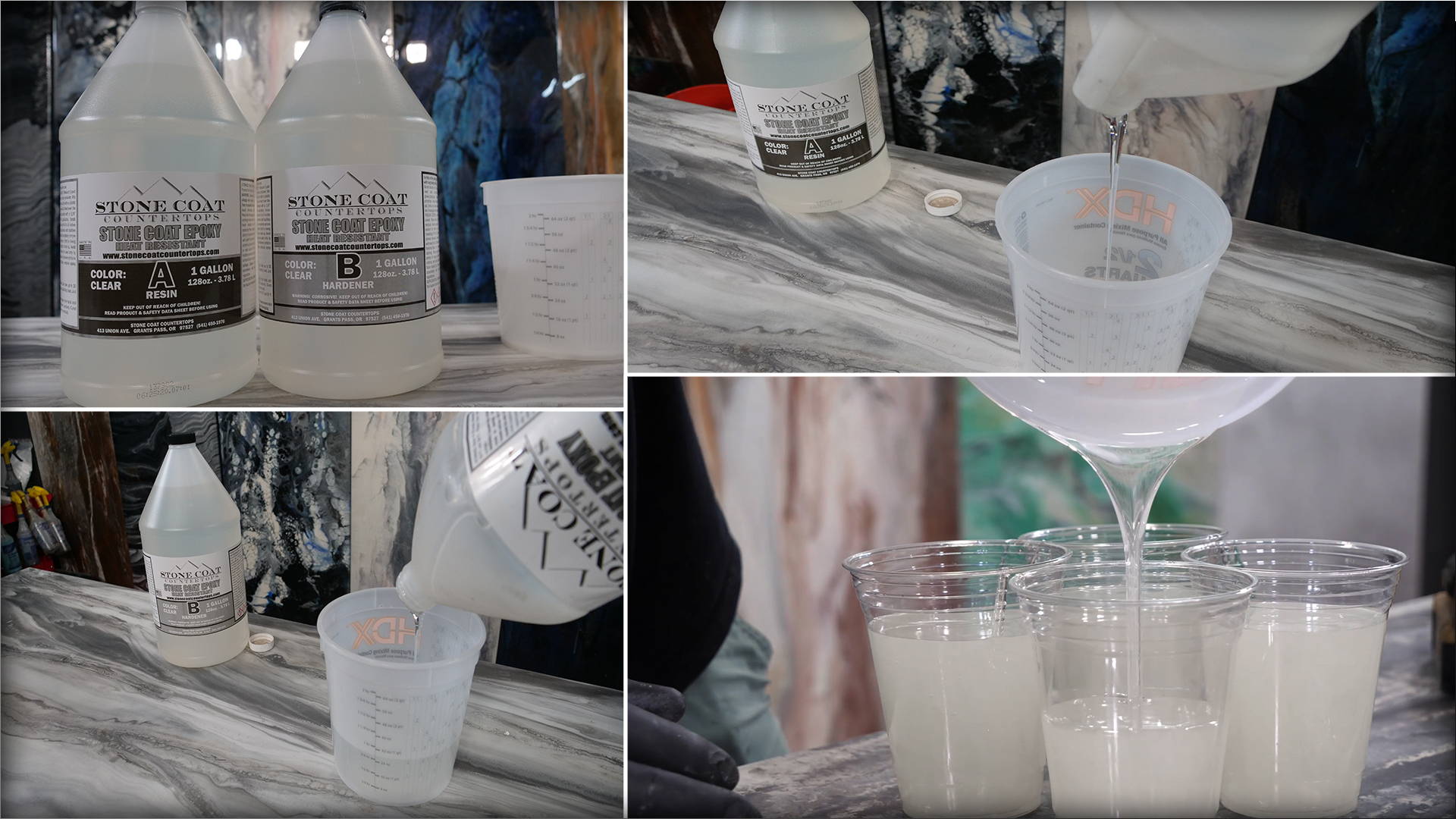 Step #3: Add & Mix Additives
Add metallic powders, epoxy dyes and spray paints directly to your mixing buckets. Mix thoroughly with a mixing stick.
Recipe:
Diamond Dust Metallic
White Metallic
Black Epoxy Undercoat
Stone Coat Countertops
Black Dye
White Dye
Black Spray Paint
White Marble Effect Spray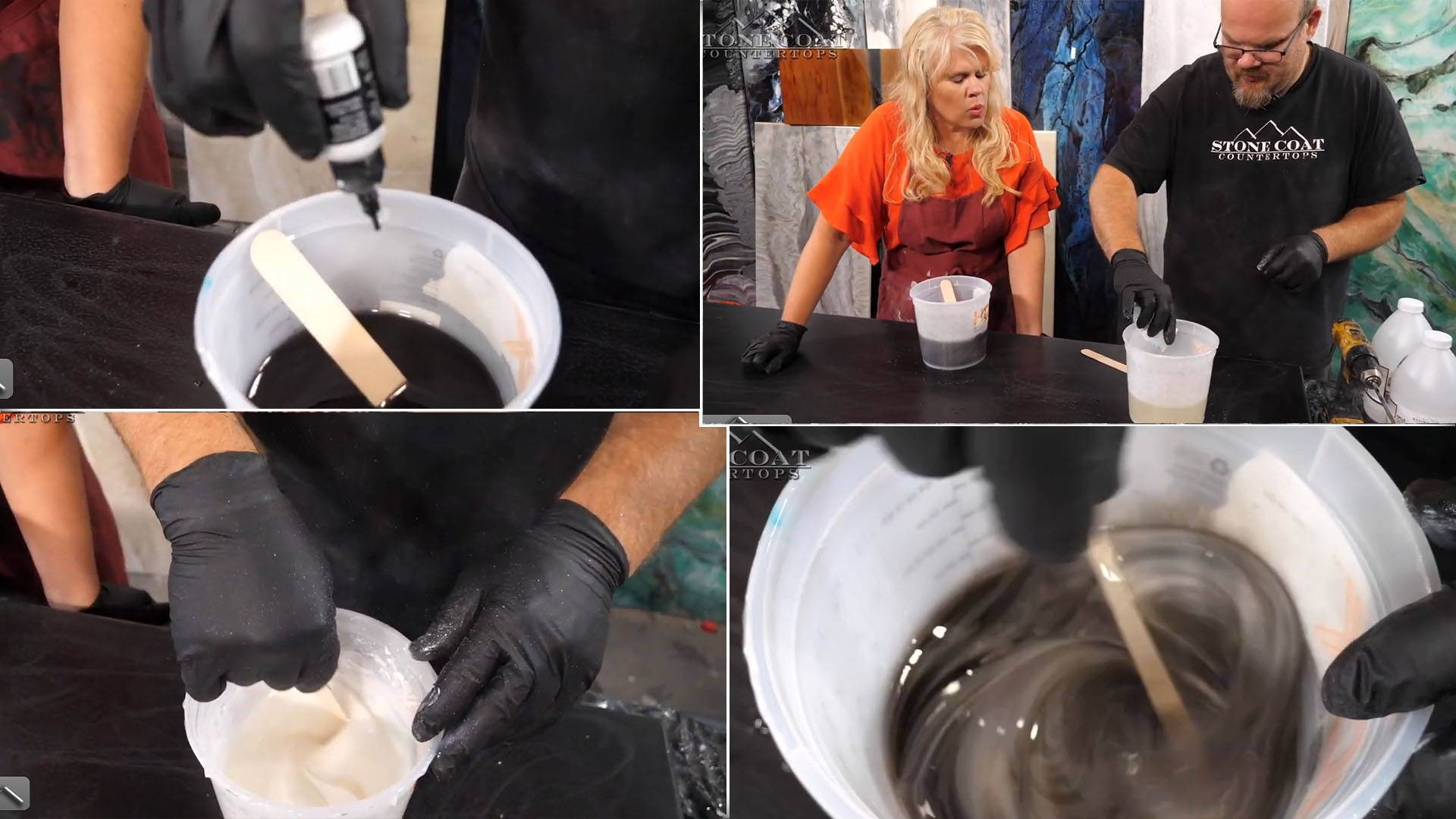 Step #4: Apply Wash Coat
Tint enough epoxy to thinly apply a wash coat to your project. We tint our wash coat completely opaque. Pour the tinted epoxy on the center of your project and use a mixing or paint stick to spread. Use your gloved hands to spread if you wish.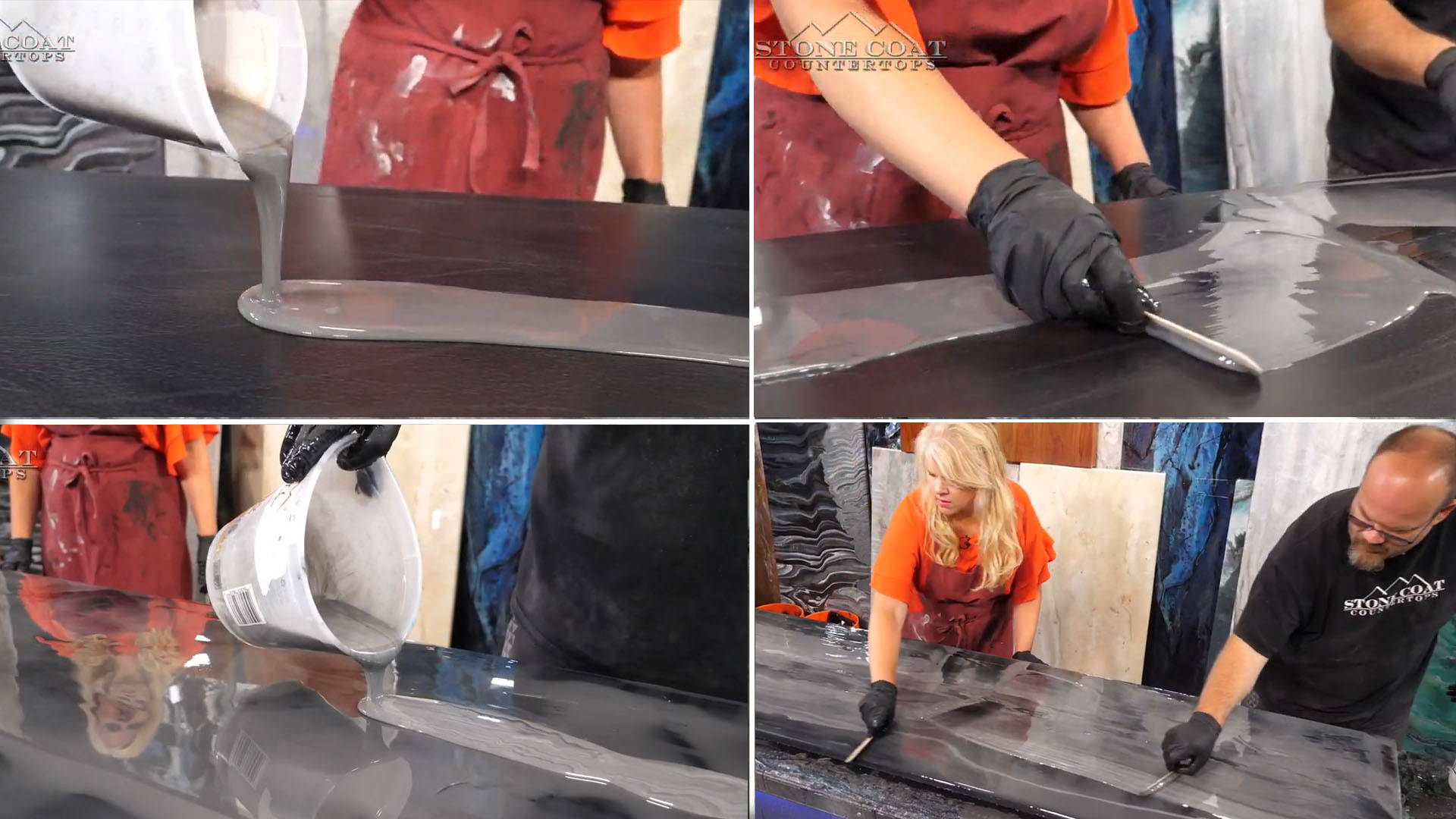 Step #5: Pour Out Tinted Epoxy
Apply your tinted epoxy to your countertop by pouring directly on to your project out of the mixing cup. Overlap and layer the epoxy as desired. Pour out of a bucket, cup, or use a stick to achieve desired look.
Step #6: Meld Epoxy
Use a heat gun or torch to meld the tinted epoxy together on the surface of your project. Do this to achieve a more natural look. Keep from over melding and mixing on the surface. The different additives will work their magic on your project leaving realistic features found in mother nature.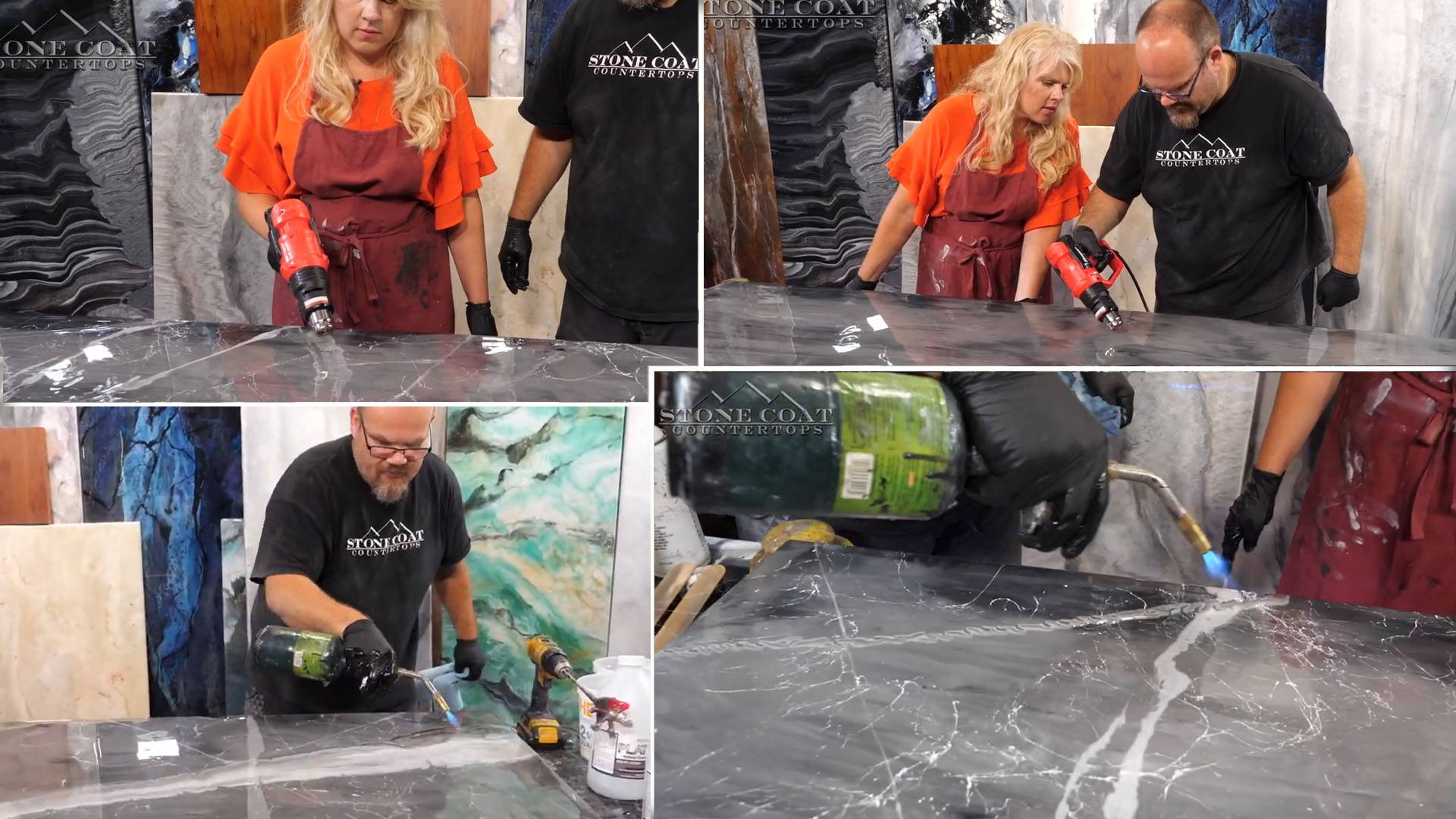 Step #7: Removing Drips
After approximately 2 hours after pouring, your epoxy should start to become jell-like. Take a mixing stick, and a gloved hand to scrape the underside of your epoxy project to ensure a smooth surface.
Step #8: Enjoy Your New Countertops
You now have a completed soapstone color coat, enjoy your new countertops. You Got This!