Flooring Epoxy Commercial Epoxy
Our flooing epoxy is great for commercial epoxy projects or grage flooring projects. Epoxy floor systems is a 2:1 mixing ratio which is why you'll get a 1 gallon and half gallon kit. This kit covers 150 sq foot surface. That is perfect for a small room or garage or get our 15 gallon kit for a 1,000 sq ft area. Preparation will be key for any flooring project from grinding the concrete to cleaning and filling cracks in the concrete.
How to Prepare Concrete for Flooring Epoxy
We want to reiterate here that Floor preparation is very important so please take your time and ensure your floor is clean, crack filled & dust free before mixing the Flooring epoxy. Taping your shop vac hose to your grinder before starting cleaning cracks out will help suck up all of the dust. Clean out cracks and control joints with a grinder and 4" diamond cutting blade.
Use a razor blade to cut paint back from the baseboards. Next lightly score the top of any baseboards and peal or remove with a hammer/crowbar.
Use a 7' Angle grinder with 7' dust shroud and a 7' Diamond cup wheel. Apply even pressure when grinding the floor. Sweep and vacuum the dust. If you have cracks make sure not to forget your Floor patch. See Floor patch for step by step instructions. Make sure to overfill the cracks for proper sealing and so you can sand down to a perfect level.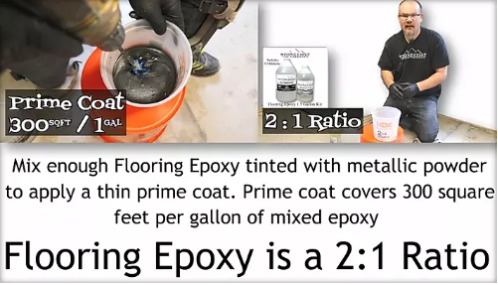 If you are pouring the flooring epoxy the next day make sure to do a moisture content test. One way to do this is by taping down a 3 mil plastic in a square on all sides so in the morning you can see how much moisture and if you need to put down a moisture barrier.
One moisture barrier option is our epoxy undercoat, white if you are mixing colors like blue or black for darker floors.
After preparing the floors you start with a prime coat of epoxy and metallics.
Start by pouring metallics into your mixing container and then the flooring epoxy on top. This helps mix the metallics before you start mixing at a higher speed.
Make sure to watch our videos for more steps and read the step by step instructions. We always recommend doing your research on your DIY project and if you can do a small test project so you know you'll love the look. We are so grateful for all of the fans and people helping to make this era the Epoxy Revolution.
So Remember...........................................
You Got This!