How-to Stone Coat Over Old Epoxy
Step #1: Sand and Clean
Before applying Stone Coat Countertop Epoxy over your existing surface you will want to first sand the surface with
220 grit sandpaper. Be sure to sand thoroughly along the top, and the edges of your project to get rid of any high points
and help promote adhesion. Once you're finished sanding, you will want to wipe the dust off with Acetone or 91% Isopropyl Alcohol until clean.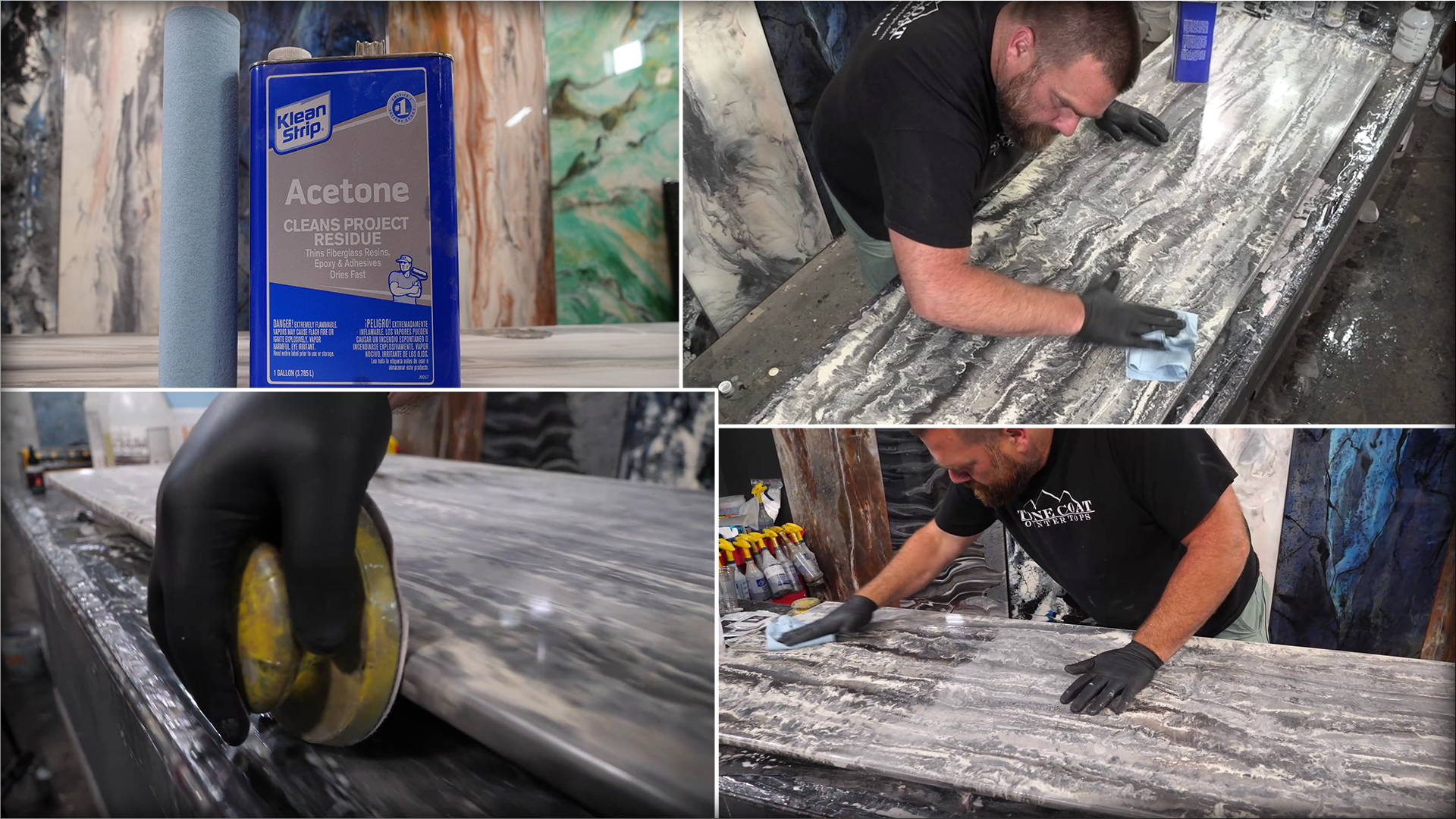 Step #2: Mix Stone Coat Countertop Epoxy
Our regular countertop epoxy is a 1:1 ratio by volume coating. Pour part B and then part A into a mixing container and mix for 2 minutes with a drill and paddle mixer. Once you've finished mixing, pour the epoxy out into individual cups so you can add your different color additives.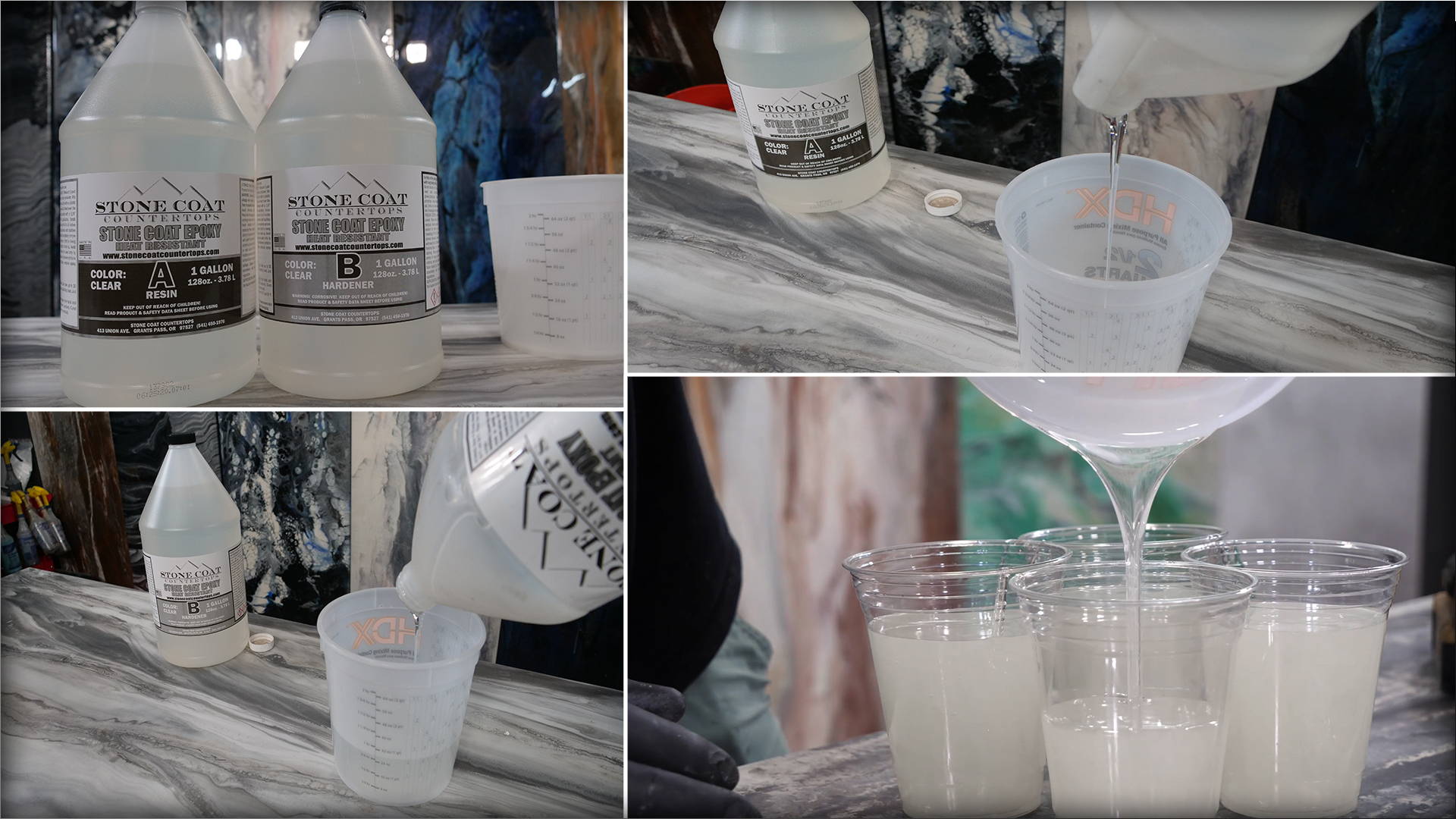 Step #3: Add & Mix Additives
Add metallic powders, epoxy dyes and spray paints directly to your mixing cups. Mix thoroughly with a mixing stick.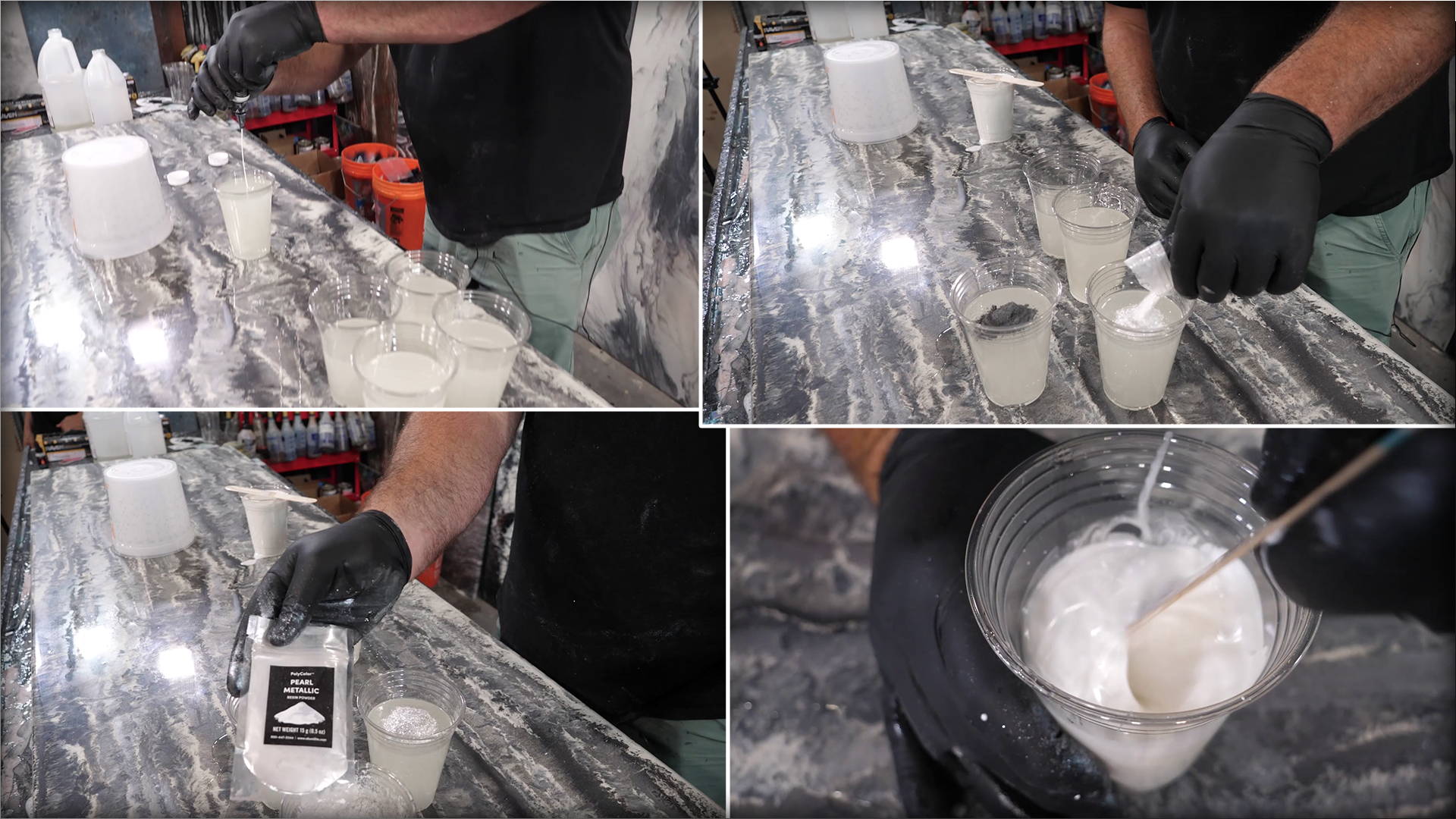 Step #4: Apply Wash Coat
Tint enough epoxy to thinly apply a wash coat to your project. We tint our wash coat completely opaque. Pour the tinted epoxy on the center of your project and use a mixing or paint stick to spread. Use your gloved hands to spread if you wish.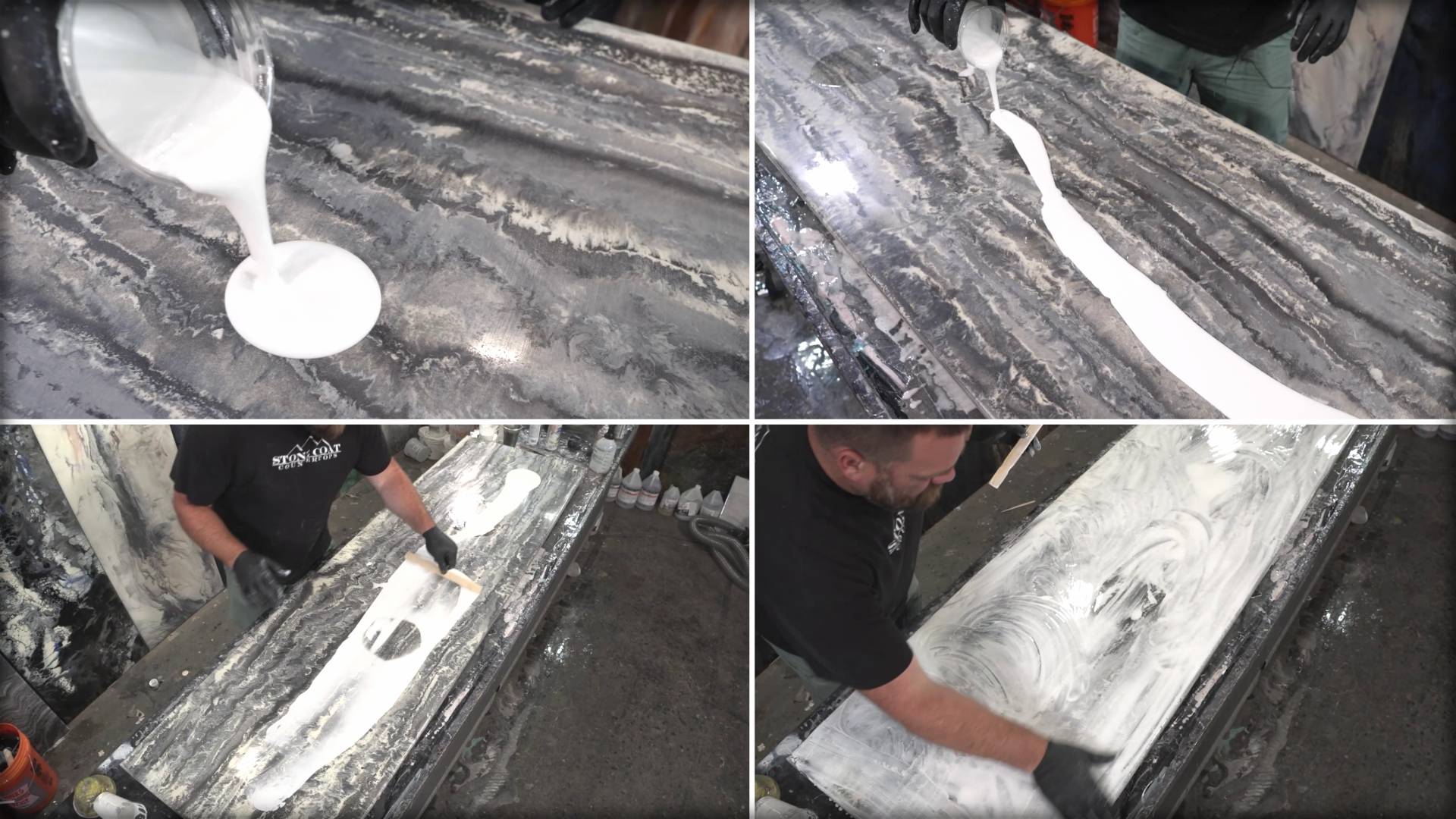 Step #5: Pour Out Tinted Epoxy
Apply your tinted epoxy to your countertop by pouring directly on to your project out of the mixing cup. Overlap and layer the epoxy as desired.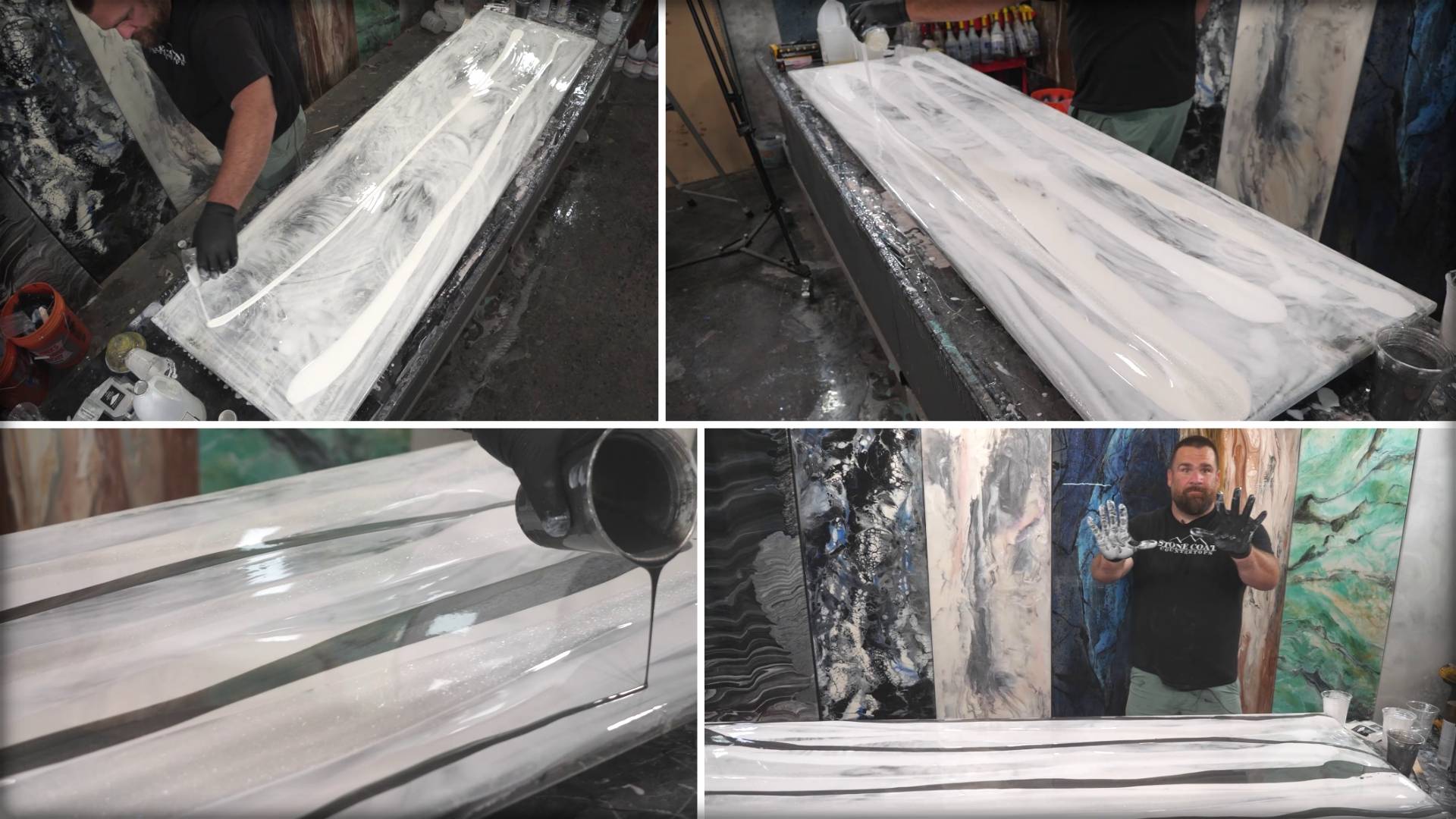 Step #6: Meld Epoxy
Use your gloved hands to meld the tinted epoxy together on the surface of your project. Do this step randomly or in a striated pattern. Keep from over melding and mixing on the surface. The different additives will work their magic on your project leaving realistic features found in mother nature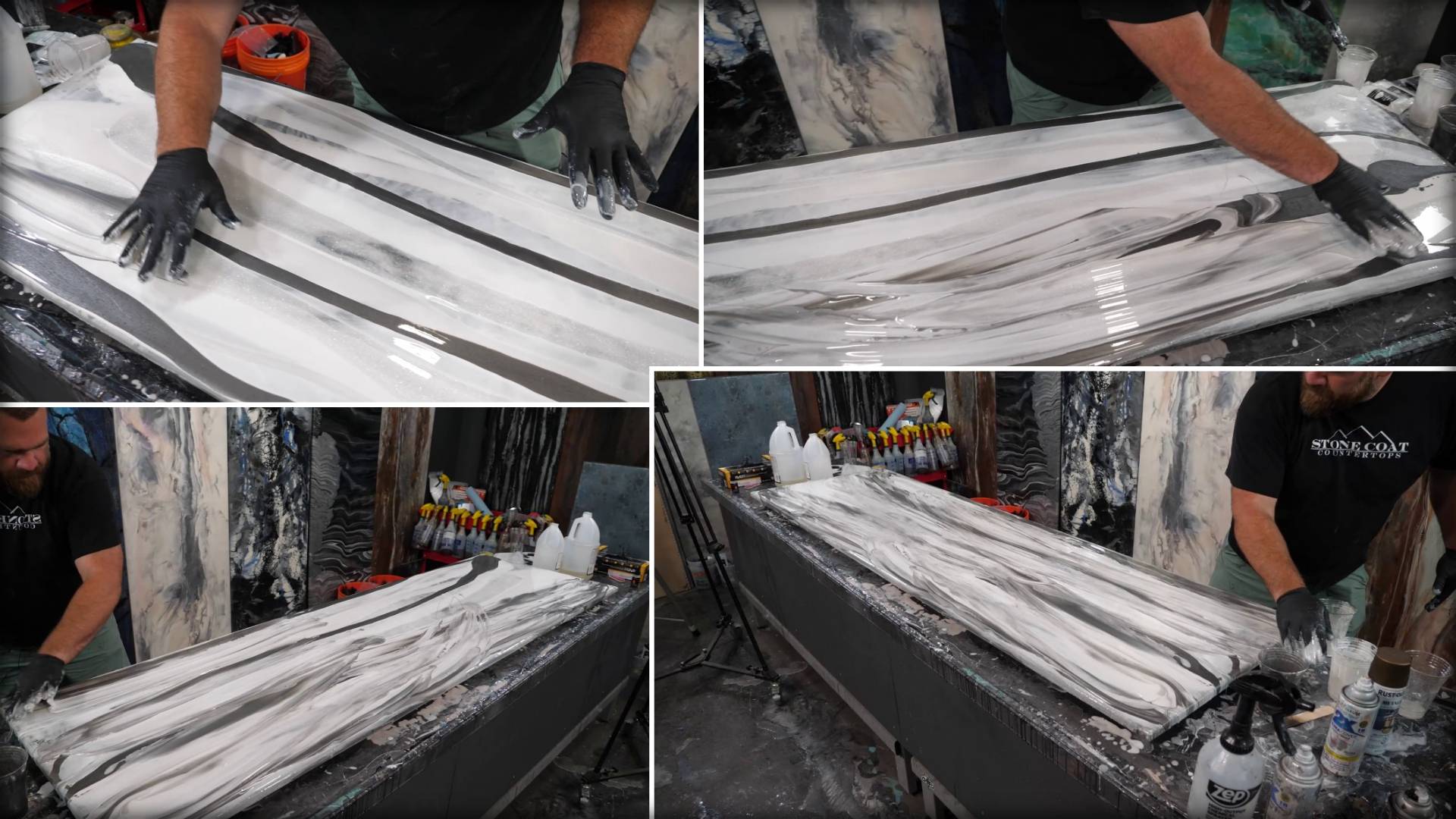 Step #7: Build a Vein
Use leftover epoxy to create a leveled up exotic vien. After layering the different colors of epoxy into a mixing cup, pour out on your project where you'd like a vein.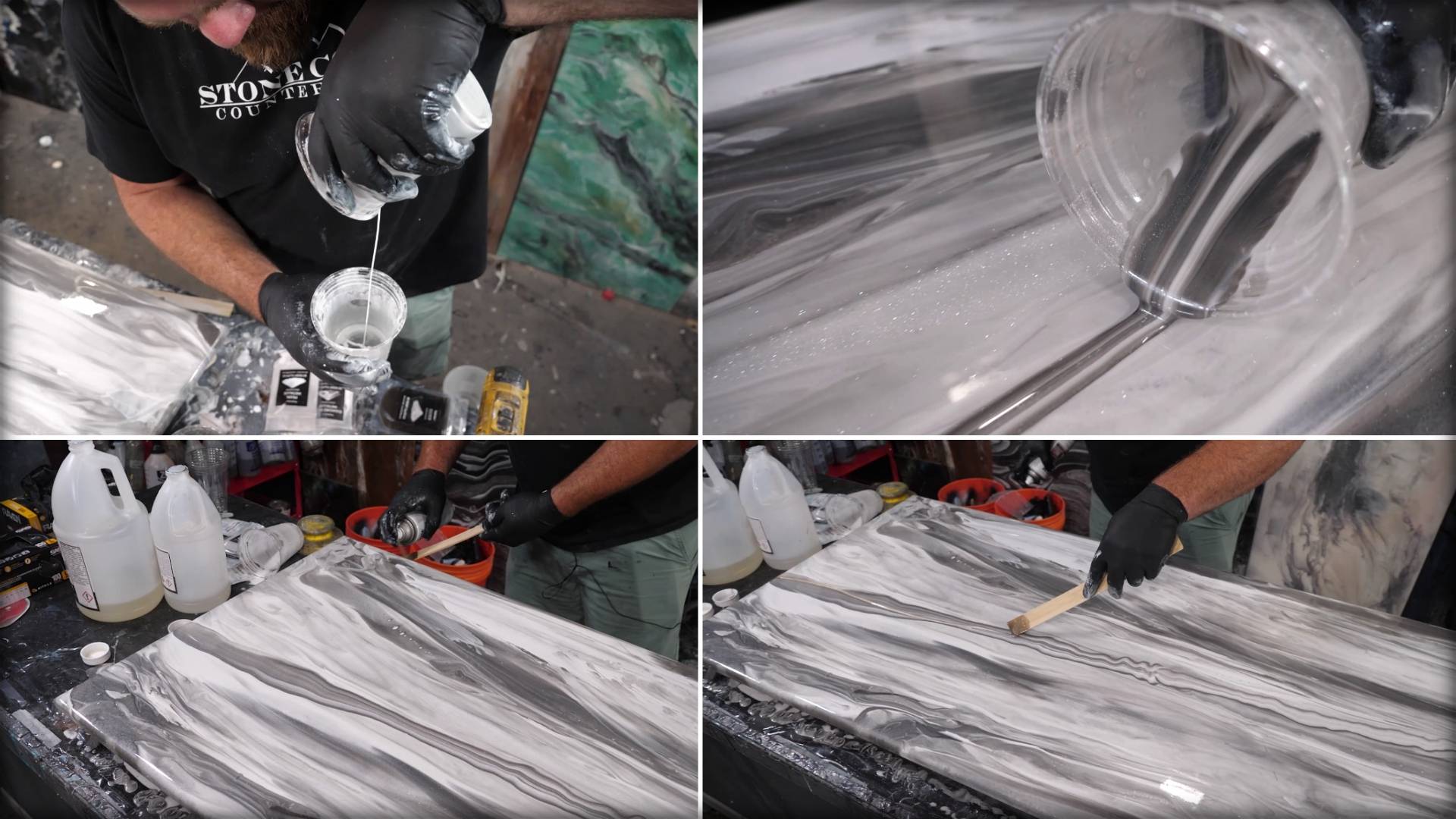 Step #8: Level Up Your Vien
Spray the end a mixing or paint stick with a spray paint color of your choice. When we drag color through a vein we will always use white & black with a couple accent colors. Use a propane torch to help the vein flow, look more realistic and come to life.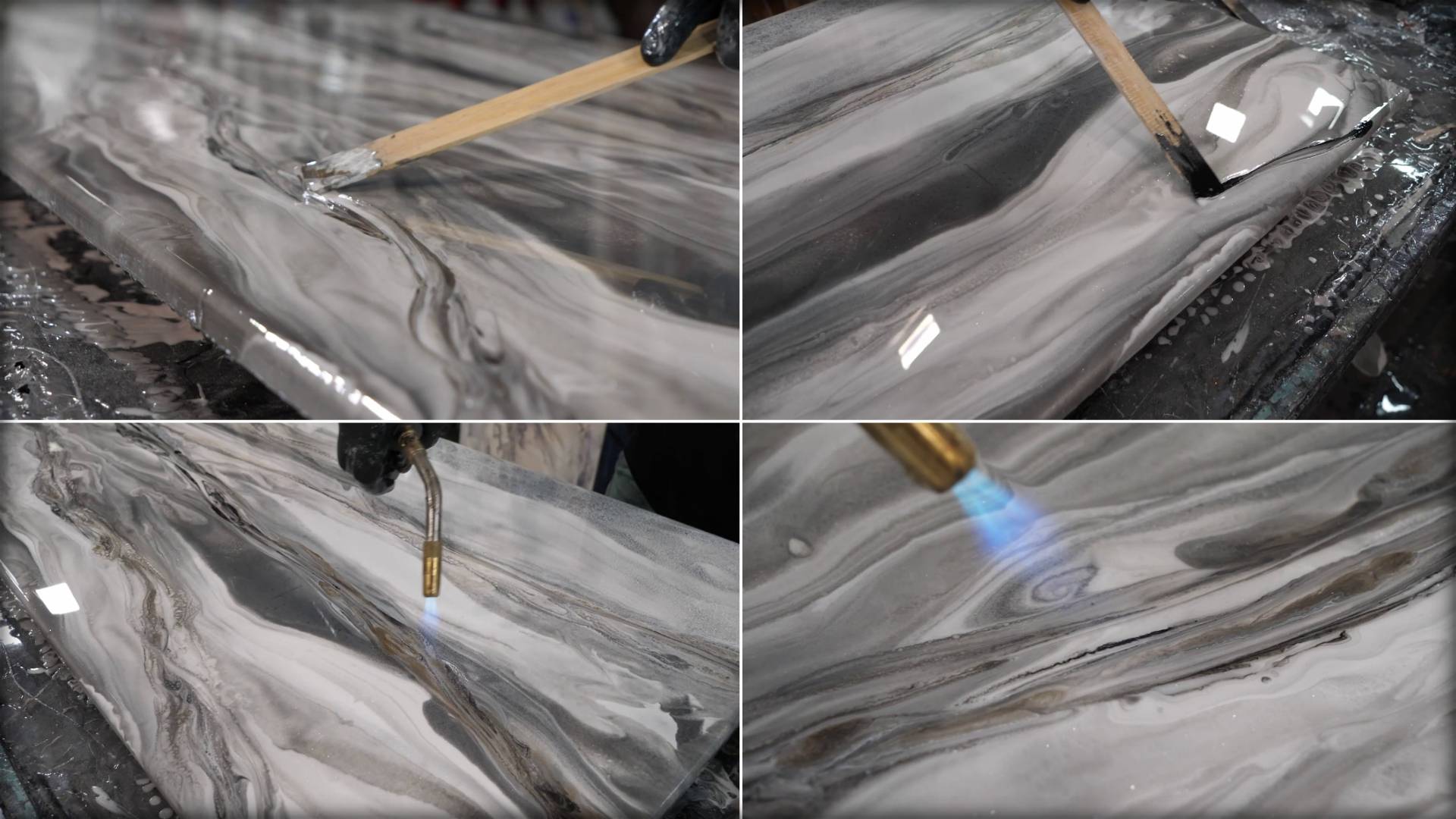 Step #9: Ultimate Top Coat
Time to apply the best scratch resistant top coat in the industry. Before mixing the top coat, wipe the countertop with Xylene, sand with 120 grit sandpaper then wipe with Xylene once more. This process creates the best mechanical bond possible.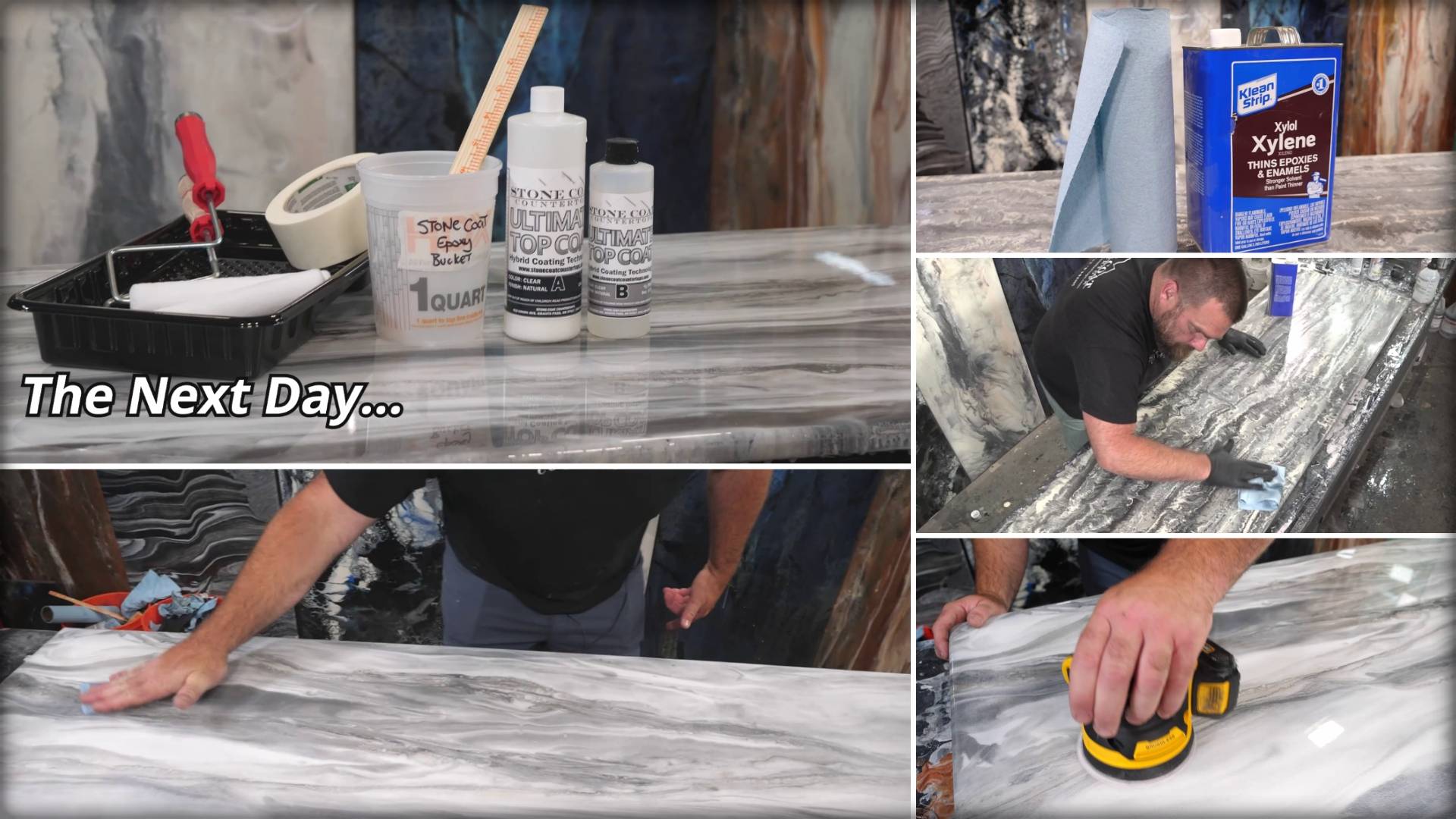 Step #10: Measure & Mix Top Coat
Start with two microfiber rollers. One for wet rolling and one for dry rolling. Remove loose fibers from the roller with masking tape. The Ultimate Top Coat is measured at a 2:1 ratio. Pour part A first, mix thoroughly before pouring in part B and mixing for 2 minutes.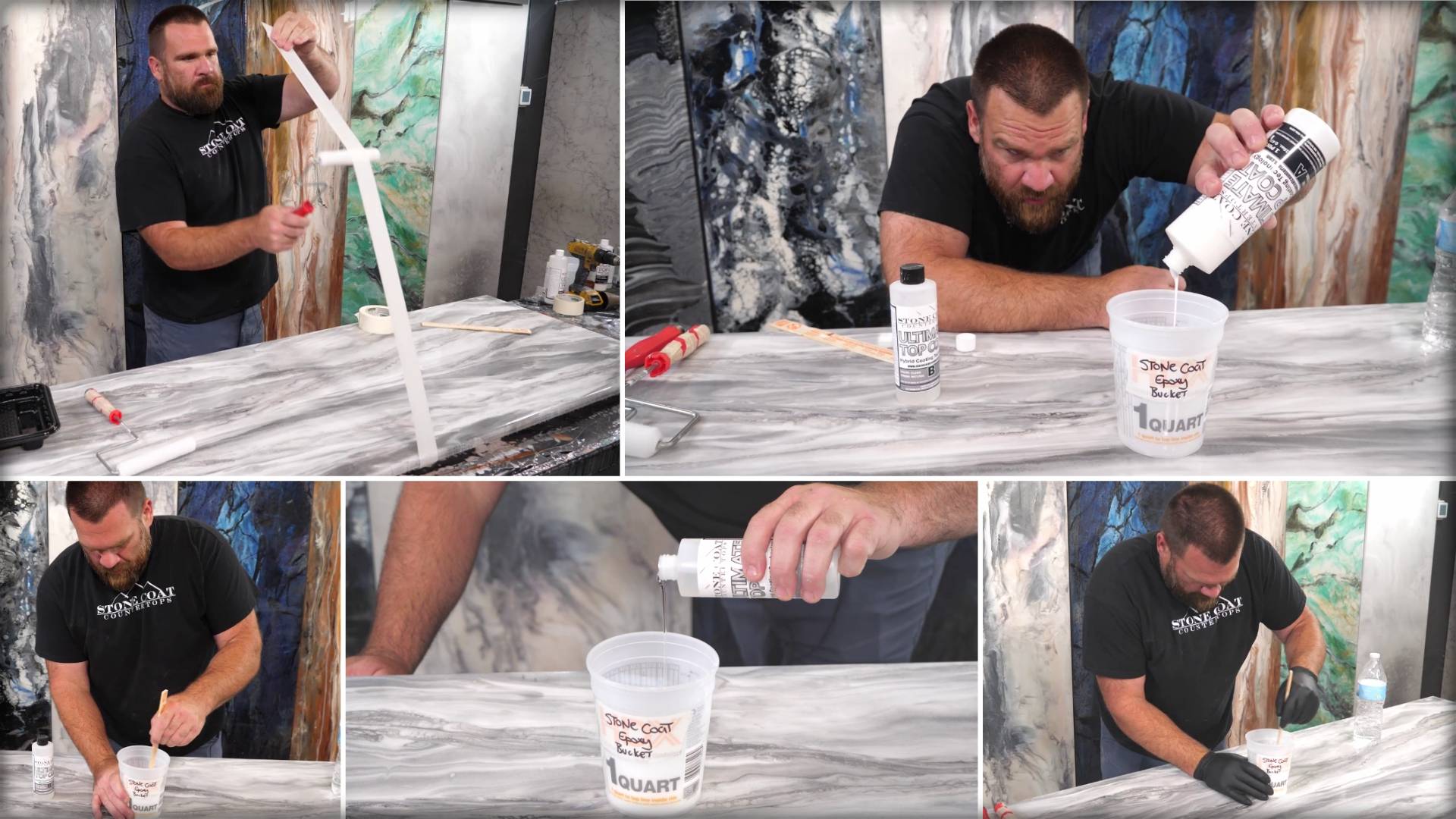 Step #11: Wet Roll Top Coat
Completely saturate a roller with mixed top coat. Working in 4-8 foot sections wet out the surface and edges with mixed top coat. Minimize lap lines by applying pressure to the roller shoulder.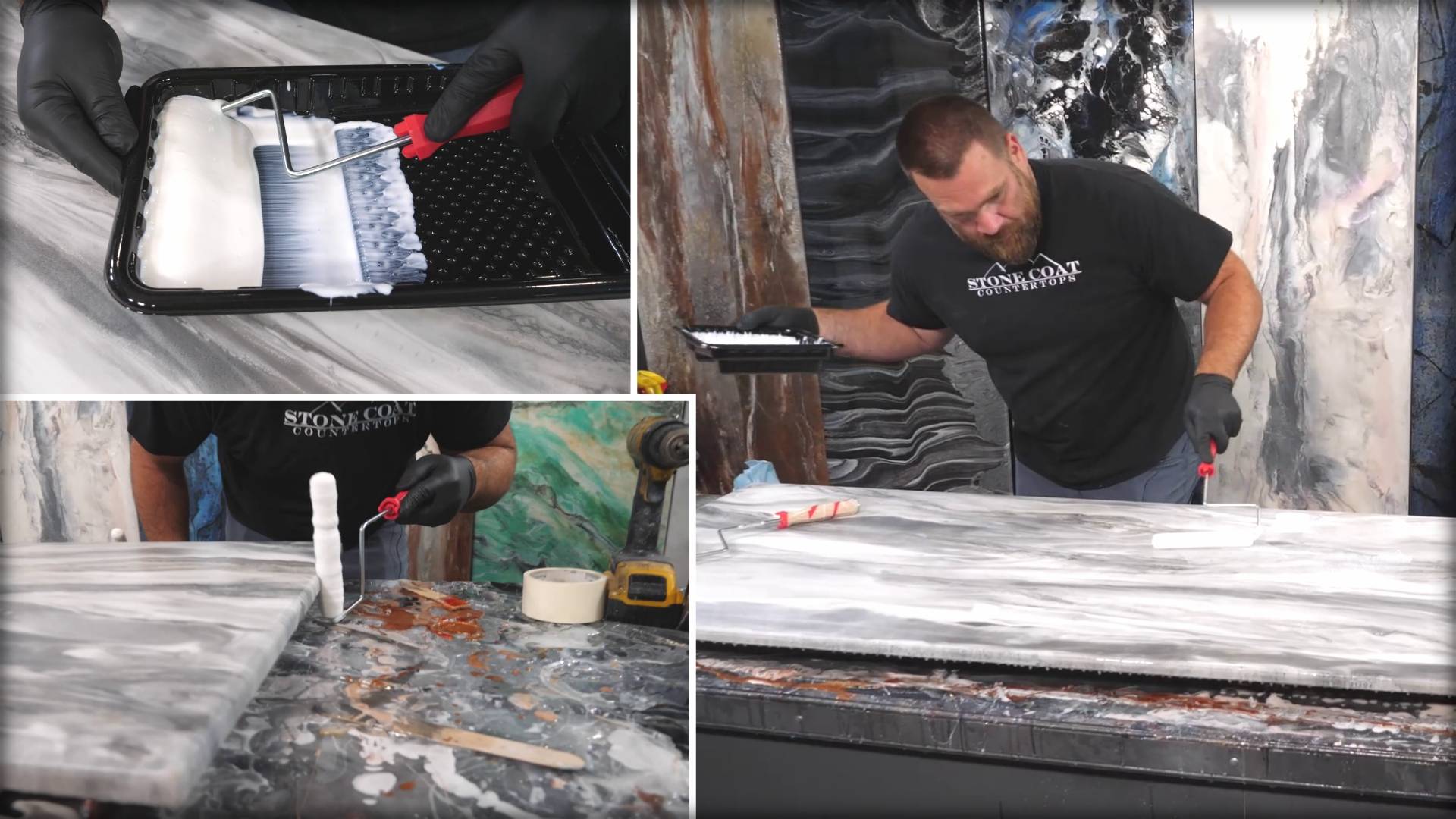 Step #12: Dry Roll Top Coat
Immediately after applying the top coat with the wet roller, use your dry roller and with light pressure roll the project. Apply light pressure to the elbow or shoulder of the roller frame to minimize lap lines. Subtle lap lines may be visible while the top coat is wet, as the coating dries it becomes completely clear and the lap line tighten up and disappear
Step #13: Enjoy Your New Countertops
The Ultimate Top Coat will be dry and ready for use in as little as 24 hours. To keep your new countertops clean and lookin like the day you poured, use any cleaner designed for countertops without scrubbing agents. Remember from all of us here at Stone Coat Countertops... You Got This!